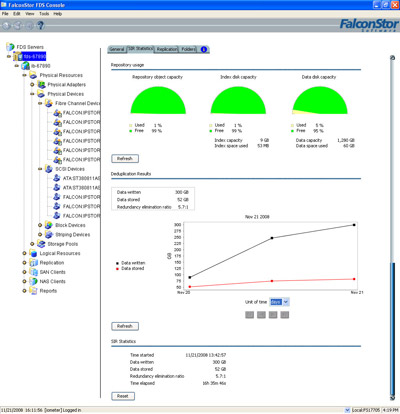 FalconStor's new File-interface Deduplication System (FDS) is a deduplication system that can be deployed as a traditional software package or as a virtual appliance in physical or VMware, or Microsoft Hyper-V virtual environments.
It is aimed at helping customers cut storage needs, improve backup performance and shorten recovery times.
The FDS accepts data from standard network backup software and database backup utilities. It includes block-level deduplication and allows immediate file-level access to the deduplication repository. It is optimized for third-party backup software. Many-to-one replication capability is included for global deduplication from multiple sources.
FalconStor's FDS is currently in beta testing with general availability scheduled in the first quarter of 2009. List price starts at $13,000 for the traditional software package, including replication capabilities. The virtual appliance version starts at $5,000 without replication, plus $2,000 for the replication option.