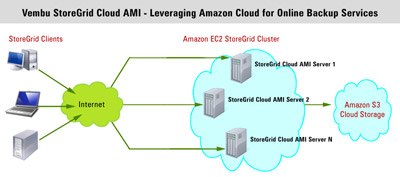 Vembu, an India-based provider of software that gives solution providers the technology to start offering Internet-based data backup and recovery services, this month is launching a new version that integrates with Amazon's S3 storage grid.
The new Vembu StoreGrid Cloud AMI is designed for MSPs and solution providers to leverage Amazon Web Services to offer online backup services to their small business clients.
StoreGrid Cloud AMI is deployed on Amazon EC2 with storage on Amazon S3. StoreGrid Clients, when deployed on customer desktop PCs or servers, allow data to be backed up directly to the Amazon Cloud.
The service offers infinite scalability with clustering and load-balancing. APIs allow its integration with third-party monitoring and management tools.
Solution providers who sign up with StoreGrid Cloud AMI are enabled to set up an online backup service without the need to invest a lot of capital or own a remote data center. Such partners can choose from a number of branding and customization options.
Subscription pricing for the service is $30 per year for desktop PCs, $60 per year for servers and $90 per year for MS Exchange/SQL Servers and MySQL. Volume-based partner discounts apply.