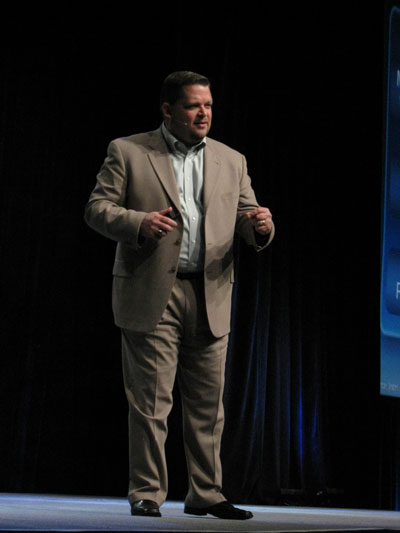 VMware's COO Tod Nielsen said that 90 percent of VMware's revenue comes from its 22,000-plus partners worldwide, and that the company has more than 6,700 employees serving 130,000-plus customers.
Nielsen offered a peek at VMware's upcoming vSphere family of products, which he said aggregate and coordinate the underlying resources of a business to provide scale and make it possible to build internal and external clouds.
VSphere is a foundation for treating virtualized workloads like an internal cloud, while extending them to an external cloud, Nielsen said.
He called vSphere a 'cloud OS' in that it also integrates policies and compliance as workloads travel through the compute resources pool, he said.
Nielsen also told solution providers to prepare for the upcoming wave of virtual desktop deployment.
There are about 500 million desktop PCs currently deployed in enterprises worldwide, he said. "And I have yet to meet an IT staff that likes them," he said.
However, Nielsen said, the key to virtual desktop infrastructure, or VDI, is to provision users with the right security, applications, and so on, and not just provision desktops. "Then whatever device the user wants to use, they can use," he said.
Throughout the rest of 2009, VMware plans to roll out a number of facets related to VDI, including centralized management, technology to take advantage of higher-bandwidth WANs, and new ways to improve the performance of high-definition video and 3-D graphics over a LAN, Nielsen said.
"I believe that by 2012, our virtual desktop business [will be] as big as our virtual server business," he said.