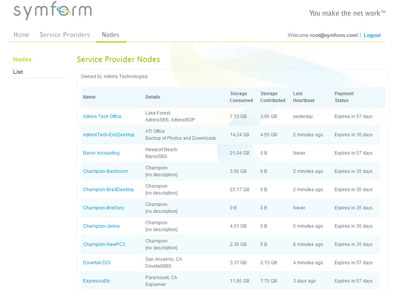 Seattle-based Symform this month unveiled technology that protects a customer's data by breaking it into tiny blocks, encrypting those blocks, and then dispersing them across the Internet.
The Symform Cooperative Storage Cloud technology breaks a copy of a customer's backup into 64-MB blocks, encrypts those blocks, fragments those blocks into 1-MB fragments, adds 32 1-MB parity fragments for redundancy and then scatters those 96 fragments to storage nodes around the world.
Those cloud storage nodes are provided by every customer of the service by designating a small part of their own storage capacity to be used as a node for storing fragments of other companies' data.
Security for the data comes from encrypting it and fragmenting it before it is dispersed into the storage cloud.
The service has a street price of between $30 and $50 per month per server, regardless of the capacity of the stored data. Solution providers pay Symform about $15 per month per server regardless of capacity, giving partners margins of 50 percent to 100 percent.