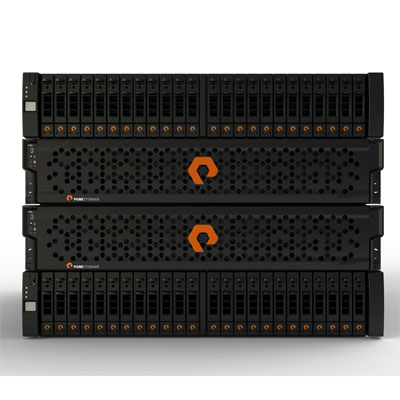 Pure Storage: Pure Flash Array
Pure Storage, a Mountain View, Calif.-based startup, exited stealth mode in August with a $30 million round of funding including investment from Flash memory developer Samsung while unveiling what it calls the first storage array built from the ground-up around high-speed Flash memory.
The Pure Storage FlashArray features a scalable storage architecture built around the company's controllers, each of which features 12 processor cores that provide 300,000 IOs per second (IOPS) sustained performance, and 180,000 IOPS write performance, all with a latency of under 1 millisecond. Each controller can be connected to up to four storage shelves, each of which has up to 5.5 TBs of MLC-based Flash storage. The shelves connect to the controller via redundant 6-Gbps SAS links, while the controllers feature 8-Gbps Fibre Channel and 10-Gbps Ethernet network connectivity.