A Most Interesting IT Experiment: The History (So Far) Of VCE
3:35 PM ET Fri. Oct. 12, 2012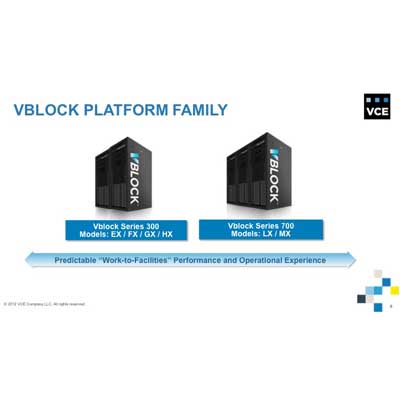 May, 2012: Higher-end, Lower-end Vblocks Introduced
New to the VCE lineup as of May, 2012, is the Vblock Series 700 Model LX system, which is based on the entry-level VMAX 10K model of EMC's enterprise-class storage array. It supports applications running over 2,000 simultaneous virtual machines.
EMC also said that a new version of its entry-level VNXe storage array family would soon be the base for a new class of entry-level Vblocks.
VCE also started including EMC data protection technologies to give Vblocks backup, recovery, replication, business continuity and data mobility for virtualized environments. Applications include Avamar virtual server backup software, Data Domain backup and recovery software and RecoverPoint replication software.