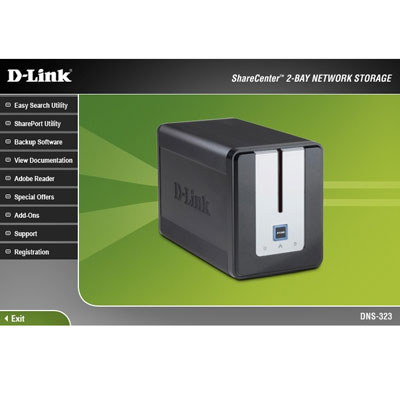 D-Link ShareCenter DNS-325
No longer just that "inexpensive router company," D-Link has made a name for itself in video surveillance and network-attached storage for homes and small businesses. Among its latest entries is the ShareCenter DNS-325, a two-drive NAS device that's deceptively powerful for a box that's about the size of a loaf of bread. Among its major benefits, this and other D-Link NAS devices accept a variety of 3.5-inch drives straight away; there's no caddy to mess with and no tools are required.
As with other D-Link systems we've tested, the DNS-325 comes with a simple and familiar Windows setup utility, which scans the local network for compatible devices. Once the device is selected, the tool switches to the PC's default browser to perform the remaining configuration steps, which include selecting the file system (EXT2 or EXT3), RAID level (0 or 1), JBOD (two drives as one volume) or separate drives, and formatting the drives. Within a few minutes of plugging in its Gbit Ethernet port, the D-Link NAS was serving protocols for Linux, Mac OS and Windows clients, plus NFS, FTP and iTunes.