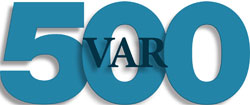 Historical Search Results
Below, you'll find the the companies that matched your search, displayed with the years that company appeared in the VAR500. The display is designed to illustrate a company's progress visually, with higher rankings appearing further to the left. For companies ranked from 2003 to 2010, click on the rankings for additional company information.

Sorry, we couldn't find any matches.
Historical Search
Find any company that's been in the VAR500 from 1995 to 2011, and track their progress on the list over the years. (For example: IBM, Perot, Keane)
Enter a company name and press submit: