Printer-friendly version
Email this CRN article
When resellers begin the process of choosing an endpoint security solution, they naturally focus on a product's ability to protect their customers from viruses and other malware threats. Delivering such protection can be particularly challenging because the modern threat landscape is increasingly more sophisticated and complex, with new malware is emerging daily, even hourly.
That dynamic, ever-evolving nature of today's threats is why modern, cloud-based security solutions from Webroot are favored by so many resellers—they simply deliver superior protection. What's more, they do this while being virtually transparent to your customers, who expect security solutions and services to protect them with minimal impact on business operations.
But there's another reason why so many resellers are making the move to Webroot—our unrivaled commitment to helping our channel partners grow their businesses with the purpose-built Webroot Channel Edge® Reseller Program. This program significantly adds to the already-compelling revenue and cost benefits that come from partnering with Webroot:
• Growth, Reward, Support: Healthy margins, sales tools, co-brandable and customizable marketing resources help you identify existing opportunities and generate new business. Qualifying partners receive incentive programs, lead rewards, enhanced margins and joint personalized market development support.
• Predictable, Recurring Revenue: With the highest customer satisfaction rating in the industry, organizations that choose Webroot renew year after year and have fewer complaints about system performance.
• Lower Support Costs: Real-time, cloud-based threat protection means your customers never have to wait for signature updates and you never have to manage costly on-site patches.
The Webroot Channel Edge Reseller Program is tiered to recognize our partner's unique capabilities and commitment to selling and supporting Webroot security solutions. Once you join the Webroot Channel Edge Reseller Program, you are automatically enrolled as a Tier 1 Reseller. Tier 1 Resellers have access to self-serve training, sales tools and marketing resources (see table below).
Partners committed to working with Webroot and meeting the minimum quarterly revenue attainment are enrolled as Tier 2 Resellers. Tier 2 partnerships require quarterly revenue commitment, as well as executive/sales sponsorship, training, joint business planning with Webroot Channel Account Managers, and regular reporting. Partners in this tier receive additional benefits to help develop and grow their Webroot business: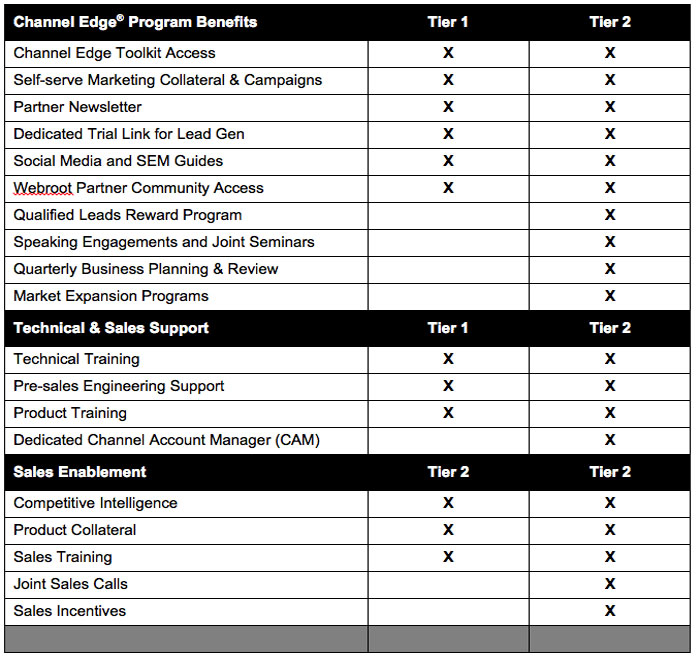 While its benefits are extensive, the goal of the Webroot Channel Edge Reseller Program is simple: Giving you access to the sales and technical tools, training, and marketing resources that will help you open doors and close deals.
Printer-friendly version
Email this CRN article