Printer-friendly version
Email this CRN article
There's nothing like a trip to Europe to make an American journalist feel poor. Trading in dollars for euros and looking at beers that cost close to what you just changed is one thing -- mix in general economic anxiety and you'll never want for humility.
But if you really like feeling broke, spend a day with the Ferraris. Last Friday, our CeBIT group did just that, visiting the Ferrari factory in Maranello, Italy, for a special pit stop ahead of our trip to Hannover, Germany, for the show. Amazingly, we weren't there for the cars -- instead, we were given a tour of the carmaker's high-density data center, courtesy of Ferrari CIO Piergiorgio Grossi, data center manager Massimo Martelli and our hosts from West Kingston, R.I.-based power and cooling vendor American Power Conversion (APC).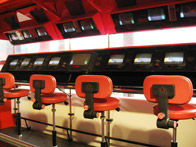 Ferrari sets up mini data centers at Formula 1 racing sites
Grossi and Martelli may be Italian, but there's a touch of German in their attitude toward their baby. Not only is no photography allowed in the data center itself, but Martelli gets edgy when another reporter pulls out a camera in the briefing room outside it. The data center powers Ferrari's technological edge in the Formula 1 Championship, and when it comes to its secrets, the famous carmaker is apparently always on DefCon 1.
Cable management is another obsession for Grossi and Martelli. The pair uses the word "discipline" a lot -- there is no room for error or sloppiness in the Ferrari data center. Grossi likens the tight ship he runs to the "broken window" theory of fighting crime. A single switch left out of position or a piece of paper left on the floor will eventually beget a giant mess, he frets. And the conversation always seems to come back to his colleague Martelli's single-minded mission to tie down every single cable in the data center in a neat little bow.
"Having a clean place is a state of mind, we think," Grossi explains. "Especially when you have to be fast and swap out parts -- that can make the difference. Cabling is very important to us. Massimo is an artist of cabling. It's not an act, it's a continuous behavior. The problem is that when you are in a hurry, you say, 'I will fix it later.' But that's the moment when you must have good discipline and fix it now."
Grossi leaves us with the thought that running such a fine-tuned IT machine -- one that plays a huge part in whether championships are won or lost at the highest level of competitive race-car driving -- may mean having the best technology, "but it also takes a bit of courage."
As his boss exits the briefing room, Martelli looks somewhat put out at the thought of letting a bunch of media hacks into his private realm. Opening the door to the data center, he admonishes us several times in a couple of languages not to touch anything. You have to hope nobody ever puts Massimo in charge of a clean room -- his head might explode.
Inside is ... well, a data center. A very clean one, to be sure -- the cable-craft, if that's even a word, is as impressive as advertised. The obstruction of heat dissipation is Martelli's sworn enemy, and no wire or lead will ever block airflow on his watch.
Another enemy is fire. Ferrari's fire-suppression system uses argon gas, an oxygen-poaching agent, which is triggered to blast through the data center if sensors pick up a spark. Argon, unlike water, has the advantage of not damaging the hardware, Martelli says. Unlike carbon dioxide, which also leaches fire-friendly oxygen from the air, argon won't quite kill any unfortunate technician who happens to be inside the data center when it's gassed -- though it will feel like being at a very high altitude where the air is very thin, the data center manager admits. Maybe what Ferrari really needs to do is to start certifying Sherpas.
Martelli has all the most up-to-date products in his data center -- Proliant blade servers from Hewlett-Packard, a new APC Touch Safe hot-pluggable breaker/cable system for power distribution to the rack and row after row of integrated infrastructure and computer hardware built out to deal with both the high-capacity needs of a Formula 1 race and the more mundane, day-to-day office activities at the factory. The high-density area, which runs about 25 degrees C hotter than the normal zone, is enclosed via APC's Hot Aisle Containment and cooled with the company's latest InRow RP chilled water cooling unit.
"Ferrari was an early adopter of row-based cooling and built a data center using the APC InfraStruXure standardized methodology," says Robert Bunger, APC's director of business development for North America, who's also attending the tour.
"Not only have they reliably powered and cooled high density loads, but they have also been able to grow with IT refreshes and improvements to the power and cooling with minimal disruption to their operations."
Ferrari technicians set up mini data centers at race sites all over the world every two weeks during the eight-month Formula 1 Championship season. Race site techs are supported by data-crunching at Ferrari's main data center in Maranello, but can operate on their own to feed crucial information to drivers during a race if the connection to headquarters is lost.
But if the technology is cutting-edge in Ferrari's data center, the structure housing it is not. Part of the old Ferrari factory built by patriarch Enzo Ferrari, it was an old storage building before being converted to a data center in 2005, according to Martelli. The planning process with consultants like APC, which oversaw construction of the physical plant and infrastructure, began two years earlier.
The goal was to construct a very flexible facility that could function as both a high-density and low-density computing center, Martelli says. Needs included modularity, hot-swappable hardware and the ability to power through heavy workloads in realtime during Formula 1 races and in the two-week period between events.
The investment has paid off, Grossi tells us.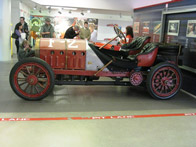 Racing at Ferrari has come a long way since the days of hand-cranked motors and bicycle chains
"Our business is not stable at all. Racing regulations change each year and the environment changes race by race. We perform very intense race-based modifications, and this always impacts the IT," the CIO says. "We now have more than 100 internally developed applications."
More important -- Scuderia Ferrari has won the past two Formula 1 constructors' titles to increase its record total to 16. Enzo, who died in 1988, probably never so much as sent an e-mail in his life. Still, one suspects he would approve.
Printer-friendly version
Email this CRN article