Printer-friendly version
Email this CRN article

One of our "50 Most Influential Channel Chiefs"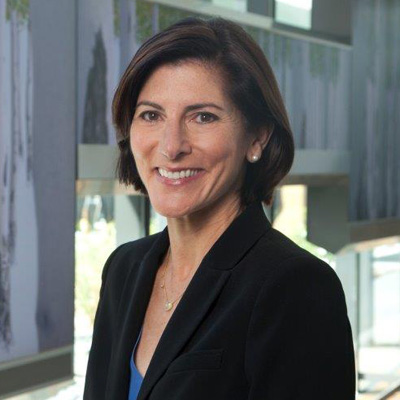 Fun Facts: Favorite movie and why:
Inception. I have watched it a handful of times and am still not sure I have figured it out.
Uses Twitter
Uses Facebook
Uses LinkedIn
Considers Themselves A Geek
Loves To Read
Sue Barsamian
Hewlett-Packard
Senior Vice President and General Manager, Enterprise Group (EG) Worldwide Indirect Sales
Bio and Background:
Sue Barsamian is the senior vice president and general manager for Enterprise Group (EG) Worldwide Indirect Sales with a charter to drive increased sales and productivity through indirect channels, including resellers, distributors, alliance partners and OEMs. Sue and her team are accountable for worldwide indirect revenue, which represents about 70 percent of EG's total sales. Sue previously led EG Global Sales and Operations with responsibility for all routes to market and EG Business Operations. Prior to this, Sue was the general manager for Technology Services (TS) Support where she was responsible for maximizing commercial support services on all HP products and delivering a superior client experience. Sue joined HP through the Mercury acquisition in 2006 and had global responsibility for HP Software business operations. She also served as vice president of global go-to market (GTM) at Mercury Interactive, where her team helped transform the company's GTM model from product-focused to enterprise solutions-focused. Earlier roles include senior vice president of marketing at Critical Path and vice president of marketing and business development at Verity, where she was based in London and launched its European operations. Sue holds a Bachelor of Science degree with honors in electrical engineering from Kansas State University. She completed her post-graduate studies at the Swiss Federal Institute of Technology in Zurich, Switzerland. Sue has been an active board member of the National Action Council for Minorities in Engineering (NACME) and the KSU College of Engineering Advisory Board since 2011. In 2005, she received the Silicon Valley Tribute to Women and Industry (TWIN) Award and was inducted into the KSU College of Engineering Hall of Fame.
Number of years with the company:
9
Number of years involved with indirect sales:
2
Reports to:
Bill Veghte EVP
Does that individual report to the CEO/president:
Yes
Number of employees in channel organization:
N/A
Top products sold through the channel:
1. HP Proliant Industry Standard Servers 2. HP 3PAR StoreServ Storage Arrays 3. HP Converged System 4. HP Networking Switches 5. HP ServiceOne Partner Support 6. HP CloudSystem Matrix 7. HP StoreOnce Data Deduplication 8. HP MSA Storage 9. HP Mission Critical Servers 10. HP Moonshot Servers
Partner organization's top accomplishments over the past year:
1. Deep focus on strategic alignment and JBPs (including sales plays): Focused on improving strategic alignment by launching an executive sponsor program, developing joint business plans (JBPs) that are regularly reviewed in SFDC (-1000 JBPs), and training our partners in the new sales plays (over 500 channel partners have taken at least three sales play trainings) 2. Launched Channel Rules of Engagement Training: Deployed new HP Channel Rules of Engagement Training worldwide and trained over 10,000 EG sale personnel. Going into FY'15, we are augmenting this with other programs to further improve channel field engagement beginning with a program in the US designed to improve co-selling with our partners for some of our most critical commercial accounts 3. Expanded PartnerOne Program to Broader Ecosystem of Partners: HP expanded its PartnerOne program to include not only resellers, but also distributors, service providers, systems integrators, ISVs and OEM integrators in 2015. And it's not just a common name -but an expanded program built on a common foundation that'll make it a lot easier to do business with HP -such as a consistent membership structure, a single partner portal, a single partner ID, a single partner locator and streamlined MDF processes
How partner community has grown over the past year:
The overall number of HP Platinum, Gold and Silver partners hasn't changed materially over the past 12 months, although there has been significant upward and downward movement within the tiers. By limiting the number of partners in the higher membership tiers, HP will continue to enable partners to achieve greater margins by reducing competition from other HP partners in the same deal. In addition, since HP's channel revenue has grown over the past year -with the same number of partners -the average revenue by partner has increased as well.
How do you expect your channel sales as a percentage of your company's overall sales to change:
Increase
How do you expect the number of channel partners you work with to change:
Stay the Same
Top channel goals for 2015:
Migrate partners to cloud solutions
Increase the amount of professional services going through partners
Increase the amount of net new accounts coming through partners
Single most innovative partner initiative in 2014:
As customers' buying preference shifts to converged offerings, HP has put the channel first in delivering a complete Converged System portfolio built on the industry's best selling server and storage products, and delivered now through our ServiceOne Partner Network. When coupled with HP Converged Reference Architectures, Partners now have access to not only the best product margins in the industry, but can also attach their own branded services for delivering solutions for SAP, SQL, Exchange, and Citrix. In addition, as more partners shift to selling cloud solutions, HP's New Style of IT program helps partners make the transition from product-centric to services-centric business models, where HP Converged Systems are the anchor for on-premise customer applications that can be managed by partners, or burst to partner hosted cloud services based on HP Converged Infrastructure. All of this is tied together with HP OneView, which is available as a trained discipline through HP's ServiceOne and PartnerOne networks. HP offers partners a complete ecosystem of solutions and services to embrace the New Style of IT.
Key channel/partner investments made over the past year:
1. Unison: With the HP Unison Platform, we've made it easier to partner with HP. The platform helps accelerate growth and profitability by delivering end-to-end support throughout the sales cycle and quick and easy access to everything from HP, all in one place. With the HP Unison Platform, we bring all of HP to you 2. SMB Segment and Coverage Model: We have implemented a WW Partner Led SMB coverage model in order to have the right people dedicated to work with our Partners on the development and growth of the SMB segment. 3. Investments in Converged and Cloud
Plans for attracting the next generation of solution providers:
HP already offers incentives to Cloud Resellers and Cloud Service Providers. In addition, HP will provide additional rewards to resellers and systems integrators with a services-led business model -delivering solutions for the New Style of IT -specifically re: Converged Infrastructure, Hybrid IT, Big Data, and Security.
Advice to someone getting into the channel today:
There is tremendous opportunity for new partners today. Current partners are transforming to a services led business model -which represents a big opportunity. For a new partner player, focusing on becoming a hybrid IT solutions provider -someone who can give customers choice about how to design, deploy & manage IT -will be the best investment in today's environment. Every partners journey will be different based on unique circumstances depending on customer base, skills, capabilities. We depend on partners as the primary route to market for the New Style of IT with our innovative portfolio of enterprise solutions.
Unedited Content Provided By Vendors
Printer-friendly version
Email this CRN article