Printer-friendly version
Email this CRN article

One of our "50 Most Influential Channel Chiefs"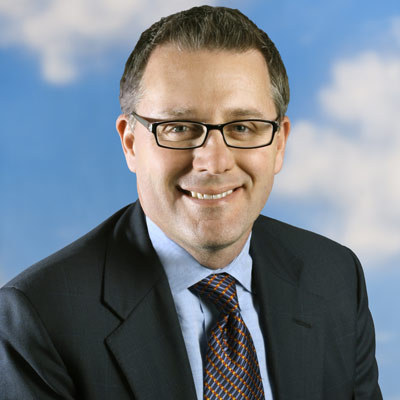 A Video Message From Craig West
Fun Facts: Favorite movie and why:
Pulp Fiction -ignoring the violence, and looking beyond the great acting performances, I love the suspense, the non-linear story-telling, and the intersecting character lines provided to the viewer. Somewhat like business, where you think you know the end result, but can't be quite sure how today's events and characters play a role moving towards that end.
Uses Twitter
Uses Instagram
Uses Facebook
Uses LinkedIn
Once Worked In A Restaurant
Once Worked At A Solution Provider
Considers Themselves A Geek
Plays Golf
Loves To Read
Wished They Were A Rock Star
Craig West
NetSuite Inc.
Vice President of Channel Sales
Bio and Background:
As NetSuite's channel leader, Craig West has driven the strategic development, growth and success of NetSuite's Solution Provider Program since its inception in 2002. NetSuite's channel program has brought the benefits of cloud computing to hundreds of channel partners and to thousands of their clients. With cloud computing at the forefront of the hottest current trends, the NetSuite Solution Provider program offers a wealth of opportunities for VARs to grow their business, with industry-leading margins and innovative incentives. Craig is also a 5-time recipient of CRN's Channel Chief Award, and a 20-year veteran of the business application software space.
Number of years with the company:
12
Number of years involved with indirect sales:
22
Reports to:
President of Americas Distribution
Does that individual report to the CEO/president:
No, one removed
Number of employees in channel organization:
N/A
Top products sold through the channel:
1. NetSuite 2. NetSuite OneWorld 3. NetSuite ERP/Financials 4. NetSuite Professional Services Automation (PSA) 5. NetSuite SuiteCommerce 6. NetSuite CRM 7. NetSuite TribeHR
Partner organization's top accomplishments over the past year:
NetSuite Business Process Outsourcing (BPO) Partner Program: NetSuite's BPO Partner Program (www.netsuite.com/bpo) is the industry's first and only BPO program that gives BPO and BPaaS providers a unified cloud solution of ERP, CRM and ecommerce to support clients of any size ranging from fast growing start-ups to multi-national Global 2000 corporations. The program also provides partner's access to NetSuite's SuiteCloud Developer Network, a powerful development platform that provides the flexibility to tailor NetSuite to client/industry-specific needs. New Growth Opportunities: Through NetSuite's continued product development and expansion of the solutions offered within our software suite, we are providing partners with new opportunities to grow their business in emerging software areas. In the last 12 months, we have enabled our partners on new products such as NetSuite TribeHR (HCM), NetSuite SuiteCommerce (Ecommerce) and NetSuite POS (Retail). Partner Enablement 2.0: In 2014, NetSuite expanded its partner enablement program that trains channel partners on selling, marketing, and presales consulting for NetSuite. Specific new program enhancements were made to provide partners with monthly product updates and training on customer implementation services. These enhancements enable our partners to more efficiently service customers and prospects, while pursuing new areas to grow their services business.
How partner community has grown over the past year:
NetSuite experienced record growth in its channel business during the FY2013, growing overall business 35% year-over-year, while the channel drove 40% of new business sales. In Q1 2014, NetSuite reported its 7th consecutive quarter of over 30% revenue growth and added 310 new customers. The number of VARs and SIs building NetSuite Cloud ERP practices has grown to well over 300 worldwide, including new partners Allunna, Ciber UK, ClearERP, Cooper Software, CuriousRubik, Elegant Cloud Solutions, FMT Consultants, and ProCons, all of which have extensive experience promoting and implementing ERP solutions from competitive publishers as Microsoft, SAP and Sage.
How do you expect your channel sales as a percentage of your company's overall sales to change:
Increase
How do you expect the number of channel partners you work with to change:
Increase
Top channel goals for 2015:
Add more qualified partners
Increase overall percentage of company revenue that comes through the channel
Increase the amount of net new accounts coming through partners
Single most innovative partner initiative in 2014:
The NetSuite BPO Partner Program has been NetSuite's biggest innovation in 2014, enabling its BPO and BPaaS partners to provide complete business process automation to clients of any size, ranging from small businesses to multi-national Global 2000 corporations. The BPO Partner Program is the first of its kind, offering NetSuite's unified cloud-based solution of ERP, CRM and ecommerce for third party business process automation. In addition, NetSuite offers a feature set that is not available through other solutions including: A robust set of core financials, such as AP and AR functionality. Built-in reporting and analytics capabilities that allows BPO providers to offer an integrated Record-to-Report service to clients. A broad range of specialized F&A functionality, such as native Revenue Recognition and Recurring Billing that often must be "bolted on" to other solutions, resulting in higher costs to the BPO provider. Custom workflows, bundles, and integration capabilities through the SuiteFlow workflow builder, SuiteTalk web services API and SuiteBundler, providing BPO providers with robust customization and integration tools. The NetSuite BPO Partner program offers BPO providers lower IT and operational costs, a more flexible platform and a better client experience.
Key channel/partner investments made over the past year:
Growth of Internal Channel Team: NetSuite's biggest investment was in people, hiring employees globally to service channel partners at the highest rate ever since NetSuite's inception, supporting multiple areas including sales management/execution, partner enablement, and marketing. Bringing New Products to Market: NetSuite continued investment in developing new functionality and bringing new products to the channel. New offerings include TribeHR, POS, and ecommerce. NetSuite for Android: The first ERP Android OS application delivering rich ERP capabilities for users to conduct business on the go. Partners can leverage our partner portal from Android smartphones, gaining access to leads, KPIs and more.
Plans for attracting the next generation of solution providers:
NetSuite offers best-of-breed revenue model to partners: boxed-product type margins of 30%-50% combined with the true recurring revenue (at 30%) that only a subscription-based application can deliver. NetSuite also announced the BPO Partner Program, enabling BPO/BPaaS partners to provide complete business process automation to clients of any size. By expanding our product footprint, adding HCM, POS, and ecommerce capabilities, we can recruit new partners with expertise in those specific areas. NetSuite's SuiteCloud development platform and NetSuite OneWorld provide the customization and flexibility required by multinational enterprise companies and present major growth opportunity for partners, enabling recruitment of more enterprise partners.
Advice to someone getting into the channel today:
Be a disruptor, not a company that gets disrupted. Disruption can be a springboard for your business, and can open major opportunities for future growth. As an early adopter and promoter of disruptive technology, you can position yourself to become an industry leader and market expert. And today's most disruptive technologies, cloud-based solutions, bring the benefit of disruption with the promise of true recurring revenue streams. One-time revenue streams of on-premise solutions can deliver, what a disruptive technology can help provide towards is maximum value for your business and put you one step ahead of the competition.
Unedited Content Provided By Vendors
Printer-friendly version
Email this CRN article