Printer-friendly version
Email this CRN article

One of our "50 Most Influential Channel Chiefs"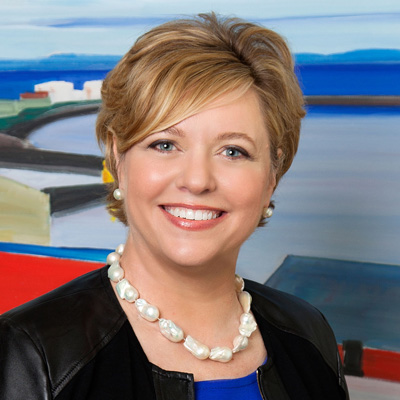 A Video Message From Brooks McCorcle
Fun Facts: Favorite movie and why:
-Swiss Family Robinson- is an all-time favorite for the outdoor family adventure, and really, who wouldn't love to live in a treehouse and race on ostriches!
Uses Facebook
Uses LinkedIn
Has An Advanced Degree
Has An MBA
Once Worked In A Restaurant
Considers Themselves A Geek
Main Computer Is A Tablet
Plays Golf
Loves To Read
Wished They Were A Rock Star
Brooks McCorcle
AT&T Mobile & Business Solutions
President -AT&T Partner Solutions
Bio and Background:
Brooks McCorcle is responsible for launching innovative solutions to drive value and growth in AT&T Mobile & Business Solutions. Her organization applies AT&T Foundry principles to everything they do -openness, collaboration, innovation and agility all play a central role. The breadth of her experience, combined with her passion and boundless energy, has made her a respected leader who can inspire teams and deliver results. Brooks' responsibilities were expanded in late 2014 to lead AT&T Partner Solutions, which combines AT&T Partner ExchangeSM, Wholesale Solutions (including Global Wholesale) and ACC Business (an alternate sales agent program). AT&T Partner Solutions merges our established strength and scale with the agility and power of APIs, tools and new business models that AT&T Partner Exchange has built to provide customers and agents more choices in how they do business with AT&T. Over her 24-year tenure with AT&T and its predecessor companies, Brooks has held positions in Mergers & Acquisitions and Finance, and executive positions in Consumer Marketing, Customer Care and Sales. Previously, she led Investor Relations for AT&T, where she directed financial communications and maintained relationships with institutional investors and analysts around the world. Brooks has garnered accolades for her innovative approach including Profiles in Diversity Journal's Women Worth Watching Award for 2015; Dallas Business Journal's 2014 Women in Business Award; and three Bronze Stevie Awards for Women in Business in 2014 and 2013. She holds community leadership positions with the Friends of the Dallas Public Library and the Center for Brain Health at the University of Texas (Dallas). She serves as a mentor through AT&T Aspire, Big Brothers and Big Sisters, Women of AT&T and AT&T Women of Finance. Brooks holds a Master of Business Administration from the Olin Business School at Washington University and a Bachelor's of Business Administration from Southern Methodist University.
Number of years with the company:
24
Number of years involved with indirect sales:
2
Reports to:
Ralph de la Vega, President & CEO, AT&T Mobile & Business Solutions
Does that individual report to the CEO/president:
Yes
Number of employees in channel organization:
N/A
Top products sold through the channel:
1. AT&T Virtual Private Network 2. AT&T Managed Internet Service/Internet Access 3. AT&T Switched Ethernet Service 4. Mobile Services -Wireless Devices and Plans 5. AT&T IP Flexible Reach 6. AT&T Colocation Hosting Services 7. AT&T Enhanced Push-to-Talk Service 8. RingCentral Office@Hand from AT&T 9. AT&T Network-Based IP VPN Remote Access 10. AT&T Network-Based Firewall Service
Partner organization's top accomplishments over the past year:
Secured $300 Million Investment -Focused on solution providers, Brooks removed roadblocks and drove the charge to secure funding for AT&T Partner Exchange. Her successful efforts enabled solution providers to get the capital, tools and programs they need to compete and win in the marketplace. Launched AT&T's Open API Platform -When Brooks and her team learned that slow delivery times were a concern for solution providers, they jumped on the issue. Using the collaborative and agile culture Brooks has fostered, the team built an API platform to open our core systems to solution providers. Our flexible, responsive technology enables direct access to near real-time product availability, quoting and ordering capabilities, putting control of the customer experience in the hands of our solution providers. More than 100 solution providers are currently using the platform. Hosted the Inaugural AT&T Partner Exchange Summit -Committed to putting solution providers at the center of the AT&T Partner Exchange reseller program, Brooks worked with her team to design an event for this community. Drawing more than 250 attendees, the AT&T Partner Exchange Summit provided participants with an opportunity to connect, collaborate and learn about channel trends as well as strategic opportunities and services.
How partner community has grown over the past year:
Still in its infancy, the AT&T Partner Exchange program is focused on steady and measured growth. With more than 200 regional and national solution providers, we have doubled the number of solution providers in the AT&T Partner Exchange reseller program. Of these, more than 80 percent are new to AT&T. Solution provider activity remains strong with thousands of closed deals in 2014, and we're seeing more than 80 percent new mid-market business revenue. To accommodate the needs of our solution providers, 26 new training courses and certifications were introduced in 2014, and response to the program has been overwhelmingly positive.
How do you expect your channel sales as a percentage of your company's overall sales to change:
Increase
How do you expect the number of channel partners you work with to change:
Increase
Top channel goals for 2015:
Add more qualified partners
Launch new certifications and/or partner levels
Increase the amount of recurring revenue going through partners
Single most innovative partner initiative in 2014:
We launched the API Platform in September 2014 after learning that our solution providers needed faster installations and more control of the end-customer experience. Reinventing how we deliver services, we built an API platform to open our core systems to solution providers. Our flexible, responsive technology enables a rich ecosystem of value-added services, granting direct access to near real-time product availability, quoting and ordering capabilities. Putting control of the customer experience in the hands of our solution providers, the API platform fosters a self-service environment. Over 50 percent of the transactions crossing through AT&T Partner Exchange are never touched by AT&T. Additionally, we've used APIs to automate the sales process, which helped cut cycle times by more than half. Solution providers can provide quotes to their customers for select AT&T products nationwide in seconds, and orders have flowed to field engineers within minutes of being submitted. Solution providers can connect directly to the API Platform to customize applications for their businesses. Over 100 solution providers have unlocked the power of the platform, which will also be made available to AT&T's other indirect channels. Third parties can also use our APIs to create value-added services for solution providers in our program.
Key channel/partner investments made over the past year:
In 2014, AT&T Partner Exchange received $300 million in funding, which we invested in the following platforms/initiatives to help solution providers compete and win in the marketplace: 1. An open API platform to transform service delivery 2. Enablement tools to bring solution providers even more capabilities to service their customers 3. Certification and training to help our solution providers reach success 4. Market Development Funds to help solution providers build awareness
Plans for attracting the next generation of solution providers:
AT&T Partner Exchange is an innovative reseller program designed to help solution providers win in the marketplace. Built to be collaborative, agile, open, innovative and responsive, solution providers enjoy the following benefits: -Ownership of the end-user business customer -Ability to control margins and grow strong recurring revenues -Co-branded solutions and marketing support -Access to Market Development Funds, enablement tools and open APIs As quoted from one of our solution providers in CRN, "Getting the time and attention, getting the visibility, collaborating to make an impact -- the way AT&T has approached this program was really the closer for me."
Advice to someone getting into the channel today:
Customer Centric Business Model: Put the customer at the center of everything you do, engaging them in the creation of your program and listening, learning and collaborating every step of the way Culture Matters: Develop open, collaborative and small functional teams that can move quickly and keep up with the pace of the high-tech environment Agile Development: Ensure IT, business, process engineers and solution providers work together on functionality. The goal is to deliver more in a shorter timeframe. Self Service Model: Simplify internal processes, making quoting, ordering and delivery as automated and seamless as possible for solution providers
Unedited Content Provided By Vendors
Printer-friendly version
Email this CRN article