Printer-friendly version
Email this CRN article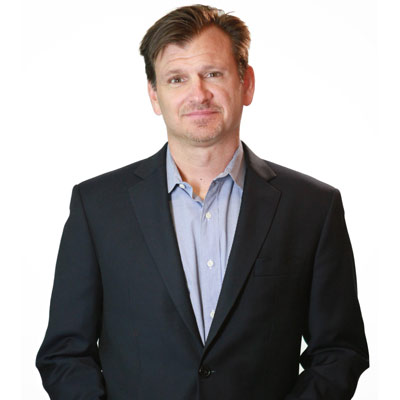 Fun Facts: Favorite movie and why:
Life is Beautiful - it's such a great movie because it really shows how tough life can be at times and how seeing the glass half full can help, which can often be the difference between success or failure. You have to learn how to steer around the potholes and deal with your surroundings.
Uses Twitter
Uses Facebook
Uses LinkedIn
Has An Advanced Degree
Has An MBA
Once Worked In A Restaurant
Once Worked At A Solution Provider
Considers Themselves A Geek
Plays Golf
Loves To Read
Wished They Were A Rock Star
Michael Hughes
Barracuda Networks
SVP Worldwide Sales
Bio and Background:
As Senior Vice President of Worldwide Sales at Barracuda, Michael Hughes is responsible for the strategy, direction and execution of global sales and sales operations for the company's diverse product portfolio. Since taking on this role in 2010, he has successfully grown revenue rapidly across multiple product lines. During his tenure, he built Enterprise, Channel, Commercial and Specialist Sales teams, and helped build a culture of execution and accountability. He previously served as Barracuda's Vice President of EMEA Sales. Prior to joining Barracuda, he was the Vice President of Sales for Asempra Technologies, a data protection innovator, where he consistently grew revenue over his tenure until Asempra was acquired by BakBone. Hughes also served as a Sales and Business Development leader in Europe and America for McDATA Corporation (acquired by Brocade), Invio Software (acquired by Symantec), and publicly-traded Marimba (later acquired by BMC). He earned a B.S. in Marketing from Miami University and an M.B.A. from University of Michigan.
Number of years with the company:
5
Number of years involved with indirect sales:
25
Reports to:
William "BJ" Jenkins, CEO
Does that individual report to the CEO/president:
Yes
Number of employees in channel organization:
87
Top products sold through the channel:
Barracuda Backup, Barracuda Message Archiver, Barracuda Web Filter, Barracuda Spam Firewall, Barracuda Firewall, Barracuda NG Firewall, Barracuda Web Application Firewall, Barracuda Load Balancer ADC, Barracuda Copy, Barracuda SignNow
Partner organization's top accomplishments over the past year:
Increased Channel Support -Increased channel support by 45 percent this year, which includes additional inside and outside account managers, sales engineers, product specialists, channel development managers and channel marketing specialists all focused on enabling channel partners to successfully sell and support Barracuda solutions. Improved partner education through Barracuda University -Partner training and education always remains a focus and this year we've made updates to Barracuda University by offering even more classes to help partners remain up to speed on Barracuda solutions, as well as an updated web presence to help partners locate the training they need for their business focus. Expanded Distribution Strategy -Barracuda is fortunate to work with exceptional distributors like Arrow Electronics and SYNNEX who in addition to many great services offer solution providers a cloud marketplace to expand their businesses. We're always working to expand relationships with our distributors, and now solution providers are able to purchase Barracuda cloud solutions by way of the ArrowSphere Cloud Marketplace or Amazon Web Services and Microsoft Azure where they can build or expand a cloud business model to address customer challenges that best fits the needs of each individual partner.
How partner community has grown over the past year:
We've made significant enhancements to our security and storage solutions this year, including a refresh of our entire storage portfolio with the launch of Barracuda Data Protection Plus, launching the Barracuda Security Suite and acquiring C2C Systems to offer customers a more complete information management and archiving solution. These additions have brought great opportunity for existing channel partners to expand, and for Barracuda to add partners who are specifically focused on growing through the cloud, firewall deployments, storage or in market segments like education where we're seeing expanded growth.
How do you expect your channel sales as a percentage of your company's overall sales to change:
Stay the Same
How do you expect the number of channel partners you work with to change:
Increase
Top channel goals for 2015:
Migrate partners to cloud solutions
Launch new/revamp existing channel program
Improve partner profitability
Single most innovative partner initiative in 2014:
Everything we do as an organization is to build and strengthen our partner ecosystem and strategy. With that in mind we've added an enormous amount of innovation this year with the cloud. We've continued to make more Barracuda solutions available throughout the year in Amazon Web Services and Microsoft Azure as well as in the ArrowSphere Cloud Marketplace. By taking these steps we're enabling our channel partners to deploy Barracuda solutions in a manner that makes the most sense for their customers. From a solution perspective we've added incredible features like cloud archiving to the Barracuda Message Archiver, which extends archives into the cloud for offsite, long-term, and cost-effective storage -which again allows partners to choose the best method of deployment for their customers. We've also worked this year with our SignNow team to start integrating the Barracuda SignNow eSignature platform into the day-to-day operations of channel partners to help speed up document workflow, retrieve and send signatures, collect documents, eliminate paper and more. SignNow is also integrated with applications like Salesforce and Microsoft Office365 so our channel partners can leverage it right from programs they're already using.
Key channel/partner investments made over the past year:
Acquisition of C2C Systems -provides channel partners with the ability to offer a more complete information management and archiving solution to simplify IT and control storage costs. 45% Increased Channel Support - added additional account managers, sales engineers, product specialists, channel development managers and channel marketing specialists all focused on enabling channel partners to successfully sell and support Barracuda solutions. Barracuda Data Protection Plus -Barracuda's largest historical storage launch with a refresh to our entire storage portfolio to help channel partners provide customers with the ability to access, retain and share critical data from anywhere and any device.
Plans for attracting the next generation of solution providers:
In addition to continuously working to improve our partner program for new and existing partners, by joining communities like the ArrowSphere Cloud Marketplace, we're enabling access to a new set of solution providers focused on selling and implementing clouds solutions. This is just one example, but by targeting new market trends we're able to bring in new solution providers while still remaining focused on the long-time partners who have done such a great job of supporting and selling Barracuda over the years.
Advice to someone getting into the channel today:
It's important to focus on providing value to the customer. Today's customers are asking about technologies like the cloud and looking to simplify their lives. Listen deeply and intently to customers to hear their challenges so you can provide the best services possible for their situation.
Unedited Content Provided By Vendors
Printer-friendly version
Email this CRN article