Printer-friendly version
Email this CRN article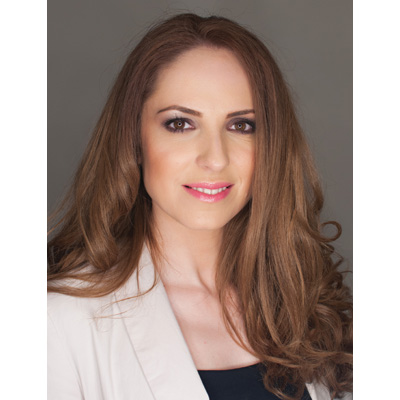 A Video Message From Raluca Cosciug
Fun Facts: Favorite movie and why:
"Sweet November" is my favorite movie. It is a classic Shakespearean triste. I picked this movie, at first, because it has my birth month in the title and thought I would like it just because of its name. But after seeing it, the title did not remain one of my favorite things about it, but the emotions that I went through and the basic idea that we have a short time to do things and we are wasting it. We have a limited life, we have to live it to the full and leave a mark behind. A positive one.
Uses Twitter
Uses Instagram
Uses Facebook
Uses LinkedIn
Has An Advanced Degree
Considers Themselves A Geek
Main Computer Is A Tablet
Loves To Read
Raluca Cosciug
Bitdefender
Partner Program Manager
Bio and Background:
Raluca Cosciug is the Partner Program Manager for Bitdefender. She has been working with Bitdefender for about four years in the channel business unit, handling operational and strategic marketing roles. Raluca has a strong background in B2B marketing and sales for IT products and security software, having a total experience in the channel of over 10 years. Since the beginning of 2013 she has been leading the partner program team, where she has been able to contribute her experience in the security market and her understanding of the channel's needs. She is also looking to add many innovations in this segment, as the aim is for Bitdefender to lead the market in the channel ecosystem as well.
Number of years with the company:
4
Number of years involved with indirect sales:
10
Reports to:
Ciprian Istrate, Global Marketing Director
Does that individual report to the CEO/president:
No, he reports to the COO.
Number of employees in channel organization:
100
Top products sold through the channel:
1. GravityZone -Security for Virtualized Environments 2. GravityZone -Security for Endpoints 3. GravityZone -Security for Mobile Devices 2. Small Office Security 3. Total Security 4. Internet Security 5. Antivirus Plus 6. Mobile Security 7. Sphere 8. Antivirus for Mac 9. Family Pack 10. Parental Control
Partner organization's top accomplishments over the past year:
1.Revamping the partner program -Based on the analysis I made of the initial channel program and the way it answered the market's needs, I have redesigned it using a new approach based on the Bitdefender' strategy. The program was communicated and implemented internally, by myself, as the new benefits were made available to the worldwide partners. My colleagues in the field have helped our global partner program team in the enablement of all our channel partners. 2.Implementation of the new program in a new partner platform -Having a new program in place, we needed a platform to sustain it, so we developed an in-house portal based on our partners' needs. The portal integrates the benefits offered by our channel program, and is custom-made in terms of usability and ease of doing business. Most of the flows and processes are integrated so that our channel partners have access to the best-of-breed technology, not only for our products, but also for their businesses. 3.Partners Enablement Program -An automated knowledge transfer was put in place, for our partners to be on-boarded once they join our community. Key information is delivered automatically, as we know that communication is key for success.
How partner community has grown over the past year:
Over the last year, Bitdefender has grown its partner network by more than 2,000 partners globally.This growth was possible both thanks to of our field teams' recruitment, and through targeted acquisition.Bitdefender was able to recruit security VARs, MSPs, resellers, distributors and country partners. The recruitment of qualified partners was possible through the new dedicated platform, which supports the 2-tier model for the regions where we apply this distribution strategy, but also through the attractive benefits of our enhanced program and the channel-targeted campaigns. It is a mix that helps us develop our partner ecosystem rapidly, ahead of the market trends.
How do you expect your channel sales as a percentage of your company's overall sales to change:
Increase
How do you expect the number of channel partners you work with to change:
Increase
Top channel goals for 2015:
Add more qualified partners
Increase overall percentage of company revenue that comes through the channel
Increase the amount of net new accounts coming through partners
Single most innovative partner initiative in 2014:
The most innovative initiative that the channel team was responsible for in 2014 is the enhanced partner program and its implementation. As we are talking about a global implementation for all our channel partners, the efforts were huge in order to be sure the enablement is done completely and smoothly. But we are living in the age of technology, and if we are not part of the change we couldn't lead the security market. Innovation is Bitdefender's second name, and we understand that besides receiving the most prestigious awards and certifications for our products and technologies, we have to be the leaders in the channel segment as well. We have improved many segments, adding the custom-made partner portal, the new CRM system, increased and secured financial benefits for our channel partners, an enhanced lead management process, the renewal process, the incentivized deal registration system, and many more, as well as increased focus and commitment towards our channel partners. As we love to communicate, an automated communication system is in place, and because we want to listen to our partners, a global partner satisfaction survey has been rolled out in this quarter.
Key channel/partner investments made over the past year:
The top 3 channel investments that Bitdefender made in 2014 include: 1. PAN Portal - Designing, developing and implementing a platform and a new CRM system. 2. Enablement program - Bitdefender increased the overall investment in channel partners enablement and knowledge transfer programs. 3. Increased channel headcount - We hired sales personnel with strong experience in the marketplace, looking for people who believe in the Bitdefender brand and are willing to make a difference for our channel partners. The hirings that we made throughout 2014 improved our company's ability to support, expand, scale and enable our growing channel community.
Plans for attracting the next generation of solution providers:
Supporting the Service Providers business model is a strategic priority for Bitdefender. Our Cloud Security for MSP program was designed to address the needs of service providers. The Bitdefender security solution provides the best protection and performance, as consistently confirmed by independent studies. Service providers will therefore benefit from lower operational costs and higher customer loyalty and satisfaction. Through our highly flexible monthly licensing, our partners enjoy clear cash flow advantages, highly important especially during economic downturns. To continue delivering a powerfully simple security solution, more integrations with RMM providers are included in our innovation roadmap, dedicated to service providers.
Advice to someone getting into the channel today:
You need to understand it is going to be a long trip taken together with a big team; something new will appear every day, and you will have to always be on the lookout and catch the opportunity. The team you will be part of is made of smart and interesting people, always looking for new challenges. With regards to the Bitdefender' channel, we always consider our partners as being our extensions in the market, and we treat them accordingly. We share the same values, as we want to conquer the highest peaks together.
Unedited Content Provided By Vendors
Printer-friendly version
Email this CRN article