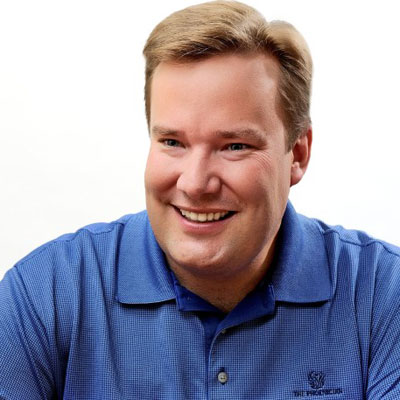 Fun Facts:
Favorite author and why? :
My 13 year old daughter Sophie Abbott. She's an amazing writer and has already published a book ' Dawn of the Wolves. Check it out on Amazon!
Uses Twitter
Uses Facebook
Uses LinkedIn
Has An Advanced Degree
Has An MBA
Once Worked At A Solution Provider
Plays Golf
Plays Tennis
Once Had A Newspaper Route
Spends More Time On The Road Than In The Office
Loves Sports
Prefers Real Books To E-Books
Jeff Abbott
Infor
SVP, Global Channel Business Unit Sales
Number of years in channel chief role:
7
Number of years with the company:
7
Number of years involved with indirect sales:
16
Reports to:
Stephan Scholl, President
Does that individual report to the CEO/president:
Yes
Worldwide Channel Partners:
700
North American Channel Partners:
125
Number of employees in channel organization:
140
Bio and Background:
Jeff Abbott is Senior Vice President, Global Channels Business Unit, at Infor. In this role, he is responsible for Infor's partner go-to-market strategy and the Infor Partner Network as well as the management of the channel sales organization managing 1,500 partners across 73,000 customers. Jeff brings over twenty years of experience in sales, business development, channels/alliances, and marketing in the enterprise software business. In addition to providing partners support and enablement of existing business and new on-premise business, Jeff is focused on putting partners in a strong position to create, transition, and sustain cloud-based business models by allowed access to industry rich cloud solutions, providing guidance and enablement on how to build a profitable, sustainable and growing cloud practice. Throughout his career Jeff has formed innovative go-to-market programs designed for rapid growth. Prior to joining the Infor team in December 2008, Abbott led the Global Midmarket Applications Business Unit at Oracle Corporation.
Top products sold through the channel:
Top Infor products sold through the channel include Infor CloudSuite™ Industrial and Infor CloudSuite™ Business, two of Infor's fully integrated, industry-specific solution suites available on Amazon Web Services' (AWS) cloud. Channel partners also sell Infor ION®, Infor's lightweight middleware, as well as Infor Ming.le™, a comprehensive platform for social collaboration, business process improvement and contextual analytics. In addition to these technologies, partners are actively involved in selling Infor ERP solutions for both manufacturing and distribution, including Infor SyteLine, Infor LN, Infor XA, Infor VISUAL, Infor M3, Infor Distribution SX.e, and Infor Distribution FACTS.
Partner organization's top accomplishments over the past year:
Programs and initiatives launched to partners over the last 12 months have allowed double digit growth in Infor's channel business. The channel partner business unit was consolidated under Jeff Abbott this year and this has resulted in a great deal more alignment, productivity and accountability. The launch of the Infor Partner Helpdesk allows partner access to Infor solution subject matter experts for any functional, technical & project management questions on select Infor solutions. Allowing partners to evolve their business model and embrace the cloud takes a deliberate strategy ' Jeff was instrumental in the delivery of a greatly enhanced partner cloud compensation model, doubling the amount of reoccurring revenue for Infor channel partners.
How partner community has grown over the past year:
Infor is actively recruiting new partners at the micro-industry level across the entire network around the world. Infor maintains a highly protective program for partners and the coverage strategy includes only recruiting where there are gaps in uncovered industries and/or solution areas. Infor expects to recruit and on-board over 50 new partners globally this year.
Expected channel sales growth:
Increase
Expected partner community growth:
Increase
Top channel goals for 2016:
Increase overall percentage of company revenue that comes through the channel
Migrate partners to cloud solutions
Increase the amount of net new accounts coming through partners
Single most innovative partner initiative in 2015:
The Infor Partner Network's mission statement is 'engage, evolve and exceed' which is a continual process. Delivering strong enablement and marketing programs isn't enough to supplement this, so in order better the process, Jeff and his team have launched the Infor Partner Helpdesk. The Infor Partner Helpdesk allows global partner access to Infor solution subject matter experts. This will assist partners in sales and pre-sales questions and guidance, assistance through implementation, providing further engagement post-go live. Other innovations include the creation of the Infor CloudSuite Academy and a co-brand center, providing demand gen content.
Key channel/partner investments made over the past year:
1. Cloud compensation model - Doubles the amount of reoccurring revenue for our channel partners 2. Channel Excellence Program ' Building a channel manager program that will deliver consistent best practices across the entire channel organization 3. Infor Partner Helpdesk ' Partners can access Infor subject matter experts
Plans for attracting the next generation of solution providers:
Infor customers continue to seek software solutions that address unique micro-vertical requirements to help make their businesses more flexible and adaptive in today's changing markets and the need to assist customers in this endeavor was the catalyst for the creation of both the Micro-vertical Products Program and the Micro-vertical Specialization Program, both of which are designed to align Infor applications with experienced partner experts, so all parties can work collaboratively to help customers speed time to value and increase the return on their Infor investment. This is the cornerstone of Infor's partner recruitment strategy.
Advice to someone getting into the channel today:
Look at your solutions, your enablement, and your overall attractiveness through the lens of a partner. Attracting, signing, and retaining the best partners in the market is one of the last sustainable competitive advantages in the enterprise software industry.
Who inspires you and why?:
Infor partners. Infor partners represent the best of innovation, determination, and value creation. When you put your reputation, your personal finances, and your entire life's work on the line in front of customers every day, and you create a business with the customer at the center ' you have my admiration and respect.
Unedited Content Provided By Vendors