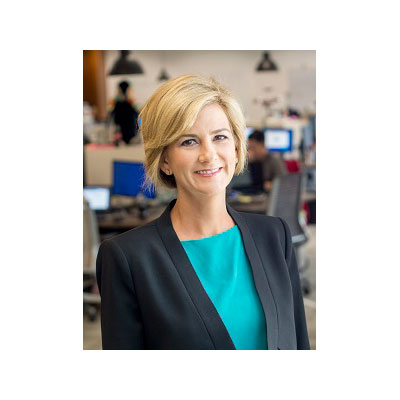 Fun Facts:
Favorite author and why? :
For professional reads, Sue enjoys Liz Wiseman who wrote Multipliers: How the Best Leaders Make Everyone Smarter. This book is a great reminder that leaders must help their team members grow and develop to their maximum potential. The best leaders amplify the capabilities and intelligence of individuals by giving them opportunities that stretch them and give them the ability to truly own outcomes. Welcoming debate and investing in employees are examples of important disciplines explored by Wiseman. Wiseman also explains that it's just as important to avoid behaviors that hamper ability and enthusiasm.
Uses Twitter
Uses Instagram
Uses Facebook
Uses LinkedIn
Has An Advanced Degree
Has An MBA
Once Had A Newspaper Route
Sue Galvanek
AT&T
VP, Marketing, Pricing and Product Solutions, AT&T Partner Exchange AT&T Partner Solutions
Number of years in channel chief role:
1.5
Number of years with the company:
22
Number of years involved with indirect sales:
2.5
Reports to:
Brooks McCorcle, President, AT&T Partner Solutions
Does that individual report to the CEO/president:
No ' One degree removed
Channel Chief Twitter handle:
@ATTBusiness
Number of Twitter followers:
81800
Worldwide Channel Partners:
N/A
North American Channel Partners:
N/A
Number of employees in channel organization:
N/A
Bio and Background:
Sue Galvanek is vice president of marketing, pricing and product solutions for AT&T Partner Exchange. In this role, she is responsible for delivering a suite of innovative programs and services that will help increase solution providers' success in the marketplace. One of the many areas in which Sue is enabling solution providers is through innovation. She currently leads the team responsible for driving greater automation in the channel and providing easier access to products and services. Since solution providers in the AT&T Partner Exchange reseller program have full ownership of the end-user business customer, this straightforward approach is extremely important in accelerating the speed at which they can do business. She brings more than 20 years of experience and inventive thinking to the channel. Prior to joining AT&T Partner Exchange, Sue served as the chief of staff for the CEO of AT&T Business Solutions where she managed high-profile initiatives. Sue also has a proven track record of success in her previous marketing, sales and sales operations roles where she has developed channel strategies and designed compensation structures for 10,000 sales employees in channels ranging from small business call centers to teams that sell to large multi-national corporations. She was responsible for leading sales compensation integration during both the AT&T/SBC and the AT&T/BellSouth mergers. Earlier in her career she focused on the development of indirect channels and was responsible for 9-1-1 database operations and customer relationships in Texas. CRN recognized Sue as a 2015 Women of the Channel honoree. She was also selected as one of CRN's 2015 Women of the Channel Power 100 winners for helping to drive channel success. Sue earned an undergraduate degree in Education from Indiana University and an MBA from the University of Texas. She lives in Plano, Texas, with her husband and two daughters.
Top products sold through the channel:
1. AT&T Switched Ethernet Service 2. AT&T Virtual Private Network 3. AT&T Managed Internet Service 4. AT&T Internet Access 5. AT&T IP Flexible Reach 6. Mobility Services ' Wireless Devices and Plans 7. Enhanced Push-to-Talk Service 8. AT&T Network-Based IP VPN Remote Access 9. AT&T Network-Based Firewall Service 10. AT&T Colocation Hosting Service
Partner organization's top accomplishments over the past year:
Heightened Solution Provider Enablement ' Working with her team, Sue continuously identifies opportunities to enable solution providers to move quickly while better controlling the customer experience. In the past year, she has helped solution providers access self-service and third-party value-added tools like Marketing as a Service and Network Operations Center as a Service. Select third parties were also brought in to help solution providers use our innovative AT&T API platform to create a customized experience for service availability, quoting and ordering. And through her and her team's work, there have been more than 13 million calls on our API platform, underscoring solution providers' demand for speed and agility to elevate the value they can provide. Launched Investment Development Funds ' To help solution providers transform their businesses, Sue and her team are helping them invest in activities beyond marketing. We saw this as a unique opportunity for the channel, taking our commitment to our solution providers' success one step further. Rolled Out the Certification Achievement Program ' Under Sue's leadership, AT&T rolled out our first-ever certification program to the channel. The progressive learning experience helps solution providers build in-depth knowledge of specific product and service offerings across our three portfolios.
How partner community has grown over the past year:
The innovative business model behind AT&T Partner Exchange has attracted nearly 400 solution providers to the program, growing more than 80% year over year. Hitting our sweet spot, 80% of end-user customers are from the mid-market segment and are bringing new revenue to AT&T. More importantly, our model sets solution providers up for success from the start. They are actively taking advantage of our wireline and wireless portfolios, driving more than 200% year-over-year growth in the number of wireline deals closed. And, solution providers have driven a 250% increase in the number of mobility subscribers coming through AT&T Partner Exchange.
Expected channel sales growth:
Increase
Expected partner community growth:
Increase
Top channel goals for 2016:
Add more qualified partners
Increase overall percentage of company revenue that comes through the channel
Increase the amount of recurring revenue going through partners
Single most innovative partner initiative in 2015:
Committed to our solution providers' success, Sue and her team launched Investment Development Funds in mid-2015. They are designed to help solution providers take their businesses to the next level, further enabling their transformation to a recurring revenue model and aiding their ability to own the full customer experience. Believed to be unique in the channel, Investment Development Funds go beyond traditional Marketing Development Funds. They help solution providers invest in core business needs, such as staff augmentation, sales and operational consulting, contracting support, API development and systems enhancements to platforms like billing and service assurance. AT&T Partner Exchange will fund a certain percentage of a project's cost for eligible solution providers, up to an annual maximum. Funding is available through an easy-to-access portal where solution providers can select from a list of third-party vendors ready to help meet their internal business transformation objectives. We've seen a solid number of solution providers take advantage of this program with positive feedback on Investment Development Fund's ability to enable new capabilities or optimize their existing business. Following the collaborative nature of our program, we constantly evolve the service categories and third-party vendors based on feedback provided by our solution providers.
Key channel/partner investments made over the past year:
AT&T Partner Exchange is focused on enabling and accelerating our solution providers' success. This past year, we launched the following: Mobility Employee Sponsorship Program ' Extend a discount on wireless services to customers' employees Investment Development Funds ' Invest in transformative business activities beyond marketing Enablement Tools ' Own the customer experience with self-service, agile capabilities, including the Order Status Tool, Enablement Playbook and third-party provided services like Network Operations Center as Service and Marketing as a Service Certification Achievement Program ' Increase ability to consult, sell and create integrated solutions Simplified Program Tiers ' Offers enhanced pricing and benefits
Plans for attracting the next generation of solution providers:
AT&T Partner Exchange was designed to be different. Listening first and innovating second, we built our business model around solution providers' direct feedback. And as a result, our first-of-its-kind program enables solution providers to: Create co-branded solutions that feature our network, mobility and cloud services Truly own the end-user relationship, from design to billing to customer care Control margins and build a recurring revenue stream Openly hunt for customers We're focused on driving innovation in the channel to accelerate our solution providers' success, and we will continue to lead the way, transforming our model to meet their evolving needs.
Advice to someone getting into the channel today:
Set yourself up for success from the start with these channel trends: Connectivity: As more companies move to the cloud, connect their 'things' and incorporate video as a common business medium, connectivity will serve as a key way to drive value in your end-to-end offerings. Mobility: Everything is becoming mobile. Develop integrated wireline and wireless solutions to help your customers capitalize on the trend of doing business from nearly anywhere at any time. Agility: It's no secret that businesses are moving faster than ever before. Employ responsive tools and capabilities to stay ahead of the marketplace and your customers' needs.
Who inspires you and why?:
When former Xerox CEO Anne Mulcahy took the reins, the company was undergoing a financial crisis. Instead of filing for bankruptcy, Mulcahy made the riskier and more arduous decision to restore Xerox's health. Staying true to her values and the company's, Mulcahy never buckled under the immense pressures she was facing. Additionally, Mulcahy didn't let her pride interfere, admitting her lack of financial expertise and seeking a tutor on the subject matter. While there are many lessons to be learned from Mulcahy's successful journey to reinvent Xerox, Sue most admires the transparency, tenaciousness and humbleness exuded in her leadership.
Unedited Content Provided By Vendors