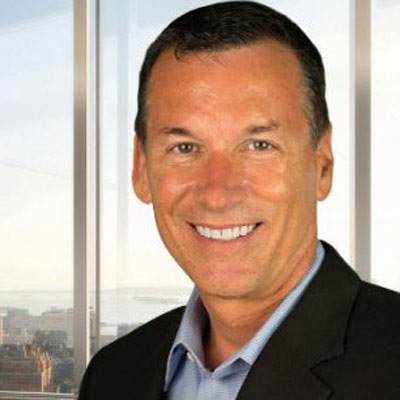 Fun Facts:
Favorite author and why? :
I have many favorite authors, across many genres. One favorite book/author that inspires me is "All I Really Need to Know I Learned in Kindergarten" by Robert Fulghum. It offers a reminder of some very simple, yet sometimes forgotten truths that apply to both my personal and professional life like, "Clean up your own mess," "It doesn't matter what you say you believe - it only matters what you do," and of course, "If the dream is held close to the heart, and imagination is applied to what there is close at hand. Everything is still possible."
Uses TwitterUses FacebookUses LinkedInHas A Technology CertificationOnce Worked At A Solution ProviderPlays Golf Handicap: 15 strokesOnce Had A Newspaper RouteSpends More Time On The Road Than In The OfficeLoves SportsAlways Wanted To Be A Movie Star
Russ Johnson
Connected Data/Nexsan-Imation
Chief Operating Officer/CRO
Number of years in channel chief role:
1.5
Number of years with the company:
1.5
Number of years involved with indirect sales:
20
Reports to:
Geoff Barrall ' Chief Executive Officer
Does that individual report to the CEO/president:
He is the CEO.
Worldwide Channel Partners:
300
North American Channel Partners:
250
Number of employees in channel organization:
15
Bio and Background:
Russell "Russ" Johnson has over 20 years of sales, marketing, and general management leadership that he brings to Connected Data. Before joining Connected Data he previously served as Senior Vice President with Barracuda Networks, in which capacity he managed Global Channels, international sales and marketing as well as global business workflow and optimization of the customer experience, ultimately leading to a successful IPO. He also previously held the position of President for the semiconductor division of e2v. Prior to e2v, Russell held sales and general management executive positions at Adaptec and Applied Micro and was involved in the successful sale of the storage division of Applied Micro to LSI Corporation.
Top products sold through the channel:
Transporter, Private Cloud File Sync and Share Solution
Partner organization's top accomplishments over the past year:
1.) I hold executive responsibility for and led the team that recently launched the Connected Data Excelerate Partner Program. By leveraging the Connected Data Transporter appliance together with the Excelerate Partner Program resources channel partners complement their current storage portfolio, exceed their clients' IT/business needs, increase their trusted advisor status, and dramatically grow their revenue streams. To date, the new program has helped to attract over 200 new partners, and increased channel sales by triple digits. 2.) Created the ability for Channel partners to participate in a market they were boxed out of. Channel partners can now participate in this market of Private Cloud in a traditional sales motion manner with ongoing revenue streams. The appliance delivery model allows resellers to 'bolt on' and private cloud EFSS solution in any existing environment. This create an opportunity for resellers to increase revenue and margin through and add-on product in conjunction with primary or secondary storage sales.
How partner community has grown over the past year:
Partners regularly enjoy strong double digit margins and increasing deal size. Our business model also provides for repeat business in customer accounts that see the benefits of expanding the Transporter footprint to multiple locations providing local access to folders and files in a cloud like manner while always retaining IT departments control over exactly where the data is physically stored and who has access to it.
Expected channel sales growth:
Stay the Same
Expected partner community growth:
Increase
Top channel goals for 2016:
Launch new certifications and/or partner levels
Improve partner technical skills
Increase the amount of recurring revenue going through partners
Single most innovative partner initiative in 2015:
Surprisingly in today's world, the fact that Russ runs a low-bureaucracy program that focuses with laser like clarity on: - Remaining steadfast in its mission to engineer and deliver products of the highest quality - Creating pricing models that provide partners with the greatest revenue opportunities - Investing in its channel partners through ongoing education, training and certification programs (i.e., not just offering 30 page presentations via a self-serve web portal) - Staying close to its channel partners, as well as the end user community, in order to continue to enhance Connected Data solutions to meet/exceed customer real-world business and IT requirements - Staying active in regards to lead gen and sales support (i.e., not just referrals) - Simplification: making the engagement and fulfilment process simple and profitable. '_ is in fact, an "innovative" concept.
Key channel/partner investments made over the past year:
NA
Plans for attracting the next generation of solution providers:
The Transporter provides an easy to deploy solution, that complements (doesn't replace, nor eliminate the opportunity to sell more) existing enterprise infrastructure investment.-- IT owns and fully controls the Transporter within the corporate firewall, while providing users with the anytime/anywhere access and ease-of-use of use of public cloud services. Moreover, with the launch of the Network Storage Connector, clients can now protect and access data stored on existing NAS investments with public-cloud-like ease. Offered together with a vast array of sales and marketing resources, the Transporter appliance not only delights end user clients, but channel partners' bottom lines as well.
Advice to someone getting into the channel today:
1) The Customer Comes First ' when developing your product, make sure it fulfills a 'need' not just a 'want' ' and then, find channel partners that understand the difference; and are expert in targeting the appropriate customers. 2) Dedicate the Necessary Resources ' make the necessary investment across your internal channel support/sales staff, and in channel partner resources (i.e., training, lead gen support, etc'_) 3) Strive for Quality over Quantity ' its not the number of channel partners you have, but rather the quality of the partnerships you cultivate. 4) Make it easy to explain, quote, sell, and fulfill.
Who inspires you and why?:
Choosing just one person that inspires me is a challenge. Instead, I will say my children provide the greatest inspiration. I believe that children watch what you do, more than they listen to what you say. So, for me, I always strive to set a good example'_ to serve as a positive role model. Again, whether its my professional or personal life, I hope I am showing them that anything worth doing, is worth doing well.
Unedited Content Provided By Vendors