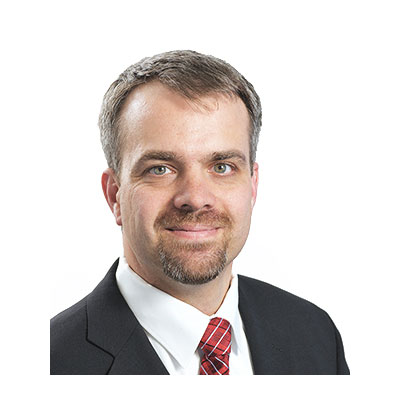 Fun Facts:
Favorite author and why? :
I'm a huge Star Wars fan, so my favorite author is Michael Stackpole. I've read over 100 of his books. I'm really looking forward to the new movie, even though it goes away the book narrative.
Uses TwitterUses FacebookUses LinkedInHas A Technology CertificationOnce Worked At A Solution ProviderPlays Golf Handicap: 16 strokesPlays TennisOnce Had A Newspaper RouteSpends More Time On The Road Than In The OfficeLoves SportsLoves To Cook
Clint Oram
SugarCRM
Co-Founder, CTO
Number of years in channel chief role:
4
Number of years with the company:
11
Number of years involved with indirect sales:
4
Reports to:
Larry Augustin, CEO
Does that individual report to the CEO/president:
He is the CEO
Channel Chief Twitter handle:
@sugarclint
Number of Twitter followers:
3015
Worldwide Channel Partners:
230
North American Channel Partners:
70
Number of employees in channel organization:
24
Bio and Background:
Clint helped found SugarCRM in 2004 with the goal of helping companies around the make every customer relationship extraordinary. Today, he leads corporate development strategy and the channels and alliances teams. Clint was one of the original architects and developers of the Sugar application and has focused on building out the product, company, partners and community in a variety of executive roles. Clint is a firm believer in the power of the channel and a strong advocate for all SugarCRM partners. Since the beginning, SugarCRM has been a channel company driving today over 2/3rds of its revenue through the channel. In 2012, Clint assumed responsibility for technology alliances with other independent software alliances, expanding that role in 2013 to include the OEM program at SugarCRM and then taking on executive leadership of all channel programs including the value added reseller program in 2014. Prior to co-founding SugarCRM, Clint held senior roles in the development, professional services and product management organizations at Epiphany, Octane Software and Hewlett Packard. He has 15 years experience in the enterprise software industry and over 10 years designing and building award-winning CRM software solutions. Clint holds a BS in computer science from Cal Poly, San Luis Obispo and is a co-author of a CRM software patent. Clint enjoys traveling and speaking at conferences on a variety of technical topics, and has visited SugarCRM customers and partners in over 25 countries.
Top products sold through the channel:
Sugar Ultimate Sugar Enterprise Sugar Professional
Partner organization's top accomplishments over the past year:
Formal Partnerships with Global Systems Integrators ' This year, SugarCRM signed deals with Infosys, Wipro, HP Enterprise, Bristlecone and Sopra Steria among others to reach enterprise customers around the globe. These deals allow Sugar to leverage the global reach and deep knowledge in CRM consulting and services of large SIs. Working with these partners accelerates SugarCRM's path to reach enterprise customers. 2nd Annual Global Partner Summit ' In October of 2015, we gathered our channel partners for our 2nd annual Global Partner summit in Portugal. We had more than 250 attendees, an increase in 40% over the previous year, from 31 countries. At the event we shared SugarCRM's vision for our channel in 2016 and discussed how the ongoing digital transformation is changing the customer buying experience, and is creating revenue opportunities for our partners. Launched new SugarExchange - The new SugarExchange includes a wide variety of applications and integration software products that have been developed by SugarCRM partners to extend the reach and functionality of Sugar software.
How partner community has grown over the past year:
Number of channel partners increased from 190 to 230, a 21% increase. 26% year-to-year ARR (annual recurring revenue) growth by all partners in SugarCRM's partner program 35% of partners experienced 100%+ ARR growth 31% of partners with 50%+ new/upsell ARR growth 8 partners with 500%+ billing growth 21 partners with 200%+ billing growth 40 partners with 100%+ billing growth 68 partners with 50% + billing growth
Expected channel sales growth:
Stay the Same
Expected partner community growth:
Increase
Top channel goals for 2016:
Add more qualified partners
Launch new certifications and/or partner levels
Improve partner technical skills
Single most innovative partner initiative in 2015:
SugarCRM has grown significantly in 2015, and more importantly our enterprise reach has grown more than ever before as a result of partnerships with large system integrators that have global reach and vast experience working with enterprise customers. Many SIs and larger VARs have now chosen SugarCRM as their growth engine for 2015. In addition, we've significantly expanded our OEM business in 2015. Many companies make products that are an integral part of the journey of their customers, and as a result are more successful when integrated or connected to a CRM system. For them CRM is a natural extension of what they sell. Today, ISPs are finding it makes sense to OEM an offering from a company that focuses on CRM. SugarCRM has a product very suitable to OEM.
Key channel/partner investments made over the past year:
Renewal Compensation - Worked collaboratively with partner community to introduce, based on direct partner feedback, a new renewal compensation model. Channel Education and Certification: In 2015, we made extensive investments in partner training and certification and have handed out 1000 sales and technical certifications. Partner Award Program - For the past six years, SugarCRM has recognized the leadership and achievements of its partner community. Channel-friendly programs ' SugarCRM pays its sales people the same commission whether the deal is closed directly or via a partner. This eliminates any potential "channel conflict." We also pay margins on renewals.
Plans for attracting the next generation of solution providers:
The CRM space will be a $40 billion dollar industry by 2018. As SugarCRM aims to claim a larger share of that pie, we understand we can't grow our business unless our partners grow their business. Our job is to help partners deliver a broad array of solutions for our customers by building a thriving ecosystem of leading software partners who integrate their solutions with our platform. We'll attract more partners and extend our market reach through an OEM, service provider and reseller strategy that enables partners to customize, deliver and manage industry and market-specific solutions.
Advice to someone getting into the channel today:
Keep up with the latest trends. That means you'll need cloud skills. The portability of the cloud means you need to be able to understand how to move software, regardless of the hardware. In addition, make sure you are well versed in cybersecurity, access control, intrusion prevention, identity management, and virus and malware protection. Lastly, if you can help companies make sense of big data, you'll be even more valuable.
Who inspires you and why?:
My tech hero is Elon Musk. His tech career is astounding to think about. From revolutionizing banking with PayPal and the automotive industry with Tesla to leading humanity into the next frontier with SpaceX, Elon's career is one for the history books. Frankly, I'm quite envious of him given that he is only 4 months older than I am and he has accomplished so much technology greatness in such a short time.
Unedited Content Provided By Vendors