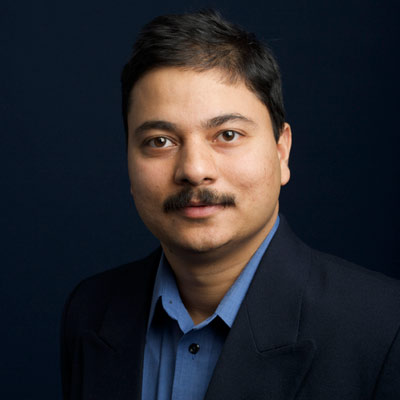 Fun Facts:
Favorite author and why? :
I like many authors and it is difficult to narrow my favorite down to one. That being said, I am going to pick Geoffrey Moore. I recently had the privilege to spend some time with him and it was a fascinating experience. I love all his books. I'm impressed by the way he dissects business concepts into a framework that is easy to understand. Having worked in multiple startups I can relate to the market drivers and conditions he describes in his books. I like how his books capture companies in various stages of evolution, from early stage startups, to well established and successful companies.
Uses Twitter
Uses LinkedIn
Has An Advanced Degree
Has An MBA
Once Worked At A Solution Provider
Plays Golf
Spends More Time On The Road Than In The Office
Loves Sports
Always Wanted To Be A Movie Star
Partha Panda
Trend Micro
VP, Global Channels, Alliances
Number of years in channel chief role:
5
Number of years with the company:
6
Number of years involved with indirect sales:
11
Reports to:
Kevin Simzer, Senior Vice President, Business Development
Does that individual report to the CEO/president:
Yes
Worldwide Channel Partners:
50,000
North American Channel Partners:
6,000
Number of employees in channel organization:
100
Bio and Background:
Partha Panda has 21 years of experience in the technology industry, with 11 years in both security and the channel. He has been with Trend Micro for six years. During his tenure at Trend Micro, he has held the executive positions of Vice President of Alliances and Vice President of Channels. He has been the channel leader for the U.S since 2012. His role was expanded to include global responsibility in 2013 when he was named Trend Micro's Vice President of Global Channels and Alliances. Partha is viewed as a thought leader in the security industry and channels business. He has provided the vision for many of Trend Micro's go to market strategies. Prior to Trend Micro, Partha has held executive positions at Entrust and Third Brigade. Partha has an MBA in Strategy and Finance from the University of Maryland.
Top products sold through the channel:
Deep Security Worry Free Smart Protection Suites Enterprise Security Suites Enterprise Security Endpoint - Advanced Deep Discovery Enterprise Security Endpoint& Mail Server Endpoint Encryption
Partner organization's top accomplishments over the past year:
Partha Panda has provided the leadership and vision for all partner initiatives. These efforts have resulted in a comprehensive partner program which can be scaled globally. Trend Micro deployed a new global partner program in 2015. As a result of this initiative our worldwide channel organization is now completely aligned. The alignment begins with our naming conventions, and incorporates practices, processes, and measurements. This will produce efficiencies throughout the organization, allowing us to easily deploy 'best practices' globally. 1) We have developed and launched a new/enhanced global partner portal in 2015. The portal provides the platform and tools necessary for our partners to engage with Trend Micro. Partners can easily access sales/marketing collateral, enablement offerings, and deal registration and partner specific sales data from a single platform. 2) We have also streamlined our enablement program. Our program includes both sales and technical training, and utilizes on-line tools and a classroom environment. Our professional certification program has also been simplified to focus on strategic technical skills. 3) We have deployed a 'born in cloud' initiative. This initiative provides unique program benefits around cloud based business models. These benefits include a consumption based pricing model and comprehensive sales coverage.
How partner community has grown over the past year:
We are continually adding new partners to our team with over 3,000 added globally in 2015. A primary focus is improving the productivity of our partner base. We are making significant strides across our entire partner ecosystem. In 2015 we are experiencing both a 30% improvement in productivity, accompanied by a 30% growth in revenue. This means that more partners are producing more revenue, essentially improving the depth, strength, and efficiency of our channel.
Expected channel sales growth:
Stay the Same
Expected partner community growth:
Increase
Top channel goals for 2016:
Migrate partners to cloud solutions
Improve partner technical skills
Improve partner profitability
Single most innovative partner initiative in 2015:
1) We have tailored our partner program to take advantage of the unique skills and expertise of our partners. This includes an enablement program which has been created to focus on key products and market segments. This allows our partners to invest their time on the specific training and certifications that support their 'go to market' strategy. Our incentive programs are also targeted in the same manner. 2) We are the first vendor to implement a 'born in the cloud' initiative. This initiative focuses on the uniqueness of this business model and is tailored to fit those partner's needs and requirements. We have established focused enablement activities and targeted pricing/incentives to support this set of partners.
Key channel/partner investments made over the past year:
1) A standardized Global Partner Program o Which includes: -A new Global Partner Portal -Integrated enablement and certifications processes for 'one stop access' -Improved sales tools -Sales and Marketing Collateral -Incentive programs 2) Development and utilization of authorized training centers -More certification classes available -Includes both classroom and virtual sessions 3) A Cloud Service Provider program element focusing on 'born in the cloud' partner o Which includes: -A consumption based pricing/incentive model -Customized enablement and certifications -Comprehensive sales coverage
Plans for attracting the next generation of solution providers:
The cloud provides great opportunity. Our cloud initiatives, from our product development to our partner program, provide the vehicle to attract the next generation of partners. This will attract brand new
Advice to someone getting into the channel today:
Embrace change. Understand new business models, and integrate them into your business. This is critical to growth, profitability, and long term success. Understand your customer's needs and pain points. Providing the right solution, in the right way, to solve your customer's problem is critical. This requires partners to establish the right alliances, and work with innovative manufacturers, to create and package those solutions. This also requires the ability to deliver that solution in the manner which is optimal for their client. This could be through traditional means, as a service provider, or from the cloud.
Who inspires you and why?:
I have always been inspired by my father who is a self-made man. I have been very heavily influenced by his thought process and the meticulous planning he puts into all activities. However, what I have learned most from him are leadership skills. He is very inspirational and always leads from the front. I have learned to be open and authentic as a leader, and to empower others, while guiding them to a goal. I have also learned to be decisive and confident once a decision has been made. I take great pride in our relationship, and even at 70 years old, he continues to inspire me, and always will.
Unedited Content Provided By Vendors