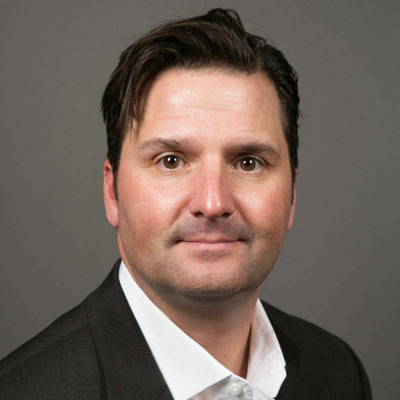 Fun Facts:
Favorite author and why? :
Ayn Rand- Atlas Shrugged and Fountainhead are the books that had the biggest impact in my view of individual liberty and morals. Her philosophical concepts provide any reader with a vocabulary and arguments of why one's best self is so critical.
Uses TwitterUses InstagramUses FacebookUses LinkedInUses SnapChatHas An Advanced DegreeHas A Technology CertificationOnce Worked At A Solution ProviderPlays Golf Handicap: 25 strokesPlays TennisSpends More Time On The Road Than In The OfficeLoves SportsPrefers Real Books To E-BooksLoves To Cook
John Schwan
Tintri
VP, Channel Sales
Number of years in channel chief role:
1.5
Number of years with the company:
1.5
Number of years involved with indirect sales:
24
Reports to:
Tom Ellery SVP Americas Sales
Does that individual report to the CEO/president:
No- Tom Ellery reports to the Chief Sales Officer who reports to the CEO
Channel Chief Twitter handle:
@jschwanie
Number of Twitter followers:
663
Worldwide Channel Partners:
500
North American Channel Partners:
250
Number of employees in channel organization:
26
Bio and Background:
John Schwan currently leads Tintri Channel GTM for all channels in the Americas. John and his team drive channel sales, and channel and enablement programs to accelerate Tintri's revenue growth and facilitate partners to improve their profitability. Previously, John Schwan served as Senior Director of North American Solution Providers at VMware. He led a team of Area Partner Directors and Partner Business Managers. Other roles at VMware included Area Partner Director for the West Region. He had also held the positions of Global Alliance Manager for Cisco as well as Global Director for the Partner Resource Center (PRC). John has over 23 years of experience in enterprise channel sales and management with companies including Inktomi, CacheFlow and SBC.
Top products sold through the channel:
Tintri VMstore T800 Hybrid-Flash series' T880, T850, T820. Native VM-level data management across multi-hypervisors, built for virtualized and private cloud environments. Best balance of performance and value for virtualized applications. Tintri VMstore T5000 All-Flash series' T5080, T5060, T5040. An unmatched combination of performance and visibility for most demanding applications. Tintri Global Center ' Manage multiple VMstores from a single pane of glass. ReplicateVM ' Replicate any individual VM in just three clicks. SecureVM ' Protect your entire VMstore with zero impact on performance or capacity. SyncVM- Time travel through snapshots and update child VMs from a master in seconds.
Partner organization's top accomplishments over the past year:
Expanded geographic coverage by adding resources on the Partner Management and Partner Engineering support- Tintri now has over 14 people focused on our Americas Partner eco-system up from 4 just 12 months ago, as well as 3 additional Partner Marketing support. We continue to increase our investment in not just human resources but technology, tools, programs and incentives to increase partner satisfaction. Focused on expanding relationships with National Partners and offering more diverse benefits to them, such as targeted training, certification, more customized marketing initiatives. Expanded MDF spending with strategic channel partners by 300%. Increased partner training through regular webinar training, Tintri Sales Professionals and SEs Certification courses. Launched Tintri VMstack, a converged infrastructure program offered by select partners in the Americas. Invested in and implemented additional tools and programs including new Deal Registration system, updated Partner Portal, Not for Resale Program, and improved Incentive payment system.
How partner community has grown over the past year:
Tintri's partner eco-system continues to grow at amazing rates in terms of revenue contribution. Our focused Partners performance is exceeding growth rates of 150% year over year. Partners have increased approved deal registrations 200% for commercial deals. We have increased our resources both in our commercial and Federal business. Our National Partner business has increased over 500% and now represents nearly 30% of all channel business. Accordingly, in Piper Jaffray's 3Q15 Storage Reseller survey, channel partners cited Tintri as the top private storage vendor they've had the most success with.
Expected channel sales growth:
Increase
Expected partner community growth:
Increase
Top channel goals for 2016:
Increase overall percentage of company revenue that comes through the channel
Improve partner profitability
Increase the amount of net new accounts coming through partners
Single most innovative partner initiative in 2015:
The launch of the VMstack Partner Program- This program was built to market our partners' converged solutions ' and allowed our sales team to adapt to our partners selling rhythm. The program allowed us to assist our partners in promoting their converged stack and help validate and qualify their solutions.
Key channel/partner investments made over the past year:
Created National Partner team focused on top partners Increased the number of PSMs from 4 to 10 in the Americas plus added 2 Channel SEs Launch of the VMstack Program- creating a GTM program around our Partner Converged Infrastructure offerings. Increased Partner Incentives and development spending on co-marketing activities to drive the highest level of profitability for our partners. More automated tools and programs to simplify partner experience-including new Deal Reg system, updated Partner Portal, Not for Resale Program, and Incentive payment system
Plans for attracting the next generation of solution providers:
There is a huge market opportunity as traditional storage is being displaced by next generation storage that's easier, faster, and more cost-effective. Purpose built for virtualized environment and the cloud, Tintri has the industry's only VM-aware Storage (VAS) platform. Partnering with Tintri translates into highly differentiated offerings. Partners can generate service opportunities using tools such as PowerShell scripting to help customers create automated workflows. 70% of Tintri customers repurchase at 2.7x of their initial sales, which enables partners to pursue 'land and expand' for repeat business. Tintri attracts CSPs through special financing programs and unique features such as VM-level QoS.
Advice to someone getting into the channel today:
Partner's must choose companies that invest in them and have a Partner Centric approach- Which means that they should only invest in manufactures who look at them as a core part of their sales teams, not just an extension. Partners should also work with companies that offer unique products and solutions that differentiates their offerings from the 'me to' approach.
Who inspires you and why?:
My two daughters ' although teenagers I continue to look at the world through their eyes- They are my source of strength and inspiration- and they challenge me everyday to not only be a better father- friend but human.
Unedited Content Provided By Vendors