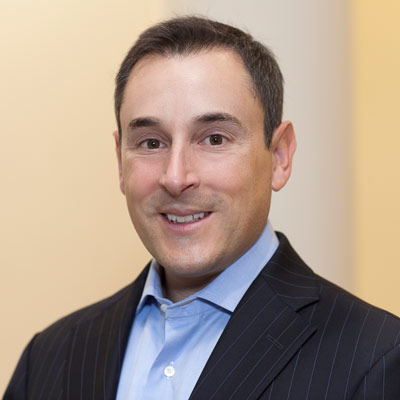 Fun Facts:
Favorite author and why? :
Although I don't have as much time to read as I'd like, I hold tremendous admiration for the World War II veterans at the core of some of James Bradley's works ('Flags of Our Fathers,' 'Flyboys'). Their courage to make America a better country and the world a better place is hard to even fathom, and incredibly inspirational. They put my life in perspective.
Uses TwitterUses LinkedInOnce Worked At A Solution ProviderPlays Golf Handicap: 25 strokesPlays TennisSpends More Time On The Road Than In The OfficeLoves SportsPrefers Real Books To E-Books
Jay Snyder
EMC
SVP, Global Alliances
Number of years in channel chief role:
0.5
Number of years with the company:
16
Number of years involved with indirect sales:
5
Reports to:
Bill Scannell, President, Global Sales & Customer Operations
Does that individual report to the CEO/president:
Yes
Channel Chief Twitter handle:
@JayBOD3
Number of Twitter followers:
966
Worldwide Channel Partners:
5,000
North American Channel Partners:
N/A
Number of employees in channel organization:
N/A
Bio and Background:
With 23 years of experience in the high-tech and consulting industries, Snyder is an experienced strategic leader with a track record of forging strong partnerships that realize mutual benefits and uncovering transformational business opportunities. As head of Global Alliances, Snyder leads a 500+ person global organization with revenue targets in excess of $6 billion. The organization focuses on bringing uniquely differentiated industry solutions to market through strategic relationships and sales with systems integrators, strategic outsourcers, cloud service providers, OEMs, and EMC's vertical sales areas, including: Telecommunications, State and Local Government, Healthcare, and Oil & Gas. He is based at EMC's Pleasanton, California office and spends considerable time travelling around the world to meet with customers, partners, and his teams. Prior to his current role, Snyder held several senior management and executive roles at EMC. Most recently, he served as Senior Vice President, Americas Services, where he oversaw $1.3 billion P&L and approximately 5,000 employees. In this role, Snyder realized double-digit growth year-over-year, and re-aligned the business to support EMC's overall strategy in three core areas: ITaaS, Predictive Analytics, and Data Center. During his tenure this organization was recognized as a 'Major Player' in the Cloud Service domain by analyst firm IDC. Snyder also served as EMC's first COO, Americas Sales and Customer Operations; Area Vice President, Sales and Operations for EMC's Northern California Enterprise Business, and the first employee of EMC Consulting as General Manager, during which time he grew the practice to a $150 million division. He began his career at EMC in 1999 as a Divisional Partner Manager. Snyder is passionate about community service and helped initiate EMC's global, employee-led philanthropy, EMC Gives Back. Since its inception two years ago, EMC Gives Back has raised close to $1 million for community efforts around the world.
Top products sold through the channel:
The top products sold through Global Alliances include vBlock, DataDomain, and Software Enterprise Licensing Agreements. The top 10 product families sold through EMC's channel include: Unified Symmetrix Isilon DataDomain XtremIO Connectrix Storage Virtualization Avamar Recoverpoint DLM
Partner organization's top accomplishments over the past year:
Since I took the helm of Global Alliances in May 2015, we've completely changed the way the group operates and does business. We undertook this evolution to ensure our global alliances and partners are first and foremost focused on the end-user, and equipped to take full advantage of market opportunities. Key components of the evolution of Global Alliances include: 1. Differentiated offers, primarily by vertical'representing a new approach for EMC, and new opportunities for our partners. These new offerings give partners unique, tremendously valuable ways to stand apart from each other, the marketplace, and core sales. 2. Dedicated partner growth team'through an established business planning process and dedicated team, we're focused on fostering partner sell-out growth. 3. Global and theater teams'Now, truly global partners are treated globally, and national/regional partners are treated with similar customization. We also established a dedicated global team for our top 15 global partners, as well as theater-based execution teams solely focused on partner sell-out.
How partner community has grown over the past year:
he percentage of business that we're working with and through our partner community continues to increase. Specifically within Global Alliances, our partner community is seeing double-digit growth year-over-year.
Expected channel sales growth:
Increase
Expected partner community growth:
Increase
Top channel goals for 2016:
Migrate partners to cloud solutions
Focus on a small number of elite partners
Increase the amount of net new accounts coming through partners
Single most innovative partner initiative in 2015:
We're leading on innovation with uniquely differentiated solutions by vertical. What we're doing in Global Alliances is not a technology resell'which is still incredibly important. We are laser-focused on enabling transformational outcomes for customers. To do this, we work across our full partner ecosystem to truly attack our customers' challenges with highly customized solutions.
Key channel/partner investments made over the past year:
In the time I've headed up Global Alliances, we've completely reorganized the team to be focused on partner growth and end-user success. Every day, we're innovating customized solutions that deliver transformational outcomes for our customers and partners. And we're doing that in lockstep with EMC's overall selling motion. So our partners have access to the same information and tools as our field team, and our field team is aware of, and most importantly, can leverage the innovations coming out of Global Alliances.
Plans for attracting the next generation of solution providers:
We're focused on attracting the right partners to deliver on the vision of Global Alliances, which is to enable, embed, and engineer incremental, value-based solutions for customers. The new Global Alliances model is completely redesigned to deliver results for partners and most importantly, customers.
Advice to someone getting into the channel today:
Never lose sight of your end-users, their challenges, and their opportunities. Customers should always be your grounding force, and your mission is to enable their success. If you lose sight of the customer, you'll end up building things that aren't relevant to the market and you're not going to move the needle'for you, your partners, or your customers. I would also encourage people to keep an open mind about partners. It's not just about who's in your immediate ecosystem. Think creatively and strategically about who and what you need to deliver that game-changing solution for your customer.
Who inspires you and why?:
Israel Snyder, my grandfather who passed away about 17 years ago, but whose influence in my life is vibrantly alive. He came from nothing, and gave away everything he had. He worked six days a week as a tailor, and on his day off, he mended clothes for people who couldn't afford to pay. He maintained a one acre garden and gave away what he grew to those who needed it most. At his funeral, so many people told me Israel was the greatest man they ever knew. I try to uphold his legacy in some small way every day.
Unedited Content Provided By Vendors