One of our "50 Most Influential Channel Chiefs"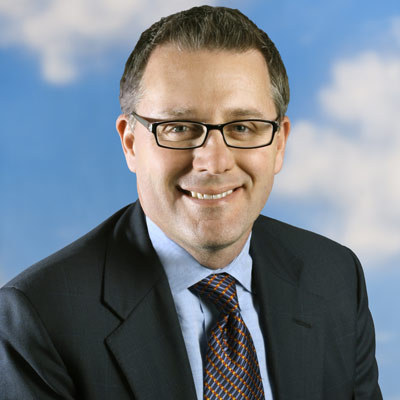 Fun Facts:
Favorite author and why? :
This year I've read a lot of historical fiction. I enjoy the balance of fictitious characters and storylines versus the refresher on facts and perspectives during significant historical events and eras. Bernard Cornwell has been a favorite, author of 'The Warrior Chronicles/Saxon Stories' and 'Grail Quest' book series.
Uses Twitter
Uses Facebook
Uses LinkedIn
Once Worked At A Solution Provider
Plays Golf
Plays Tennis
Once Had A Newspaper Route
Spends More Time On The Road Than In The Office
Loves Sports
Prefers Real Books To E-Books
Loves To Cook
Craig West
NetSuite
VP, Channel Sales
Number of years in channel chief role:
13
Number of years with the company:
13
Number of years involved with indirect sales:
23
Reports to:
Mike Arntz, Senior Vice President, North America Sales
Does that individual report to the CEO/president:
One removed
Channel Chief Twitter handle:
@NetSuiteCraig
Number of Twitter followers:
239
Worldwide Channel Partners:
300
North American Channel Partners:
200
Number of employees in channel organization:
N/A
Bio and Background:
As NetSuite's channel leader, Craig West has driven the strategic development, growth and success of NetSuite's Solution Provider Program since its inception in 2002. NetSuite's channel program has brought the benefits of cloud computing to hundreds of channel partners and to thousands of their clients. With cloud computing at the forefront of the hottest current trends, the NetSuite Solution Provider program offers a wealth of opportunities for VARs to grow their business, with industry-leading margins and innovative incentives. Craig is also a 5-time recipient of CRN's Channel Chief Award, and a 20-year veteran of the business application software space.
Top products sold through the channel:
1. NetSuite 2. NetSuite OneWorld 3. NetSuite ERP/Financials 4. NetSuite Professional Services Automation (PSA) 5. NetSuite SuiteCommerce 6. NetSuite CRM
Partner organization's top accomplishments over the past year:
1. Vertical Velocity Program: Through the program launched this year, we are enabling partners to gain exclusive rights to specific industry micro-verticals such as food and beverage, restaurants, outdoor retailers, and more. The goal of the program is to help accelerate the customer acquisition process. 2. New Growth Opportunities: Through NetSuite's continued product development and expansion of the functionality being offered within our business management suite, we are enabling partners with new opportunities to grow their business in emerging software areas. Over the last 12 months, we have rolled out new products and functionality such as SuiteCommerce InStore, next generation procure-to-pay functionality, new global features for NetSuite OneWorld (15.2), and Bronto Software (marketing automation) to our channel community. 3. Partner Lead Nurturing Program: NetSuite offers solution providers option to nurture their leads with four email templates that serve as points of contact to warm leads. Goal is to help improve partner conversion rates.
How partner community has grown over the past year:
NetSuite experienced record growth in FY2014, growing revenue to a record $556.3M (34% YoY growth), and is continuing this momentum into 2015. In Q3 2015, NetSuite reported revenue of $192.8M, its 13th consecutive quarter of over 30% growth, and added more than 430 new customers. The number of VARs and SIs building NetSuite Cloud ERP practices has grown to well over 375 worldwide, including new partners such as Adaptive Road, BrainSell, FayeBSG, Net@Work, Socius, Tribridge, Hexaware, Moss Adams, and Wipfli, all of which have experience promoting and implementing ERP solutions from competitive software providers such as Microsoft, SAP and Sage.
Expected channel sales growth:
Increase
Expected partner community growth:
Increase
Top channel goals for 2016:
Add more qualified partners
Increase the amount of net new accounts coming through partners
Single most innovative partner initiative in 2015:
For 2015, NetSuite's most innovative initiative is the Vertical Velocity Program. The main goal of the program is to accelerate customer acquisition by creating partner led micro-verticals. The program consist of a set of collaborative enablement and go-to-market checkpoints for partners looking to combine the power of NetSuite with their deep vertical industry expertise to create a totally unique NetSuite-powered solution for customers in specific verticals and micro-verticals. NetSuite is partnering with solution providers to verify the market opportunity, the partners proposed solution, and assess their marketing readiness across areas such as sales collateral, website assets and reference customers. Once all these are aligned, NetSuite provides demand generation support to expedite customer acquisition. The Vertical Velocity Program allows partners to establish their leadership and domain expertise in these micro-verticals, strengthening their position in the market and supports NetSuite's position as the industry's leading provider of cloud-based business management software suites.
Key channel/partner investments made over the past year:
Growth of Sales/Channel Team: NetSuite hired leaders in our sales and global systems integrators organizations, and new employees globally to service channel partners Bringing New Products to Market: SuiteCommerce InStore, Bronto Software and a new release of NetSuite OneWorld, which delivers transformative power to global businesses of all sizes with any business model (B2B, B2C and B2Anything). The latest advancements expand support for NetSuite into more than 100 countries with configurable tax compliance, support for 20 languages and 190 currencies Partner Enablement: Launched several enablement programs including the Vertical Velocity Program, Partner Lead Nurturing Program, and Website Performance Assessment Program
Plans for attracting the next generation of solution providers:
We're offering a best-of-breed revenue model for our partners: boxed-product type margins of 30%-50% combined with the true recurring revenue (at 30%) that only a subscription-based application can deliver. New features released for NetSuite OneWorld enables NetSuite to continue to recruit global partners, and rolling out SuiteCommerce InStore and Bronto's marketing automation solution allow us to recruit partners with industry expertise in retail and commerce. NetSuite's agile SuiteCloud development platform and NetSuite OneWorld provide the customization and flexibility required by large multinational enterprise companies, and present a major growth opportunity for our partners, enabling the recruitment of more enterprise partners.
Advice to someone getting into the channel today:
For Solution Providers looking to stay ahead of the curve and provide modern business solutions to their clients, they need to build a business predicated on 2 things: true, cloud-based technology(s) and recurring revenue. That's easier today than it's ever been, as overwhelmingly the cloud technologies available now are subscription-based, and therefore deliver on the promise of true recurring revenue. Beyond that, I'd also recommend focusing on technologies where there is business value beyond the CIO; business applications like NetSuite deliver value across the C-Suite, enabling larger value-added Professional Services opportunities in association with the subscription revenue.
Who inspires you and why?:
Our partners never cease to inspire me. From our longest-standing partners who have built amazing businesses on the promise of what NetSuite could (and has) become today, to our partners investing in a direction that's dedicated to mutual success with NetSuite, the commitment, innovation and sheer brilliance in our community inspires me daily. Their passion pushes us to continue to lead the industry and innovate, providing the products, tools and resources that can ensure their success.
Unedited Content Provided By Vendors