Printer-friendly version
Email this CRN article
Jay Bradley
President, Intelisys, ScanSource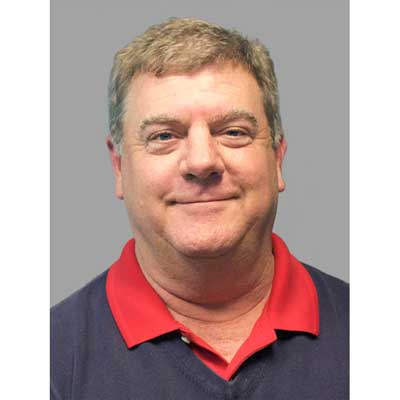 Fun Facts: (Click any link for similar Chiefs.)
Has A Type A Personality
Is Addicted To Chocolate
Has Recently Done Volunteer Work
Has Gone Skydiving
Loves To Take Photographs
Loves To Ski
Always Wanted To Be A CEO
Number of years in current channel chief role:
10.5
Number of years with the company:
15
Number of years involved with indirect sales:
20
Worldwide Channel Partners:
N/A
North American Channel Partners:
N/A
Number of employees in channel organization:
N/A
Reports to:
Buck Baker, President, Worldwide Communications and Services, Sc
Does that individual report to the CEO/president:
Yes
Are You The Highest-Ranking Channel Executive In Your Organization?
Yes
Do you expect your channel sales as a percentage of your company's overall sales to increase, stay the same or decrease in the next year?
Stay the Same
Do you expect the number of channel partners you work with to increase, stay about the same or decrease in the next year?
Increase
Organization's 2018 budget for MDF compared to 2017 is:
Increasing
Channel Chief Bio and Background:
Jay serves as president of Intelisys, a ScanSource Company. He joined the Intelisys Team in October of 2002 and brings over 25 years of telecom sales, marketing and management experience to his role. Jay spent 10 years with MCI Telecommunications in his early career, and in the years prior to joining Intelisys held leadership positions with CLEC, reseller and collaboration start-ups. In his role as Intelisys President, Jay is responsible for managing all aspects of Intelisys' business operations, as well as developing and executing strategies to grow and differentiate Intelisys in the marketplace. Jay is also a Key Executive Leadership Group member with Vistage Worldwide. Past and current advisory boards include Channel Partners (Virgo), CenturyLink, Comcast, Level 3, Verizon, Time Warner Cable, and Ring Central, among others. Jay serves as a sponsor of the Northern California Junior Hockey Association; the Boys and Girls Clubs of Sonoma; Stand By Me Sonoma Valley Mentoring Alliance; and others.
Leading products/services sold through North American channel partners:
Our Sales Partners have access to hundreds of products and services through our Supplier Partner portfolio of more than 140 leading carriers and vendors, from a complete portfolio of traditional telecom and network services, to cable, fiber, Ethernet, and a full portfolio of cloud services, including SD-WAN, collaboration, cloud-based contact center solutions, UCaaS, DaaS, security, and more.
Partner organization's top accomplishments in the channel over the past year:
Our major accomplishments for 2017 share one thing in common -- they all helped to accelerate the businesses of our Sales Partners. In 2017, some of our most significant ever Partner Investment Program deals were made, enabling rapid growth or critical investments by our Sales Partners. We launched programs and tools, including Super9, the Virtual Sales Engineer, Audex 360, and the Fiber Search Tool, that all work to shorten the Sales Partner's sales cycle. And more than 1200 people joined us in Monterey at a brand new venue this year for Channel Connect, the channel's premier networking event. As President, I oversee all initiatives that focus on Sales Partner growth and enablement.
Describe how your partner community has grown over the past year either in average revenue per partner or overall expansion of your partner base or in specific market segments:
Since being acquired by ScanSource in 2016, we have opened the door to new VARs and MSPs looking to capitalize on monthly recurring revenue opportunities. We've invested heavily in these partners through our Super9 VAR transformation program, our Teaming Program, and support of the Convergence Team - a support team dedicated to VARs and Sales Partners looking to transition or amplify their businesses. For the VARs and MSPs, the focus is on enabling them to take advantage of recurring revenue opportunities. For the traditional agents, we aim to open doors to new customers, bigger opportunities and more comprehensive deals.
Provide one example of how you personally worked to help or solve a problem for a solution provider over the last 12 months:
One of our Central Region Sales Partners this year achieved a first for our community. A traditional carrier-services agent, this Sales Partner, a Super9 graduate, acquired a VAR in their market, enabling them to dramatically expand their business and offer a complete solution sale. We were able to support this through our experience, negotiation support, and Partner Investment Program. As the IT and telecom channels converge, I anticipate we will see many more of these mergers, and I am proud to have been a part of this transformative transaction.
What one market force is having the biggest impact on your company's channel strategy for 2018 and how are you accommodating for it?
The shift to as a service is enabling channel partners to acquire more spend from their end-user customers, and this has long been our sweet spot. Cloud and cable, the two greatest growth areas for us, are growing exponentially as the as a service market expands. Our Sales Partners have a strategic focus on helping end-users make the pivot to as a service through world-leading cloud and carrier services solutions.
What are your top channel goals for 2018?
Add more qualified partners,Migrate partners to cloud solutions,Increase the amount of recurring revenue going through partners
Describe how your organization's strategy around channel Market Development Funds (MDF) is changing in 2018 compared to last year.:
As a technology services distributor, we have a unique approach to MDF. We don't offer traditional marketing development funds to our Sales Partners, but the Supplier Partners in our portfolio provide MDF to us, which we reinvest exclusively in our Sales Partners, particularly in education and networking events. We provide guidance on MDF funds to our Sales Partners and help our Supplier Partners allocate those resources, as needed. In addition to traditional MDF, we have provided financial support to our Sales Partners looking to expand their business through business loans under our Partner Investment Program and Advanced Commissions Program.
Name the single most innovative initiative for which you and/or your team were responsible in 2017 and describe its impact on your partner community.:
Super9, a strategic combination of in-person and virtual cloud sales-focused training, leverages industry experts, peer collaboration, and real-life application. This exclusive, small group, in-depth, highly actionable cloud training extends beyond the initial three days into 12-months of peer group accountability, facilitated by a dedicated Solutions Engineer. Our foundational program is dedicated to cloud compute, while our VAR program is dedicated to business transformation and the pivot to MRR. Super9 attendees grew their businesses collectively this year by 50 percent. In 2018, we are thrilled to offer Super9 Convergence for the first time. It answers the question of "What next?" that we have been asked repeatedly by our Super9 graduates, or sponsoring suppliers and our community. This event is dedicated to the converging channel, the budding connections between traditional agent partners and VARs, between Supplier Partners and Sales Partners, and between our channel community and the team at Intelisys that shows up every day with the goal of supporting them as you make their business stronger, better and more profitable.
What were the key channel/partner investments you made over the past year?
1. Adding key resources in additional markets: We brought on new channel managers and dedicated solutions engineers in Seattle, the San Francisco Bay Area, Houston, South Florida, Chicago, and Southern California. Additionally, we deepened our relationship with Verizon by acquiring Kingcom's Verizon Partner Program business. 2. We provided some of the most significant Partner Investment Program loans in the history of the program in 2017. 3. We have added headcount to our Information Services team, investing in key systems and automation tools. We offer a multitude of sales tools, services, and resources. R&D will remain a strong investment.
What honors, awards or commendations - professional or personal - have you won over the past year?
Comcast Business's first and only Pinnacle Partner (awarded 8/2017) CenturyLink Channel Partner of the Year Nextiva Rookie Partner of the Year North Bay Business Journal 2017 Best Places to Work Channelnomics Innovation Awards Distributor of the Year Telecom Association's Best Master Agency for VARs CRN 2017 Cloud Partner Program Guide CRN 2017 Network Connectivity Guide TelePacific Top Revenue Partner MegaPath Platinum Award for Consistent High Performance Cogent #1 Master Agent Peak 10 Rookie of the Year Coresite East Coast Partner of the Year XO #1 Master Agent -- Top Sales PGi 2017 Master Agent of the Year
What is the best piece of business-related advice you've ever been given and who gave it to you?
It's hard to narrow down a "best piece" from all the invaluable business advice I got from Chuck Mache, my business coach and dear friend. He passed away in April. Sometimes it was his most simple and straightforward advice that really mattered the most. He advised us to stay focused and determined, knowing that you can always inch deals forward to a successful outcome. He embodied the whole concept of never giving up on a deal. Simple advice can be tough to put into practice, but it works when you do. Stay hungry and don't give up.
What is the best business book you read this year and why?
The Sale of a Lifetime: How You Can Profit from the Great Bubble Burst, by Harry S. Dent was an excellent book. I loved the unconventional viewpoint on markets, cycles and finance.
What's one item on your bucket list and why is it on there?
For more than a decade, I've wanted to spend a full year in my RV, with my wife Deb and our three dogs, visiting channel partners all over the country. We've even named this fantasy grand tour "Connect America". Definite bucket list adventure.
Unedited Content Provided By Vendors
Printer-friendly version
Email this CRN article