Printer-friendly version
Email this CRN article
Kenny Ash
Vice President, Channel, TierPoint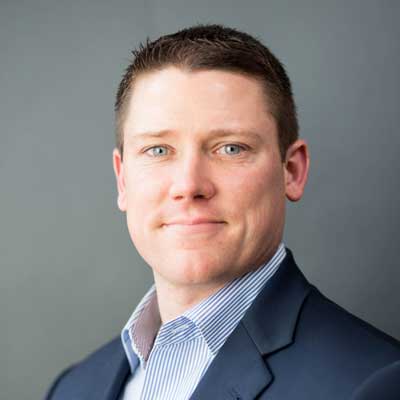 Fun Facts: (Click any link for similar Chiefs.)
Has Worked For A Solution Provider Organization
Has A Type A Personality
Has Recently Done Volunteer Work
Uses A Smart Watch
Loves To Take Photographs
Loves To Ski
Always Wanted To Be A CEO
Number of years in current channel chief role:
1
Number of years with the company:
1.5
Number of years involved with indirect sales:
5
Twitter handle:
@NA
Worldwide Channel Partners:
N/A
North American Channel Partners:
300
Number of employees in channel organization:
18
Reports to:
Tony Rossabi, Chief Revenue Officer
Does that individual report to the CEO/president:
Yes
Are You The Highest-Ranking Channel Executive In Your Organization?
Yes
Do you expect your channel sales as a percentage of your company's overall sales to increase, stay the same or decrease in the next year?
Increase
Do you expect the number of channel partners you work with to increase, stay about the same or decrease in the next year?
Increase
Organization's 2018 budget for MDF compared to 2017 is:
Increasing
Channel Chief Bio and Background:
At TierPoint, Kenny is responsible for leading indirect channel sales nationally, including five geographic "super regions". Kenny works closely with TierPoint's team of Channel Directors to develop, educate and enable partners, ensuring alignment with the company's direct sales team and recruiting new partners. Kenny has more than 10 years of sales and channel business development experience, including managing channel sales, direct sales and serving as National Partner Manager for Peak 10 prior to joining TierPoint. Kenny's expertise includes leading direct, account management, channel sales teams focused on delivering colocation, managed hosting, IaaS and DRaaS solutions to mid-size and enterprise markets. He has a deep understanding of hybrid technology solutions, market trends, and business drivers that shape today's Hybrid IT marketplace. Kenny resides in the Cincinnati area.
Leading products/services sold through North American channel partners:
TierPoint's entire portfolio of Hybrid IT solutions is available to the channel. This includes private, multitenant, hyperscale,and hybrid cloud, plus colocation, disaster recovery, managed security and other managed IT services.
Partner organization's top accomplishments in the channel over the past year:
2017 was a year of achieving operational maturity within the TierPoint channel organization. It was imperative that we brought forward within the channel community, what the new identity, focus, & core offerings were within TierPoint's Hybrid IT offering that our channel partners could effortlessly leverage and provide additional value to their end customers and prospects by way of a strategic partnership with TierPoint. In addition, it was crucial that we put the proper support model in place to ensure we were able to offer a flexible, nimble & easy to work with channel program that could meet the needs of our diverse national partner ecosystem. In order to do this, the TierPoint National Partner Team is comprised of a team of Channel Director overlays that work directly with our partners and direct sellers across the country that operate in a "sell with" mentality to offer greater scale & support to our partners that is based on a collaborative, "win at the whiteboard" philosophy. In our current state, we are well positioned to grow top line revenue by strategically aligning ourselves with best of breed technology partners that map nicely to our footprint, recognize synergies and possess our core values.
Describe how your partner community has grown over the past year either in average revenue per partner or overall expansion of your partner base or in specific market segments:
TierPoint's partner community has expanded dramatically over the past 12 months. We've added several of the world's largest VARs, systems integrators and IT consultancy organizations to our program. In addition, we have properly aligned ourselves with the most mature Master Agent channel companies, who are laser focused on enabling their partner base down channel. We view our ability to focus on local field engagement, with consistent messaging, and a repeatable, easy to understand offering, as a real competitive advantage. TierPoint's sales bookings via the channel have experienced significant growth in 2017 with a consistent m/m upward trajectory.
Provide one example of how you personally worked to help or solve a problem for a solution provider over the last 12 months:
Recently, one of our channel partners approached us with an immediate need for one of their largest clients. The client's new leadership was looking to make a quick decision regarding a possible hosted private cloud deployment for a new division within the organization. They needed to act quickly with a partner to bring a provider to the table that could meet the expected timeline for delivery from migration through install. By collaborating with our partner, we were able to provide field sales & engineering resources, and jointly deliver the solution, opening up new future sales opportunities for our partner.
What one market force is having the biggest impact on your company's channel strategy for 2018 and how are you accommodating for it?
Many of the traditional alliance partners (OEMs) are beginning to invest and focus on "as-a-service" type offerings and this is bleeding a lot more into the VAR, integrator's and MSPs space than it ever has before. TierPoint is providing a lot more attention and enablement tools to those particular areas to differentiate ourselves as a leader.
What are your top channel goals for 2018?
Add more qualified partners,Increase overall percentage of company revenue that comes through the channel,Improve partner sales skills
Describe how your organization's strategy around channel Market Development Funds (MDF) is changing in 2018 compared to last year.:
The industry is changing and we're investigating new ways to allocate MDF dollars into strategic partners that are significantly investing internally within their own organization to build-out their own partnership networks and that show strong growth potential.
Name the single most innovative initiative for which you and/or your team were responsible in 2017 and describe its impact on your partner community.:
The national rollout and extensive training around managed Azure and Office365 has made a significant positive impact with our partners. Enabling our partners to sell TierPoint's complete Hybrid IT portfolio on a nationwide basis provides them additional opportunities beyond the traditional colocation, cloud and DRaaS services they have offered primarily on a regional basis.
What were the key channel/partner investments you made over the past year?
• We hired a seasoned AVP Channel professional, Alvaro Gonzalez, to help with strategic initiatives - We continued significant investment into many of our partner enablement platforms - We increased sales enablement tools and marketing resources including content on partner portals, sales collateral, battlecards, case studies and co-branded go-to-market materials
What honors, awards or commendations - professional or personal - have you won over the past year?
TierPoint has been cited in 2017 by leading industry analysts for the following: • Strong Performer in Forrester Wave on Disaster Recovery as a Service (DRaaS) • Challenger in Gartner's "Magic Quadrant for Disaster Recovery as a Service (DRaaS) • Strong Performer in Forrester Wave on Hosted Private Cloud
What is the best piece of business-related advice you've ever been given and who gave it to you?
One of my previous business mentors advised me on the importance of patience. This is an age of instant gratification and results. But it's good sometimes to pause, sit back and reflect a little bit to put things in the proper perspective.
What is the best business book you read this year and why?
"Good Strategy/Bad Strategy" by Richard P. Rumelt. It focuses on how organizations and individuals commonly mistake goals or a vision as a coherent strategy with no defined roadmap on how to achieve those goals to truly get from point A to point B to achieve success. It's a very well written approach to strategic planning and how to differentiate between a really good strategy and a bad one.
What's one item on your bucket list and why is it on there?
I've spent so much of my professional career traveling domestically, and I've seen some great places across the country, but I'd love to travel overseas, possibly spend some time in Italy or even backpacking across Europe.
Unedited Content Provided By Vendors
Printer-friendly version
Email this CRN article