Printer-friendly version
Email this CRN article
KEN BISNOFF
Co-Founding SVP, Strategic Opportunities, TPx Communications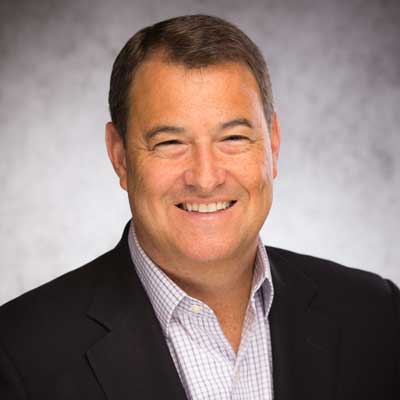 Fun Facts: (Click any link for similar Chiefs.)
Has Worked For A Solution Provider Organization
Has A Type A Personality
Loves To Ski
Number of years in current channel chief role:
19
Number of years with the company:
19
Number of years involved with indirect sales:
19
Worldwide Channel Partners:
N/A
North American Channel Partners:
N/A
Number of employees in channel organization:
50
Reports to:
Dick Jalkut, CEO
Does that individual report to the CEO/president:
N/A
Are You The Highest-Ranking Channel Executive In Your Organization?
Yes
Do you expect your channel sales as a percentage of your company's overall sales to increase, stay the same or decrease in the next year?
Increase
Do you expect the number of channel partners you work with to increase, stay about the same or decrease in the next year?
Increase
Organization's 2018 budget for MDF compared to 2017 is:
Increasing
Channel Chief Bio and Background:
Ken Bisnoff, a 25-year telecom veteran, is a founding member of the TPx, the premier national managed services carrier. As senior vice president of strategic opportunities, Bisnoff has senior management responsibility for partner channel sales. Prior to joining TPx, he was vice president of carrier sales for CallManage Inc., and held sales positions with WinStar and Teleport Communications Group selling competitive local voice and data services to a broad spectrum of business and carrier customers. Bisnoff began his telecommunications career with AT&T, where he was a national account manager. Bisnoff earned a Bachelor of Science Degree in Electrical Engineering from the University of Massachusetts-Amherst.
Leading products/services sold through North American channel partners:
1. Unified Communications as a Service 2. Audio/Web Conferencing 3. Managed WAN/SD-WAN 4. Managed Firewall 5. Managed Office 365 6. Managed Servers/Workstations 7. Data Center Solutions 8. Ethernet Transport 9. Internet Access 10. Fixed Wireless
Partner organization's top accomplishments in the channel over the past year:
1. Our transformation from TelePacific, a regional CLEC in California, Nevada and Texas, to TPx, a national managed services carrier. This effort was accelerated by the acquisition of DSCI, which closed in 2017. 2. This year, following the acquisition, the TPx channel team has expanded from regional presence -- on the West and East Coasts -- to a national team with channel managers across the country. 3. Finally, we are successfully transitioning our channel team from transactional to solutions-orientation so they can help our partners sell and deliver complex solutions like UCaaS, managed WAN/SD-WAN and security.
Describe how your partner community has grown over the past year either in average revenue per partner or overall expansion of your partner base or in specific market segments:
Our partner channel has grown to be half of our business. Our partners are not secondary to our success and we give them a full seat at the table. In fact, all national expansion outside of legacy TelePacific/DSCI markets (CA, TX, NV,NE) will be 100% driven by the channel. In 2017 TPx established East, West and Central markets with leadership in all markets. We now have Channel Managers in 25 cities in 14 states. We are growing from 18 Channel managers to 34 in 2018 and will add sales engineers to match the needs of the expanded channel management team.
Provide one example of how you personally worked to help or solve a problem for a solution provider over the last 12 months:
At the request of a Master Agent, I provided executive attention for an important subagent who was experiencing issues with a health care industry customer that was recently turned up on TPX's UCaaS service. I joined our technical team on site for this meeting to hear the customer's complaints and to make sure the subagent received the full cooperation of TPx to resolve them. We discovered the problems the customer experienced were the result of several critical phone numbers not being provided for TPx to cutover, and we were able to resolve the issue on site.
What one market force is having the biggest impact on your company's channel strategy for 2018 and how are you accommodating for it?
SD-WAN is one of the most transformational forces in the market today. TPx was a very early adopter of SD-WAN technology and it launched a fully realized, field-proven offering when other providers were just announcing their intentions to move in that direction. TPx has contributed to the features and functionality that have made SD-WAN such a game-changer for businesses. Our SD-WAN service delivers high-quality and resilient performance over any network connection from any carrier. That's empowering for channel partners and their clients.
What are your top channel goals for 2018?
Increase overall percentage of company revenue that comes through the channel,Migrate partners to cloud solutions,Increase the amount of recurring revenue going through partners
Describe how your organization's strategy around channel Market Development Funds (MDF) is changing in 2018 compared to last year.:
As TPx has expanded nationally, we will be participating in more partner events across the country than in previous years. The most effective events offer technology seminars with an interactive hands-on learning environment for customer applications and solutions. Such events elevate a partner's comfort and understanding of the technology behind the services we offer, making them more confident with their customer/prospect interactions. We are fortunate to have many great partner relationships that commit to these events year-round, allowing us to be active participants on the hot topics of the day, such as UCaaS, WAN/SD-WAN, continuity and security
Name the single most innovative initiative for which you and/or your team were responsible in 2017 and describe its impact on your partner community.:
2017 was a significant year of change within TPx. (formerly TelePacific & DSCI). The rebranding of our business as TPx best emphasized the dramatic changes in how we are working with our partner community to help them be successful in today's world by adapting to the rapidly changing market environments as a technology solution provider. Our successful transformation from a legacy regional CLEC to a national managed services carrier allows us to pair our reputation for channel commitment and trusted customer experience with today's most desired customer solutions (UCaaS, managed WAN with SD-WAN, continuity and security).
What were the key channel/partner investments you made over the past year?
1. TPx is giving partners more visibility into their accounts by extending access to DASH, a proprietary OSS acquired from DSCI. DASH, which already is being used in the Northeast, is being extended across the country to give partners access to quoting, ordering, provisioning, service and support. 2. We opened a Security Operations Center which includes the systems and human resources that are the foundation for a complete suite of security services that our partners can sell. 3. We improved the tools for our UCaaS service to improve the speed & ease for our users.
What honors, awards or commendations - professional or personal - have you won over the past year?
I was honored as a CRN Channel Chief for the first time in 2017. In addition, I was a winner of the Channel Partners 2017 Circle of Excellence Awards honoring executives for their vision, innovation and advocacy of the indirect channel. Finally, I and the TPx channel team were selected as a winner of the 2017 Channel Partners Choice Awards. We were among only four winners honored this year.
What is the best piece of business-related advice you've ever been given and who gave it to you?
"You achieve better results for customers when you measure, display and maintain ownership accountability." TPx's strict adherence to this advice is the main reason why we have grown for the past 63 quarters. It comes from the top-down. Our CEO, Dick Jalkut personally manages the measurement of every customer-impacting business metric during our weekly results calls with the leadership team. Despite TPx having a customer satisfaction rating of ~95%, our focus is always on the 5% that can be improved by knowing what occurred, learning from it and taking care of the customer.
What is the best business book you read this year and why?
This year, I re-read a classic, "Who Moved My Cheese" by Spencer Johnson M.D., and I also shared the story with my channel team. Its timeless parable demonstrates effectively that change will always happen, and that adapting to change and actively preparing better for future changes will help you be more successful in life or in business. Importantly, it also shows the pitfalls of inflexibility or hesitancy to change. As our industry and channel shifts dramatically from transactional offerings to solutions like UCaaS, managed IT and security, we must all to break old habits and actively embrace the new landscape.
What's one item on your bucket list and why is it on there?
I would like to learn to fly a plane by earning a pilot's license. I have experienced firsthand, many friends who have achieved this goal and the freedom it provides them in their personal lives to explore and travel. Years ago, I took a few beginner classes, which I hope to revisit and complete someday. I am equally excited by the challenge of the technical training and practice required to master the various skill requirements. Piloting a plane is a skill I've admired in others and look forward to achieving this bucket list item.
Unedited Content Provided By Vendors
Printer-friendly version
Email this CRN article