Printer-friendly version
Email this CRN article
A Channel Kite Runner Connection
• While Raya Hosseini can get the attention of solution providers at Overland Storage, it is her brother, Khaled, who gets everyone else's attention.
Khaled Hosseini is the author of the novels "A Thousand Splendid Suns" and "The Kite Runner," his first English-language novel on which an Academy Award-nominated film was based.
Raya Hosseini joined San Diego-based Overland two years ago to oversee the transition of manufacturing from her former employer, San Jose, Calif.-based contract manufacturer Sanmina-SCI Corp. She was promoted to vice president of Americas sales in February after managing Overland's direct market reseller sales.
Raya Hosseini and her four brothers were born in Kabul, Afghanistan, where their father was a diplomat. They moved to Paris in 1976, two years before the 1978 coup that brought a pro-Soviet government into power in Afghanistan.
As children, Raya Hosseini, a younger brother and Khaled, who is two years older than she, would write stories and act them out. "I wrote my stories, and my brothers laughed," she said. "My younger brother wrote his stories, and we'd laugh. But when Khaled wrote, we listened. He was a great writer even then."
Purchase Agents Man
• Who knew that Bell Micro, which is celebrating its 20th anniversary this year, bought the rights at one point to use the popular "Secret Agent Man" television show theme song done by Johnny Rivers as part of an advertising campaign featuring a "Purchase Agents Man" comic book character?
"We tried to portray that we give you more technical support, that we are the specialists that know the product lines," said Don Bell, president, chairman and CEO of Bell Micro, who founded the distributor in 1988. "It was a parody on James Bond, who was big at the time.
"We even came up with a song," Bell said. "It's so hokey, it's kind of fun. We bought the rights to use the 'Secret Agent Man' song. At the time, we couldn't recruit people because we were new. We found out our competitors were playing our song. Recruiting got a lot easier after that."
Remember the lyric: "Ah, be careful what you say? Or you'll give yourself away/Odds are you won't live to see tomorrow." Anyway, we're sure Bell Micro will live to see another 20 years.
Seen And Heard
• They're frightening, yet strangely beautiful. They spread and infect and replicate and continually wreak havoc. While viruses and malware steal copious amounts of information and compromise an untold number of machines every day, these treacherous security threats are unseen to the naked eye. Until now.
For the first time ever, images have been developed that visualize a wide range of these pernicious, but hidden, threats. Researchers at MessageLabs, the vendor behind the project, disassembled malicious code from a variety of well-known threats to render it inoperative. The researchers then passed the code along to computational artist Alex Dragulescu, who applied a specially built application to analyze the code and used its values to create a 3-D entity. That entity was then transferred to modeling software, where it was positioned and lit to capture the aesthetics of the model. Dragulescu then used his artistic touch to prepare the final image for its presentation April 7 at the Varnish Fine Art Gallery in San Francisco. Here are two of our favorite Dragulescu virus masterpieces: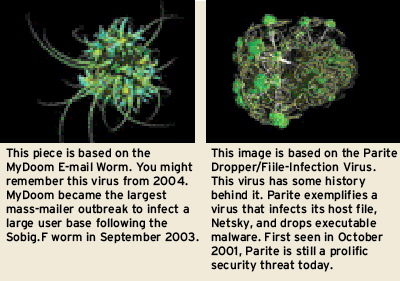 Printer-friendly version
Email this CRN article