Printer-friendly version
Email this CRN article
Linux is catching the attention of corporate America and, in turn, ruffling the feathers of Microsoft and Sun Microsystems,so much so that the software giant and its Unix nemesis are fighting back.
Microsoft, which will be on hand at LinuxWorld in New York this week, has created new internal programs and an organization to crush the open-source operating system, its competitor on the Intel platform, according to an internal company memo last month. Microsoft also has commissioned a study by D.H. Brown Associates aimed at dispelling the belief that Linux is a free OS and that IBM's Linux-only zSeries mainframe enables a lower-cost server consolidation than a Windows-based server cluster, the memo said.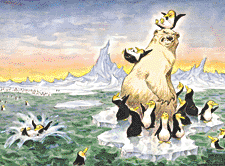 As more enterprise users embrace the open-source operating system, Microsoft and Sun are finding it tougher to bear.
"With so much rhetoric and hype around Linux, we're trying to come back with credible evidence from third parties that will balance the view in a number of areas and debunk the myth that Linux is free and that there's zero total cost of ownership around it," said Doug Miller, director of competitive strategy at Microsoft. Linux now has only about an 11 percent share of the server OS market, Miller added. "We'd challenge whether Linux is really making headway in the enterprise," he said.
Sun, meanwhile, is shying away from future support of the Intel platform on which Linux and Windows run, even as a rising number of Unix developers and users embrace Linux. By postponing the release of Solaris 9 on the Intel platform, Sun may be digging in around its proprietary SPARC hardware and Unix-based Solaris OS, which last year lost accounts in the telecommunications, financial services and service provider markets to Linux, industry analysts say.
"Linux has become a real force in the marketplace and is crossing the chasm from its grassroots legacy in Internet infrastructure to supporting enterprise applications such as SAP, SAS, Oracle9i and [IBM DB2 Extended Enterprise Edition," said Stacey Quandt, an analyst at research firm Giga Information Group.
With many industries hurting under the recession, Linux's open-source nature and lower cost factor are proving attractive to companies that previously considered only Windows and Solaris, Quandt added. "While economic pressures and Microsoft licensing will cause customers to consider Linux as an alternative platform, the potential of Linux as a carrier-grade solution also places pressure on Solaris on the SPARC," she said.
In the latter half of 2001, companies such as Amazon.com, Tommy Hilfiger, Cendant, McDonald's, Securities Industry Automation, Shell, Chevron, Glaxos, Pixar, DreamWorks and Warner Brothers adopted Linux platforms. Amazon.com, for one, raised eyebrows late last year when it reported to the Securities and Exchange Commission that it cut its quarterly technology budget by 24 percent, or $17 million, primarily by switching to Linux software.
Such developments signal that Linux is no longer a technological gadfly and is starting to take root in the entrenched Windows and Solaris corporate user bases, analysts say. Global server shipments of Linux jumped to roughly 70,000 in third-quarter 2001 from 31,000 a year earlier, according to research firm Gartner Dataquest. During the same time period, Unix server shipments slipped to about 123,000 units from 164,200, and Windows server shipments inched up to 750,000 from 740,000. "I'm seeing considerable interest now in Linux at a higher level of the enterprise, including the CIO," said Gartner analyst George Weiss. "The big issue is an increasing antipathy to Microsoft's licensing and upgrade practices. However, a Unix-to-Linux migration is easier and saves more costs."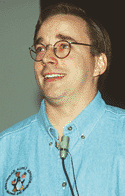 'I try to avoid doing the Linux vs. Microsoft thing . . . it's not as if I would be unbiased anyway. Asking me about Linux is like asking the Pope about the existence of God.' -- Linus Torvalds, creator of Linux
The introduction of the Linux 2.4 kernel early last year has fueled much of Linux's penetration into the corporate arena in recent months, industry executives and observers say. Linux 2.4 offers more support for multiprocessor systems and enterprise applications, whereas previous Linux versions ran only on file and print servers, Web servers and firewall/cache servers, they said.
Still, Linux is not yet ready to unseat high-end Unix and mainframe platforms, high-tech executives say. "We do not say today you can replace Oracle in a 64-way [Sun Starfire [with Linux, but for a lot of application areas, it's [good for file, Web, midtier and application servers," said Michael Tiemann, CTO of Linux distributor Red Hat. "But day to day, we're making the kind of success we need to [make to mount an assault on the data center."
Red Hat has been winning some Unix converts and Microsoft customers, which are turning to Red Hat's Linux offerings as a more cost-effective solution, Tiemann said. In the third quarter of 2001, for example, Red Hat signed Amazon.com, Morgan Stanley and Credit Suisse First Boston as first-time enterprise customers.
"Our two main focuses are the Unix-to-Linux migration and the embedded systems markets," said Tiemann. "Microsoft has a lot of customers coming to us and saying there are problems with security and that manageability is out the door. When people come to us to get away from Microsoft software, we happily supply them."
IT titans IBM and Compaq Computer, both of which plan to unveil Linux server products at LinuxWorld, also are driving Linux adoption in the enterprise. Eleven percent of the mainframe MIPS units that IBM sells to the enterprise market and 11 percent of the 1 million Intel-based ProLiant servers Compaq sold during the last nine months run Linux, executives from both companies said.
"To sell 50 mainframes is typical [in a year, but to customers who have never before had a mainframe is unprecedented," said Steve Solazzo, vice president of Linux marketing at IBM.
IBM, which has committed $1 billion to seed the Linux market over a three-year period, made big gains in the second half of 2001 selling its zSeries mainframe and xSeries Intel-based servers running Linux for workload consolidation, clustering and enterprise applications, Solazzo said. Today, the zSeries can run the zOS or S/390 mainframe OS along with thousands of Linux OS images simultaneously, allowing corporations to consolidate their mission-critical, line-of-business and Web server apps on one machine, according to IBM.
That could be bad news for high-end Unix servers and Intel-based Windows servers, industry executives say. KeyLink Systems, a Cleveland-based systems integration division of Pioneer-Standard Electronics, saw its Linux-based IBM xServer service business double from 2000 to 2001 and soon plans to unveil a Linux initiative with IBM, said Matt Reaves, vice president of sales and marketing at KeyLink. "[Linux is going to affect Sun more than Microsoft because Intel will be the pervasive architecture for lower midrange applications, and Sun is taking itself out of the mainstream market," Reaves said.
On the services end, IBM is finding more demand for Linux. IBM Global Services saw the number of Linux opportunities swell from 140 in mid-2001 to 400 by the fourth quarter, said Patricia Gibbs, vice president at IBM Global Services. "I'm seeing customers becoming more willing to do production work," Gibbs said. "We saw significant revenue growth from 2000 to 2001. We're talking multimillions [of dollars, but not over $100 million."
The Professional Services arm of Compaq, which has said its 10-year-old investment in Linux compares to IBM's $1 billion commitment, also is cashing in on rising corporate interest in Linux. "In the financial segment, Wall Street and in the telecom space, there's been a huge upturn [in Linux wins where there are huge Sun and RISC-based systems and great Unix skills," said Judy Chavis, director of the Linux program office at Compaq. "The misconception is that Linux is an SMB play, but Linux is an enterprise play. I can compete with Sun in their own backyard. Our Professional Services guys are there."
Sun's server margins are under attack on the high end from mainframes running Linux and on the low end with Intel-based servers running Windows and Linux, analysts say.
"While the Unix world may have first grudgingly embraced Windows NT and then expectantly embraced Linux, Sun has no desire to embrace the first and is likely to continue to only play lip service to the second to protect their Solaris/SPARC-based market," said Giga Information Group analyst Rob Enderle. "Sun's concern for Linux on Intel is growing. They likely will have to embrace Linux and eat their own children, or watch IBM and HP do it instead."
Though Sun may be feeling more of an impact from Linux than Microsoft is, the increasing availability of Linux enterprise apps and Microsoft's stringent Licensing 6.0 policy could make Linux a bigger headache for Microsoft over the long term, observers say.
"I don't think [Linux will stop Microsoft's growth in the enterprise in the near to medium term, but Microsoft won't be able to exploit market factors, such as the decline of Sun, as effectively because Linux is soaking up a lot of that business," said Paul DeGroot, chief analyst at Directions on Microsoft, a Kirkland, Wash.-based newsletter. "Even if Linux doesn't hurt Microsoft's market share significantly, it begins to put pressure on licensing, pricing and ultimately revenues. Software Assurance [Microsoft's new licensing program is a very expensive alternative to buying an $80 copy of Linux at retail that you can put on hundreds of machines."
Linux's inroads have concerned one Microsoft executive so much that on the day after Christmas he sent an e-mail to employees that detailed new internal programs and sales objectives to repel the open-source OS.
"I want you to know just how seriously we're taking Linux here in Redmond," Brian Valentine, senior vice president of Windows at Microsoft, wrote in the e-mail. "Linux is out there in some of your accounts, and you may not know it. The ground-up nature of how Linux is introduced into our accounts means that we need to modify our traditional approaches of finding out about Linux in our customer base."
Sun executives couldn't be reached for comment. Linus Torvalds, the creator of the Linux kernel, also declined to comment on Linux's commercial inroads but hinted that he's pleased with its progress.
"I try to avoid doing the Linux vs. Microsoft thing. I'd rather let people like [Oracle Chairman and CEO Larry Ellison be known as the anti-Microsoft spokesperson," Torvalds said in an e-mail interview. "It's not as if I would be unbiased anyway. Asking me about Linux is like asking the Pope about the existence of God."
Printer-friendly version
Email this CRN article