Fashion manufacturer gets new B2B Web portal
Printer-friendly version
Email this CRN article
It's a long way from Omaha to New York's garment district, but eOneGroup made a big splash in the fashion world by designing a new B2B portal for Tommy Hilfiger.
EOneGroup, an Omaha-based solution provider that designs and implements e-commerce solutions, first met Tommy Hilfiger executives at an IBM e-business road show in New York last year.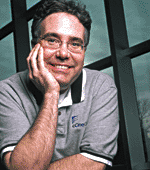 EGroupOne's Winton conducted a half-day presales call with Tommy Hilfiger's IT staff.
The fashion manufacturer was looking for an inexpensive and efficient Web portal to reach small specialty retailers that wanted to sell the company's clothing, said Brent Findon, vice president of system development at Tommy Hilfiger. Also, the solution provider needed to integrate the new portal with Tommy Hilfiger's existing back-end IBM AS/400 systems.
Keith Winton, vice president of Java technology and a partner at eOneGroup, said there's a lot of hype about B2B e-commerce, and Tommy Hilfiger's IT staff wanted to see the application for themselves. So they flew west to take a look at a similar system the integrator had deployed at Omaha Steaks. "We'd done the consumer site at Omaha Steaks, and they have an AS/400 back end like Tommy Hilfiger," said Winton.
He also conducted a half-day presales call with the clothing maker's IT staff. "What sold us was our ability to explain to them how the interfaces could work, how Web servers work and how the integration could give them realtime access to their back end without exposing it [to security risks," he said.
 


 ANATOMY OF A SOLUTION


>> COMPANY: eOneGroup, Omaha, Neb.
>> FOCUS: Designs and builds e-commerce applications.
>> ANNUAL REVENUE: Not available (private company)
>> PROBLEM and SOLUTION: Tommy Hilfiger needed a secure Web portal to reach small specialty retailers; eOneGroup created one and integrated it with the fashion manufacturer's back-end IBM iWeries (AS/400) systems.
>> PRODUCTS and SERVICES USED: eOneCommerce software, Linux, IBM xSeries (Web server), IBM iSeries (back end).
>> LESSON LEARNED: • Showcase company products and success stories at trade shows. • Educate customers about your skills and capabilities.. • Show prospective clients successful installations of similar systems.
 
 
Because of time well-spent with the potential client, eOneGroup beat out its main rival for the deal, IBM Global Services. Winton said IBM Global Services' bid would've been significantly higher, and it didn't have eOneGroup's expertise deploying similar B2B portals.
Today at Tommy Hilfiger, Linux runs on IBM xSeries servers to handle Web-based transactions that are tied to IBM iSeries (AS/400) servers running Java.
"On one hand, Linux didn't matter," said Winton. "Our stuff is all Java, so it runs anywhere. What was key about Linux for Tommy Hilfiger was that it allowed them to use open-source applications for the Web server and to keep the cost of the Web server front end low."
Buell Duncan, general manager of IBM's midmarket servers, said Linux is the fastest-growing operating system and it runs on all IBM systems. "It's cheaper and allows the customer not to be solely dependent on Microsoft," he said.
Winton said IBM Global Services, ironically, has invited him to train its staff on implementing eOneGroup solutions. "[By training them, we can use them when we get too much business."
But eOneGroup President Dan Watson wishes IBM Global Services would reciprocate and bring the solution provider in on more deals. "[IBM account reps automatically go to WebSphere," said Watson. "We're trying to educate them that there are other solutions out there."
As a result of eOneGroup's integration efforts and its flagship software, called eOneCommerce, Tommy Hilfiger can now serve boutique clothing stores that it couldn't serve otherwise, and cost-effectively at that, said Watson. "Tommy Hilfiger was losing some revenue," he said. "Some specialty shops may have been buying from unauthorized distributors, but now the stores can come online and buy directly from Tommy Hilfiger."
Printer-friendly version
Email this CRN article