Printer-friendly version
Email this CRN article
Anthony Awtrey, vice president of integration services at I.D.E.A.L. Technology, a Linux solution provider in Orlando, Fla., is battling Microsoft- and J2EE-focused competitors to land a $125,000 contract to build a Web site for the Florida Department of Citrus. Such a faceoff would have been unthinkable a few years ago, but now Linux specialists nationwide are contesting Microsoft and Sun Microsystems solution providers for deals,and winning.
 

>> SOLUTION PROVIDERS AND MAJOR VENDORS SEE GROWING SALES OPPORTUNITIES AS THE OPEN-SOURCE PLATFORM TAKES ROOT IN BUSINESS.

 
Though the Florida Citrus contract has yet to be awarded, I.D.E.A.L. is among a growing number of solution providers snaring Linux consulting, integration, training and support projects. The company last year topped $500,000 in Linux business and is on track to surpass $1 million this year, Awtrey said.
Likewise, Dallas-based Bynari, a Linux ISV and services firm, beat its 2001 revenue in the first seven months of 2002, said Tom Adelstein, founder and CTO. Bynari's Linux messaging software lets Microsoft Outlook users get roughly the same services on Linux servers that they get on Microsoft Windows 2000 or NT platforms. "Our primary resellers are seeing doubling of revenues also," Adelstein said. "This is a very high-volume business, in many cases $1 million-plus per sale."
Starnix, C-Tech Systems, Olliance Consulting, Fly-By-Day Consulting, Celestial Systems and Roaring Penguin Software are also among a growing list of Linux channel players. WiPro Technologies, a large IT services company with offices in Santa Clara, Calif., also considers the Linux platform a key focus.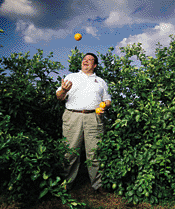 I.D.E.A.L. Technology is up against Microsoft- and J2EE-focused competitors for a $125,000 deal with the Florida Department of Citrus, said Awtrey, VP of integration services at the Linux solution provider.
In Toronto, three-year-old Linux services firm Starnix recently won a contract with BDI Canada, a ball bearing distributor, to move hundreds of Microsoft Windows and Office desktops to Linux. "It's a significant contract for us," said Evan Leibovitch, vice president of business development at Starnix, whose annual Linux revenue has climbed into the hundreds of thousands of dollars. "They're choosing to do this instead of going to Licensing 6.0 [Microsoft's new software licensing program. They don't want to be locked into the direction Microsoft is going. And Sun is getting hit pretty hard by this."
Most Linux market penetration has been in the enterprise segment, where Sun,with its Unix-based Solaris operating system,has felt the impact more than Microsoft, solution providers say. But as large systems integrators and vendors such as IBM Global Services, Hewlett-Packard and Dell Computer snatch most of the Unix-to-Linux migration rewards, a small but increasingly profitable channel for Linux solutions is emerging, industry observers say.
"We've seen migrations for e-mail and Web serving from Windows to Linux," said Peter Fricke, executive vice president at D.H. Brown Associates, a Port Chester, N.Y.-based IT consulting firm. "The motivations for [Microsoft Internet Information Server migration are security concerns or that customers don't want to be locked into Microsoft Licensing 6.0. But there's not a stampede of this happening. It's fairly embryonic. We see more Unix-to-Linux migrations."
The total dollar opportunity for Linux solution providers is tough to pinpoint, industry analysts say. Research firm IDC estimated that the Linux operating environment market produced more than $80 million in revenue worldwide in 2001, down slightly from $84 million in 2000. Paid Linux product shipments, however, soared almost 50 percent between 2000 and 2001, IDC reported.
Microsoft's installed base of 800,000 channel partners isn't defecting en masse to Linux, but the rising tide of services opportunities for the platform is raising the eyebrows of more and more solution providers, according to IDC channel analyst Steve McHale. "From the Microsoft server OS, there's a 2-1 services-to-product ratio. If the Linux shipments are going up, there are significant services dollars attached to it," McHale said.
 

 COMING UP THIS WEEK AT LINUXWORLD

>> RED HAT: Plans to detail aggressive SMB channel program scheduled to launch over the next six months.
>> SUN: Slated to unveil Intel-based Linux server, as well as new Linux server channel program.
>> UNITEDLINUX (Caldera, TurboLinux, SuSE, Connectiva): Plans to demonstrate an alpha version of the UnitedLinux distribution and unveil joint ISV and channel programs.
>> HEWLETT-PACKARD: Aims to push channel partners to sell its Oracle- and Veritas Software-based database and e-mail solutions for Linux to midmarket customers.
 
For many solution providers, Linux product, services and support sales remain small vs. Microsoft or Sun business. Because of the open-source platform's specialized nature and low-cost software purchasing and licensing model, few expect to see the development of the kind of mainstream channel that Microsoft has built. I.D.E.A.L.'s Awtrey, for one, said there's little opportunity for Linux reselling and that solution providers need a substantial skill set to do Linux integration work.
"It's a very different model. What we'll see is a custom channel. I don't think it can look like the Microsoft channel," he said. "It's like building solutions out of Legos. Right now, we buy directly from the vendors, and over time there will be a way to buy these kinds of products over the Web. It will be a spider web, not a channel per se."
Yet solution providers have a compelling reason for pushing a Linux agenda: increased profit. Today, just 5 percent of C-Tech Systems' annual revenue of $5 million is from Linux, but that figure stands to grow as Microsoft keeps squeezing margins for its channel partners, said Paul Kostick III, owner of the Sacramento, Calif.-based solution provider.
"My profit [with Linux is a lot higher than with Microsoft," Kostick said. Thirteen-year-old C-Tech, which has been selling Linux servers for three years, can make $700 in profit from a Linux file/print server sale vs. $120 from a similar Windows sale because of the lower software acquisition costs, he said.
"Microsoft is too greedy with pricing. If they share more of the wealth, it would be better," Kostick said. To capitalize on the fatter margins with Linux, C-Tech is opening a new branch office focused exclusively on Linux server sales, he said, adding that the open-source platform stands to boost C-Tech's services business 5 percent to 10 percent by 2003.
I.D.E.A.L.'s Awtrey also reported healthier margins with Linux solutions. "In broad strokes, we get a 75 percent profit margin because there are not a lot of capital outlays," he said.
As more solution providers pursue Linux opportunities, vendors are working to expand the platform's market appeal beyond the enterprise into the SMB space and are looking for help from partners. Red Hat, Sun, Hewlett-Packard and UnitedLinux, for example, plan to unveil channel programs this week at the LinuxWorld conference in San Francisco.
Linux distributor Red Hat is now pulling in more than $100 million annually from the Linux technologies, integration and training services it provides to enterprise customers, and the Raleigh, N.C.-based company aims to build a bona fide channel to serve the SMB market, said Mark De Visser, vice president of marketing. At LinuxWorld, Red Hat is expected to detail an aggressive channel program that it plans to launch over the next six months.
"You can expect us to come out with a strong SMB distribution channel to target the midmarket during the second half of 2002," De Visser said.
Sun,whose Unix server sales have been besieged by Linux over the past two years,also plans to unveil at LinuxWorld a new channel strategy and its long-awaited Linux server.
Solution providers are an effective sales conduit for low-end Linux servers because they can load the platform's kernel and tailor the OS according to customer needs, said Bill Roth, group marketing manager for Sun's Volume Systems Products Group. "There will be a lot of customers who will use the [Linux server for a Web, print or file server, but customization of the environment is where [solution providers can really add value," Roth said.
The four UnitedLinux companies,Caldera, TurboLinux, SuSE and Connectiva,plan to demonstrate an alpha version of the UnitedLinux distribution and unveil joint ISV and channel programs, said Ransom Love, the former president and CEO of Caldera who became the head of the Linux distributor's UnitedLinux operation in June.
HP also aims to bolster its Linux presence as more Linux-related business moves through Tech Data, CDW Computer Centers and Pioneer-Standard Electronics. Judy Chavis, director of Linux marketing at HP, said the vendor will push channel partners to sell its Oracle- and Veritas Software-based database and e-mail solutions on Linux. "We're trying to drive these Oracle packaged clusters through the channel for medium-size enterprises," she said.
As the Linux channel takes shape, high-tech companies are experimenting with different business models. Bynari, for example, is honing in on sales from its messaging applications and gravitating toward software development. Red Hat is successfully balancing product and services sales. And Alliance Consulting, an Intel-backed Linux product and services company that shut down in April 2001, relaunched last fall as Olliance Consulting, a pure strategic consulting firm.
"We were successful on the services side, making money consulting with large vendors on their Linux strategies. But we needed funding to build products, and the services revenue couldn't sustain the whole company," said Andrew Aiken, formerly an Alliance sales executive and now managing partner at Palo Alto, Calif.-based Olliance.
Today, Olliance has 10 customers, including the U.S. Navy and Fox Racing, a distributor of apparel for the motorcross and bicycle racing industry. Fox Racing uses a mix of Microsoft and Sun technologies and has tapped Olliance to migrate its core infrastructure and applications to Linux. "They're very concerned about Licensing 6.0," Aiken said.
Infrastructure components,file/print, e-mail, firewall and Web servers,and consulting and training services currently are the key opportunities with Linux, solution providers said. Atlanta-based Fly-By-Day Consulting, for example, is doing a robust business with Linux-based security solutions, including firewalls, intrusion-detection systems, VPNs and network/system administration.
The government sector is another hot spot for Linux as federal, state and local governments look to cut software costs. I.D.E.A.L., for instance, recently won a $300,000 contract with the U.S. Army to produce a study detailing the current and future benefits of using open-source solutions such as Linux for simulation and training systems, Awtrey said.
But Linux's implementation and support costs often can outweigh the savings on Microsoft and Novell client licenses, other solution providers said, noting that some customers that switched to Linux from Microsoft or Novell platforms have switched back. "There seems to be an initial benefit because Linux is open and free, but it's like buying a kit car," said Larry Harbin, a partner at Computer Network Enterprises, Charleston, S.C. "There are very ineffective tools to make Linux work as well as a full-fledged backbone server. They put a lot of free stuff in Linux distributions, but you can't get support. Sometimes applications don't run consistently and networking protocols aren't supported. So now the total cost of ownership is offset by people trying to get a fundamental services to run."
Still, firms like C-Tech are landing an ample amount of business playing the Linux game. "We are dedicated to Linux and are finding that it is not hard to sell the Linux OS anymore," Kostick said. "Now the problem is that I need to sell a server that does messaging, calendaring and instant messaging, and we want a big name behind it."
Printer-friendly version
Email this CRN article