Printer-friendly version
Email this CRN article
Solution providers say the Sarbanes-Oxley Act is one more for reason companies to invest in document management software, and it is likely to make records management a robust add-on opportunity down the road.
At the moment, however, midmarket companies outside of heavily regulated industries are still evaluating how to respond to the Enron-inspired law that, as of July 31, 2002, made it a criminal act to knowingly destroy records needed for official proceedings. And many haven't yet adopted an electronic-document strategy.
"It's just like [the Health Insurance Portability and Accountability Act]. They started out hiding from the requirements," said Neil Hamadey, CEO of Capital Image, a document management solution provider in Los Angeles, referring to medical records personnel who stuck religiously to paper records, despite HIPAA. Now Capital Image, which grew more than 20 percent last year, is doing a robust business helping health-care providers meet an April deadline to create processes for maintaining such things as audit trails on patient records, he said.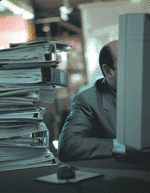 New legislation protecting documents could mean more opportunities in records management solutions.
In Hamadey's view, document management is almost synonymous with records management. Capital Image started out selling microfiche machines and services and moved into document imaging in the late 1980s. Records management has been an inherent part of the Alchemy document management software from Information Management Research that Capital Image sells, he said.
The term "records management" gained new currency in the IT industry, however. It refers specifically to the storing, indexing, retrieving, archiving and,perhaps most significantly,retention and destruction of records.
Last November, IBM and Documentum both acquired records management software vendors, viewing records management capabilities as a new requirement for their own offerings. Unlike vendors such as Information Management Research, Englewood, Colo., that view archiving of documents as a core function, the enterprise content management vendors have been more focused on collaboration and workflow, and managing electronic documents through end-of-life has been less of an issue until now.
Still, solution providers said no one is buying document management software just for the sake of records management functionality. "For records management, we're not seeing a lot of it as a vertical speciality," said John Lockard, vice president and CTO of Silicon Plains, an IBM content management partner in West Des Moines, Iowa. "We do see a lot of workflow. In the past, everyone has been asking about workflow."
Lockard said he expects records management to become a bigger opportunity. Many customers are beginning to ask about it, particularly for managing e-mail records, he said. Silicon Plains plans to follow IBM's lead, Lockard said. "We're not going to dive into it by ourselves."
Brett McIntyre, vice president of content management at IBM, said the current interest in records management solutions represents a third wave of adoption. "The first area was in the public sector, and it was pretty well accepted there. Ahe regulated industries was the next wave, and that's cresting real well. As you go into the less regulated industries, you see it starting to take off," McIntyre said.
The third wave is also embracing additional forms of content, including e-mail and instant messages, which need to be brought under management for liability reasons.
Paul Szemplinski, president of Integrated Document Technologies, Itasca, Ill., which resells Optika's Acorde content management software, said most commercial midmarket companies are not yet spending on records management for e-mail but want to know that the capability is available down the road. "The problem is the legal side and the business side have just not gotten around to addressing e-mail as a viable document and to [realizing] the necessity of treating it like any other document," he said.
Printer-friendly version
Email this CRN article