Printer-friendly version
Email this CRN article
For a long time, Rob Mock, CEO of Dewpoint, a Sun Microsystems VAR since 1994, has been unhappy with how the vendor supports its software partners. Mock's frustration came to a climax at a January Sun ONE VAR council meeting in Dallas.
After huddling around a conference table and listening to back-to-back presentations by Sun executives throughout the morning, during the lunch break Mock polled the six other council members present. A number of them were as perturbed as he was. So, after lunch, Mock had his say.
"I called the Sun people to task," said Mock, co-chairman of the council. "I really questioned if they even needed us there if they were just going to present to us and not listen to us."
The Sun executives were surprised at Mock's frankness, he said. Mock told CRN that he didn't mince words when he described his myriad concerns, including the disconnect out in the field between Sun and its software solution providers; the lack of communication between partners and Sun field sales representatives; the execution difficulties partners experience with Sun's services organizations; and the lack of specifics available to partners about the Sun ONE product road map.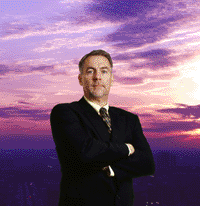 Dewpoint CEO Rob Mock says there has been a 'dramatic' change in the attitude of Sun field representatives.
It appears Mock got Sun's attention that day. A number of solution providers interviewed for this article said Sun still has a tough road ahead in building a successful software strategy. However, they said the vendor is now not only listening to feedback, which provides the critical real-world perspective Sun needs to succeed, but also is taking steps to change its behavior in regard to Sun ONE VARs.
"The single biggest change is the attitude of the field," Mock said. "It has been dramatic."
Within two weeks of the Dallas meeting, Sun began conducting sales calls with individual Premier and Elite Sun ONE partners to help generate leads and spur joint engagement opportunities. On the calls, which will be scheduled quarterly, each solution provider discusses with Sun ways to partner effectively in its region and identify customers the two can approach together, said Barry Jones, director of channel marketing for Sun software. "We listened to our partner council [members], who were keen to get more sales engagement [from Sun]," he said.
Mock said there was healthy reciprocation between Sun and solution providers on a recent central region sales call he took part in. Partners "showed [Sun representatives] all the revenue opportunities [we knew about], and they threw us some opportunities," he said.
Solution providers said privately that Sun also is readying rules of engagement for how it deals with its Sun ONE partners, something it has never put in place before. Jones would not confirm this but said Sun will roll out a new sales strategy for going to market with partners at its iForce meeting next month in Orlando, Fla.
In the past two months, Sun also has stepped up execution of a previous plan,implemented based on feedback from an August Sun ONE VAR council meeting,to escalate its standard allocation of marketing funds and support for Premier and Elite Sun ONE partners, Jones said.
Sun is helping solution providers build marketing plans to target product and geographic areas specific to each partner, Jones said. Sun also is teaming with partners to launch new marketing campaigns and host events aimed at luring customers. For example, Jones said that Sun ONE partner inSolutions, Alpharetta, Ga., is about to kick off a three-city roundtable series starting in Orlando, Fla., with Sun's support.
 

>> 'We listened to our partner council [MEMBERS], who were keen to get more sales engagement [from Sun]' -- Barry Jones, director of channel marketing for Sun software

 
These are all welcome actions, solution providers said. However, the moves may not go far enough to solve all the problems surrounding the Sun ONE partner strategy, they said.
Paramount among these is the product line itself. Sun got a late start selling a competitive Java software stack in the market. Many in the industry considered software from the Sun/AOL Time Warner joint venture iPlanet, which Sun rebranded as Sun ONE last year, merely mediocre. Although Sun has made significant improvements to re-engineer those products, particularly the Java application server, the vendor now faces a Java software market already dominated by BEA Systems and IBM.
BEA and IBM have secured nearly 50 percent market share between them, according to a June 2002 report from research firm IDC. IDC placed BEA in the lead with 24.8 percent share and IBM close behind with 23 percent. Oracle is third with 12.1 percent, and Sun is a distant fourth with 7.9 percent market share, according to IDC.
Sun partners said they have major difficulties positioning Sun ONE products when they're pitching them to customers that have already standardized on IBM or BEA software. Sun's moves to revamp its application server, a product often central to IT decisions concerning Web infrastructure, is heartening, solution providers said, but it may not be enough.
"We think Sun's done an admirable job of bundling [its application server] under the Sun ONE brand, yet they're still playing catch-up to BEA and IBM," said David Auerweck, vice president of corporate development at Helio Solutions, Sunnyvale, Calif.
Although Sun does not break out its software earnings and has not provided metrics on the success of Sun ONE, Sun executives continue to assert that its Java software is performing well in the market. Barbara Gordon, vice president of worldwide software sales for Sun, told CRN recently that Sun ONE sales improved during the last half of 2002, and that Sun continues to win deals with customers using its Java software.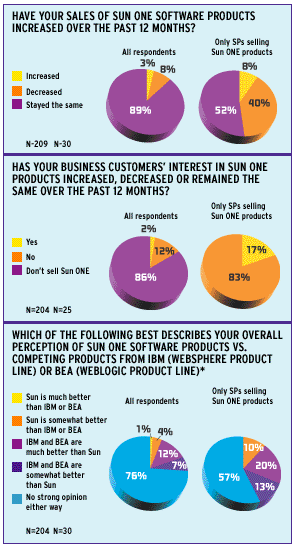 But application server market share may not even matter for Sun in the future. With its new Project Orion initiative, Sun eventually will abandon the stand-alone software market as, over the next several years, it develops an operating environment with all of Sun's software built in.
Ingrid Van Den Hoogen, Sun's director of strategic marketing, said Orion represents "a massive shift in strategy" for the vendor. She describes it as "a new operating environment consisting of all these software components that are integrated from the get-go." In the future, she said, Sun ONE partners "will all sell Orion."
Partner training on Orion will continue over the next couple of quarters, Van Den Hoogen said, with the first shipments of Orion due by the end of the year.
Despite the strategic shift, it could still be quite an uphill battle for Sun. Recent CRN research shows evidence that Sun ONE products are not in high demand.
In a CRN survey of 209 solution providers conducted in February, only 30 of the respondents indicated they sell Sun ONE products. Of those 30, only 17 percent said their sales of Sun ONE products to their business customers have increased in the past 12 months, while 83 percent said they have not increased. Thirty-three percent of solution providers selling Sun ONE products said they consider BEA and IBM middleware better than Sun ONE, while only 10 percent said Sun's products had the edge.
Another stumbling block to a successful software strategy is Sun's hardware legacy, solution providers said.
Unlike Sun hardware VARs, which traditionally split revenue from both resale and services on hardware, Sun ONE partners make the bulk of their money just providing services on Sun software. Since Java software is sold as part of a larger solution, not merely as individual products, these solutions are often a tougher sell, solution providers said. And many salespeople in Sun's global sales organization, who have a history of selling Sun hardware, don't yet know how to sell software effectively, they added.
Sun salespeople aren't expected to have in-depth knowledge of the vendor's large and diverse product line, according to Jones. Instead, he said, Sun has devised a model with two types of salespeople,those in charge of the customer relationship, and those that have a specialty in one area, whether it is hardware, software or services. In this way, Sun leverages the expertise of both hardware and software salespeople depending on the customer's needs, he said.
However, this isn't always how engagements play out in the field, said Ron Kattas, vice president of business development at Alexandria, Va.-based solution provider TLA Associates. He cites instances in which he has seen Sun hardware salespeople trying,unsuccessfully,to sell software, too. "Do they know how to sell software? No, because they don't sell solutions, they sell boxes," he said.
Mike Shook, president of Raleigh, N.C.-based Strategic Technologies, said a transition from selling hardware to solutions is a challenge for any company to pull off. "It's very difficult for someone to migrate from a product-centric model to a solution-centric one," Shook said. "It takes a lifetime to get there."
But Sun appears to be committed to putting whatever time,and money,it takes to make software a successful business. At its recent analyst meeting in San Francisco, Sun Executive Vice President of Software Jonathan Schwartz said about half of Sun's $1.9 billion research and development budget is being spent on software.
While Sun claims it will continue to offer Sun ONE products individually for the time being, its Sun ONE application server, directory and portal also will be fundamental components of a Web services-focused release of Orion due out in the fall, with an early access release slated for June, according to Van Den Hoogen. Sun is still working out how it will charge for Orion, but it will undoubtedly be some kind of usage-based pricing, she said.
Sun ONE solution providers so far have mixed reactions to Orion as they are busy trying to grow their businesses in what continues to be a challenging economic climate.
Douglas Nassaur, CEO of Atlanta-based solution provider True North Technology, thinks if Sun moves to utility-based pricing with Orion it will help gradually transition customers to a services-oriented infrastructure, which he said is the IT model of the future. "This will make it easier to enact project phases because you don't have to justify a large, front-end investment," Nassaur said. "Now you have pricing and style that is more in line with a direction companies need to take."
Other solution providers are taking a wait-and-see approach to how Orion will change their businesses and, more importantly, how Sun will engage with its partners to make this new strategy successful.
"This will be a true test for Sun's sensitivity to its partner community," Dewpoint's Mock said. "Will they ask us about it before or just do something thinking they know what's best for us? I am looking forward to it."
Printer-friendly version
Email this CRN article