Solution providers can now use freely available virtualization software to build affordable solutions
Printer-friendly version
Email this CRN article
Much like Paris Hilton, virtualization has become a headline in the news, yet very few SMB customers know what it does or exactly why it deserves attention. But that is changing as more solution providers embrace the technology and discover that, unlike Paris and Nicole, virtualization and low cost are compatible terms.
Every day the argument for virtual systems grows stronger because the technology's benefits are becoming more evident and the technology more affordable.
With Microsoft and VMware offering free virtualization products, and with today's hardware needing little or no upgrading to get started, the entry point for virtualization is decidedly within the grasp of most businesses. For custom-system builders and solution providers, virtualization holds the promise of driving hardware upgrades and value-added services.
With that in mind, CRN Test Center engineers set out to build an ideal virtual machine, with an emphasis on maximizing price/performance by making use of all the benefits that free and low-cost virtualization software has to offer.
The most important task when deploying a virtual system is properly sizing the environment. That basically comes down to three elements: processor capabilities, installed RAM and hard-disk space. Arguably, the easiest element to understand here is processor speed, but solution providers will need to take into account several factors in determining how much processing power is enough.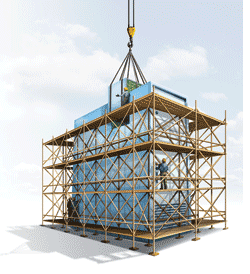 Most operating systems and software packages specify a minimum CPU requirement, which proves to be a good starting point. If an OS calls for a Pentium IV processor at 1GHz, then a 3GHz processor should be able to run three instances of the OS, including one host OS and two virtual instances.
While that may be an oversimplification of processor capability, it still proves to be a good starting point. The calculation becomes more complex when assessing dual-core and multicore processors. Dual-core technology lends itself well to both virtualized and multithreaded applications, as previous Test Center lab results have shown, lowering requirements somewhat.
The Test Center selected an AMD Athlon 64 X2 5000+ as the processor for its ideal virtual PC. The CPU was installed on an ASUS M2N32-SLI Deluxe motherboard, which uses the new AM2 socket recently introduced by AMD.
The same logic can be applied to RAM and disk-drive requirements. In both instances, though, system builders should heed the maxim: More is generally better. With hard-drive capacity, system builders need to consider not only the OS, applications and data requirements, but also added space for backups, clones and snapshots.
For its virtual PC, the Test Center selected 2 Gbytes of 800MHz DDR2 memory (2x DIMMs of 1-Gbyte Corsair CM2X1024-8500), and a Seagate Barracuda 7,200-rpm drive with 750 Gbytes of storage.
For the video subsystem, the Test Center selected an EVGA NVidia GeoForce 7800 GT PCIx Video Adapter. While high-speed video is an important performance enhancer for PCs, it is not as critical on a virtual PC. Virtual PCs emulate a standard video card and feed the host system's video card. Other components included a generic DVD-RW drive, a keyboard and mouse, and an Antec case with a power supply.
Although our hardware choices may stretch some budgets, the idea here is to maximize virtual performance. That said, lower-end components will allow virtualization solutions to work as long as there is enough storage involved.
When building a PC for virtualization, the primary choices for the host OS are Windows and Linux. If Windows is the choice, installers can select from Windows 2000, XP, Windows Server and, when available, Windows Vista to act as the primary operating system. Choosing a Linux distribution is a little more
complex and should be based on the support offered by the virtualization software vendor.
Several companies offer virtualization software, with the two 800-pound gorillas in the market being Microsoft and VMware. Both companies offer a "free" version of their virtualization server products.
Microsoft offers Virtual Server 2005 R2 Enterprise EditionVS2005, for shortat no charge, but it should be noted that Microsoft's virtual software products only run with a Microsoft OS as the host. VMware offers both VMware Player and VMware Server at no charge to users, and both products are available for either Windows or Linux OSes.
Although both companies offer free versions of virtualization software, solution providers may want to take a look at the commercial upgrades, which offer more features and include support. Microsoft's Virtual PC 2004 is $129, and VMware's Workstation 5 is $199.
When considering upgrades, another company worth mentioning is Parallels, which offers virtual PC software for Windows, Linux and Intel Macs. Parallels' products are based on hypervisor technology, which promises near-native speeds for guest OSes. And at only $49, Parallels' software is a real bargain.
Test Center engineers gave products from Microsoft, VMware and Parallels a try on its ideal virtual PC and found that all worked well. Both VS2005 and VMware Server proved to be a little more complicated to set up, each requiring the installation of Internet Information Services (IIS) to fully function. That is a minor inconvenience, though, considering their price tags.
Parallels' workstation was the simplest to install and configure, but it did not offer the remote access capabilities that VMware Server and VS2005 provide. It should be noted that the commercial desktop virtualization solutions from both Microsoft and VMware proved to be much easier to configure and use than their free server counterparts.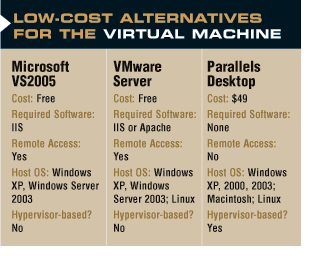 All of the virtualization products responded well to tuning. Installers can select how much RAM and hard-drive space to assign to each virtual machine and set processor priority. Processor priority controls when and how much processor bandwidth is assigned to an active virtual machine.
The virtualization puzzle doesn't end with Microsoft, VMware and Parallels. Other choices are available. Worthy of note is the Xen Project. Xen is an open-source hypervisor-based virtualization application that now has backing from major chip vendors and several Linux distributors.
Although still under development, Xen offers para-virtualization technology, which is becoming the fastest and most secure style of virtualization in the industry. Xen also offers near-native performance for virtual servers and claims to require up to 10 times less overhead than proprietary offerings. Most of these improvements can be attributed to Xen's hypervisor technology, which uses virtualization technology that is imbedded in today's processors.
The question now becomes which virtualization product to use. Regrettably, there is no simple answer to that. But some simple guidelines can help direct VARs to the proper choice.
For Windows-based systems with remote access requirements, Microsoft's Virtual Server 2005 proves to be a good choice, especially when one considers the price. On the flip side, if VARs are looking to extol the benefits of a Linux server, or run other guest operating systems on a Linux box, then VMware's Virtual Server product (free beta), would be the right choice.
For the typical Windows or Linux desktop, VARs can't beat what Parallels has to offer with its virtual workstation. Although it is not free, it offers excellent performance, ease of use and enhanced features such as the ability to "shrink"
virtual disks. Perhaps the ideal way to move virtualization to the desktop market is with a high-end PC running a popular Linux host OS, with Parallels as a hypervisor-driven virtualization solution to run legacy OSes such as Windows.
The arguments in favor of virtualization have quickly outpaced the arguments against. Most any user can benefit from what the technology has to offer.
Whether it comes in the form of flexibility, security or continuity, custom systems solution providers players should be able to find a way to make virtualization work for them and increase hardware sales, fatten margins and build service opportunities.
Sidebar: Making The Case For Virtualization
Printer-friendly version
Email this CRN article