When it comes to open-source vs. commercial software, many solution providers have already taken their stand
Printer-friendly version
Email this CRN article
The ongoing open-source vs. commercial software debate has fervent partisans on both sides. Each tries hard to woo the uncommitted to its camp, citing the value of its approach and products. And, like swing voters in the battleground states of the current presidential election, solution providers often find themselves at the center of all this activity.
To cut through the noise and help determine where the real value might lie for a solution provider considering each of the offerings, the CRN Test Center in advance of LinuxWorld this week set out to demystify some of the issues.
It is undeniable that open-source software products have taken the lead from their commercial competitors in several product areas. The latest figures from market researcher Netcraft, for example, show that the Apache Web Server leads its market with a more than 67 percent share, compared with No. 2, Microsoft's Internet Information Server, with 21 percent.
Several other open-source offerings command significant shares of their respective markets as well.
These include Sendmail, a mail server product comparable to Microsoft Exchange; BIND, a Domain Name System server; and PHP and OpenSSH, programming and secure shell scripting languages.
Other products, such as the Linux and FreeBSD operating systems, and MySQL, an open-source SQL Server database engine, are steadily gaining on the commercial competition.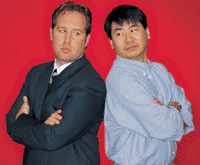 Evan Leonard (l.), president of Chips Computer Consulting, opts for the commercial route while Johnny Chin, president of Onesimus Enterprises, mainly turns to the open-source community.
Also, IDC research shows that organizations are buying $98 million worth of open-source services this year. That will more than double, to $228 million, by 2008, according to IDC.
One solution provider embracing the open-source opportunity is Johnny Chin, president of Staten Island, N.Y.-based Onesimus Enterprises. "In my case, margins on moving software boxes don't matter; it's all about the service revenue opportunities," he said. As for support, Chin turns to the open-source community--rarely to any vendor--for help. "When it comes to troubleshooting, a solution can be found quickly online. If not, you can code the fix yourself."
While those like Chin are willing to go it alone, others choose the commercial route for support and marketing collateral.
"As a Microsoft Certified Partner, I know Microsoft will always be there to help with support, marketing and customer development," said Evan Leonard, president of Chips Computer Consulting, Lake Success, N.Y.
A recent Insight Technologies study commissioned by Microsoft claims that VARs with a strong emphasis on Windows garner higher profit growth percentages, higher mean profits and higher revenue per employee.
The Test Center found that the key to ongoing profit from either platform comes from service and integration tasks and, while both platforms offer ample opportunities for these, it seems that open-source has a slight advantage.
Test Center engineers priced out the startup costs for a basic customized e-commerce solution, comparing an open-source-based solution directly against a set of comparable Microsoft products. Without question, it is initially cheaper to get started with the open-source solution and most likely easier to generate integration revenue from it.
When developers are looking to craft a custom solution based on low-level enhancements at the operating system level or look to integrate normally noncompatible applications, open-source provides the freedom to fully customize any aspect of an integration.
But a major consideration is ongoing costs, for both the VAR and the customer.
Yes, there is an abundance of freedom with open-source. However, those who customize open-source products often create their own standards or practices. This may sound attractive at first since it can make customers very dependent. Yet it can also make solution providers vulnerable on two fronts.
First, solution providers can become a target of a smart competitor's marketing message that points out to the customer that it's being held hostage. Also, solution providers may find that the cost of supporting open-source increases drastically if a key developer leaves the company and a new employee has to be trained.
In contrast, solution providers that do a custom complex integration leveraging commercially certified employees offer a uniformity that allows a new employee, or new solution provider, to pick up where someone else may have left off.
With all of the facts on the table, the Test Center came to the following conclusions.
Solution providers that experience low turnover and have secure, long-term relationships with key customers should strongly consider the open-source route. On the other hand, solution providers looking to leverage vendor marketing collateral, offer standardized solutions and resell support services should opt for the commercial software route.
Much like the cola wars of the 1980s, many solution providers will find selecting a platform is akin to a matter of taste. Both have many obvious financial benefits, with open-source providing a boost right at the start and commercial-based applications tending to reveal their financial prowess over time.
For most solution providers, the question can be summed up in this way: Do you want reap profits on the front end or see larger profits over time?
The open-source vs. commercial application battle won't be decided by technological prowess, but by sales creativity. It is important to understand the pros and cons of each platform so a valid sales argument can be crafted. And many solution providers will likely find they should be open to selling both platforms or a combination of open-source and commercial products.
That's exactly what Onesimus Enterprises' Chin is doing. "I usually propose both platforms to prospective clients. Most go the open-source route once they see the initial costs, but it is really all about selling the customer the best solution for their business."
Printer-friendly version
Email this CRN article