Champ: IBM
Printer-friendly version
Email this CRN article
IBM's vast WebSphere portfolio helped it hold its position again this year as the 2006 CRN Channel Champion of the application integration middleware category.
IBM romped its competitors with a solution provider satisfaction rating of 80.5. That was 3.8 points ahead of runners-up Microsoft and Oracle, which tied for second with 76.7. SAP was third with 67.6.
In technical areas, partners gave IBM particularly high marks for multivendor support and support for standards. Not surprisingly, the three vendors with their own enterprise applications to push—Oracle, Microsoft and SAP—drew lower ratings there. IBM also scored high on scalability.
IBM came up short in only one area, price/performance, where Microsoft took the top score. Several partners, though, said IBM's Express portfolio of lower-cost software packaged for the SMB market has been a big help in this area.
In channel program satisfaction, a big 5.7-point lead on the criterion of responsiveness to partner feedback helped IBM stand apart from its rivals.
Typical of IBM's willingness to listen to partners was a deal registration program it recently introduced for software partners, similar to one it has for hardware partners, said Dennis Burke, CEO of Essex Technology Group, an infrastructure services firm in Rochelle Park, N.J. While it will take some time to work out the kinks, Burke said the program was indicative of IBM's receptiveness to partner criticisms.
"They should be applauded for that," he said. "They're always willing to have a conversation."
IBM also glided to easy wins in the areas of vendor support, total ROI for customers and consistency of programs, topping Oracle by 4.3 points in each area and by 3.2 points in overall channel program satisfaction.
"Customers like the strength of IBM financially and technically," said Troy Webb, chief marketing officer for InCentric Solutions, an IBM Premier partner in Morrisville, N.C. "If you have trouble, you know they're deep and wide.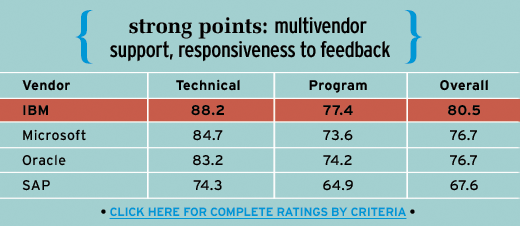 Printer-friendly version
Email this CRN article