Champ: Sun Microsystems
Printer-friendly version
Email this CRN article
Although it's a newcomer to the volume server arena, Sun Microsystems handily won this year's Channel Champions award in this category by working hard to win over solution providers, according to survey results.
The Mountain View, Calif.-based manufacturer outpaced competitors with an overall satisfaction rating of 76.2, which was 2.1 points ahead of IBM, 4.3 points ahead of Hewlett-Packard and 9.5 points ahead of Gateway.
And it did so in a year in which it sought to ramp up shipments of servers based on Advanced Micro Devices' single- and dual-core Opteron processors. Among the volume servers (priced below $25,000) that Sun now has in the marketplace are its Sun Fire X2100, X4100 and X4200.
"From what I've seen, it seems like they've done a really good job," said Philip Gust, president and CEO of Nouveau Systems, a Santa Clara, Calif.-based Sun iForce partner. "Some of the channel operations stuff is probably the hardest part of that."
In technical areas, Sun pulled ahead of runner-up IBM in price/performance and scalability. It tied IBM on management features and ability to upgrade. And it slipped behind on two criteria: quality and reliability, and serviceability. Its overall technical rating was two-tenths of a point ahead of IBM.
But in channel program satisfaction, Sun gained a larger advantage, earning high scores on all nine channel criteria and coming in 3.3 points ahead of IBM. That included a substantial 7.2-point lead in technical education and a 4.3-point lead in reducing channel conflict.
John Sampson, senior marketing manager for Sun's Network Systems Group, said the Santa Clara-based company has been careful not to overdistribute through too many resellers in any given geography. He also said Sun instituted joint business planning with channel partners and deal registration over the past few years.
"It is now having a big impact on which reseller partners take a lead role in key opportunities," Sampson said.
Gust said Sun has made an extra effort to interact with its channel partners. "They do a really good job, in general, of communicating," he said. "They have a lot of good partner events. I'm really pleased with them."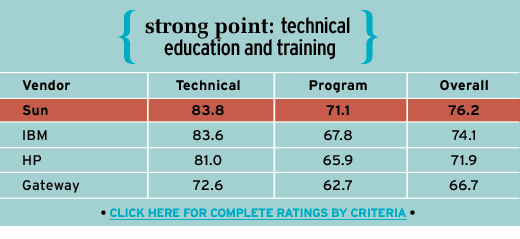 Printer-friendly version
Email this CRN article