Printer-friendly version
Email this CRN article
In the next week or so, a solution provider will receive the 100 millionth Intel microprocessor created for the channel,a landmark that comes at a time when new Intel President and COO Paul Otellini said the channel's standing at the chip giant is at an all-time high.
"The channel overall is a very big part of our business," said Otellini. "It's been about one-third of our business for more than a decade and has kept up with all the changes in the industry, year in and year out. It's vital."
Though reaching 100 million shipments of anything is an achievement, the milestone comes at a critical juncture for Intel. The $26.5 billion, Santa Clara, Calif.-based company is trying to convince the world that it's more than just a powerhouse for microprocessors, and it's counting on channel partners to help spread the word.
President and COO Paul Otellini is steering partners toward mobile, wireless and convergence technologies as the chip maker's 100 millionth processor hits the channel.
Intel Premier Provider partners, in particular, will play a key role in expanding the company's IT identity, said Otellini, who was executive vice president and general manager of the Intel Architecture Group until his promotion in mid-January. As Intel's top solution providers, Premier Providers meet certain sales volume or technology specialization requirements,not only for shipping white boxes, but also for including them as part of overall solutions.
"What the [Premier Provider program is doing is kind of taking it to the next level," Otellini said in an interview during a drive through the Arizona desert to one of Intel's new facilities. "We work together to enable that class of customers to sell a broader portfolio of our products and to sell higher value-added products, where the sweet spot of the industry is likely to be."
That theme took center stage earlier this month at the Intel Solutions Summit in Phoenix, where the company trumpeted mobility, wireless, servers and converged communications. Solution providers at the event said the message was clear that Intel wants,and needs,to broaden its technology horizons.
"The missing ingredient in this year's conference was that there is no new breakthrough technology to really present,no showstopper, if you will," said Darrin LeBlanc, vice president at Productive Computer Solutions, a Boulder, Colo.-based Intel Premier Provider.
"The industry in general is looking a little like the music industry when it went through a period where it was looking for the next big thing. Sure, [Intel executives told us about [Microsoft .Net and numerous other emerging technologies, but in my estimation Intel is reaching and has greatly overestimated the adoption of this technology," LeBlanc said.
One early proponent of Intel's converged communications platform, Orlando, Fla.-based American CompuSystems, recently deployed one of the first commercially available units at a private school in Florida, said Luis Rodriguez, president of the Intel Premier Provider. "All of the technologies that they are really pushing we've been involved with for a year or longer. They seem to be letting the marketplace catch up," Rodriguez said.
Intel often gives discretionary marketing funds to partners that craft solutions highlighting its evolving architecture, said Pat Taylor, president and co-founder of Proactive Technologies, a Carrollton, Texas-based solution provider that builds SANs using white-box Intel servers.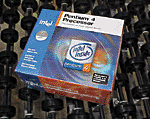 Sometime this week, a solution provider will receive a Pentium 4, marking Intel's 100 millionth processor shipped to the channel.
"They continue to pump up those people that do new things with their new technologies," Taylor said. "The quality of Intel's architecture allows us to look down the road."
Partners at the Intel Solutions Summit said wireless networking is one area to watch in the coming months. Although Intel exited the network hub and router market months ago,causing some confusion in the market,the company is making a name with wireless network interface cards, said Ted Roller, president of Oxford Systems Integration, an Intel Premier Provider in Troy, Ohio.
For example, Intel is among the first to market with products supporting the 802.11a standard, which provides faster transfer rates and less interference than the 802.11b specification, Roller said, adding that the products are well-priced for the SMB market.
"With Cisco, you pay a premium," said Evan Anderson, Oxford Systems' director of networking. "Intel tends to be there with the rest of the pack, but they have great brand recognition."
Intel has much to offer in the wireless arena, according to Otellini. "You could argue that for a small business, putting a wireless network in with notebooks is a lot easier than running cable and having desktops," he said. "So I think the scenario is staged to see an interesting growth."
The wireless push is especially critical for solution providers focused on the education market, one vertical that Intel is targeting this year.
"Bleeding-edge is not important to a school district. But wireless offers them more flexibility," said Jeff Konspore, vice president of marketing and development at Per Scholas, a Bronx, N.Y.-based solution provider. A nonprofit business, Per Scholas builds about 6,000 systems annually and plows any profits back into IT training for local welfare recipients.
 

>> 'The channel overall is a very big part of our business. It's been about one-third of our business for more than a decade and has kept up with all the changes in the industry, year in and year out. It's vital. -- Paul Otellini, Intel

 
Another area where Intel Premier Providers can expect serious investment this year is mobile hardware. Otellini said Intel is exploring ways to encourage more "white book" systems integration.
"The channel is supplying pieces," he said. "We supply processors and boards and chassis that are relatively snap-together. But [building notebooks requires, I think, a scale in terms of operations that is not quite there yet [for white-box builders."
Intel plans to work with a limited number of partners to increase the volume of mobile chips it sells through the channel, said Tom Kilroy, vice president of sales and marketing and general manager of the vendor's reseller channel operation.
"I think there is a good opportunity for the 'white book' business, but I also think it's taking longer and will continue to be,at the beginning,more reserved for higher-volume guys," Kilroy said. "The amount of time and effort involved in assembling a mobile platform is more complex. If you're doing high volume, you can justify it. If you're not putting out a lot of these things, the small guy is probably much better off subcontracting it out to somebody else."
That's welcome news to American CompuSystems' Rodriguez, who said he's had difficulty working with the vendors Intel has certified to build white-box notebooks. The repair policies of these vendors,which require units to be sent away for service,pose a big challenge, he said.
"They need to go back to the manufacturers that they're playing with and have them set up an authorized repair policy," Rodriguez said. "They need to have better infrastructure. It's not Intel's fault."
Many Premier Providers continue to stand by Intel based on history. Intel shipped its first white-box processor line in Asia in late 1994 and entered the U.S. market in 1995. Today, channel partners account for about one-third of Intel's desktop business,and growing, said Gordon Dolfie, director of product marketing for Intel's reseller products group.
"We plan even more investment in the channel. Some of this is because the channel plays an even stronger role overseas," Dolfie said.
Despite facing some criticism from the channel over the years, Intel heeds partner input and is willing to change its policies, solution providers say.
"Intel has drunk the channel Kool-Aid. Every year there has been a steady increase in the commitment to the channel, " Oxford Systems' Roller said. "There have been all sorts of issues with the channel in the past several years, but Intel isn't giving in. They listen, more than anyone else."
Printer-friendly version
Email this CRN article