Printer-friendly version
Email this CRN article
ArcStream Solutions CEO John Keane believes the mobile market may be coming together.
Keane's Cambridge, Mass., mobile integration start-up can now offer a variety of handheld platforms to customers along with emerging wireless networks that promise much faster transfer speeds. What's more, Keane believes he understands how to demonstrate immediate cost benefits. "Companies want more rigorous proof that positive dollars will come out of the equation," he said. "We're looking for how and where a mobile solution will create revenue that didn't exist before."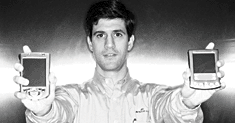 ArcStream CEO John Keane touts the immediate cost benefits of mobile solutions.
Keane said he has found it in the sales-boosting proposition of ArcStream's new Mobile Pharma FSA wireless application for pharmaceutical salespeople. The application is being rolled out for two biotech companies, including Cambridge-based Genzyme, he said. Not only does the application allow salespeople to retrieve customer data and process orders on the fly, but it also helps the sales and marketing department reduce customer objections, according to Keane. As part of the sales entry processes, salespeople can choose from a drop-down list of objections on their PDAs, which then can be tracked and analyzed, he said.
"At the end of a sales call, detailers can capture in an easy fashion objections the client expressed," he said. "From a marketing perspective, they are getting realtime data points about issues of selling a product. That helps channel energies into how to overcome those objections, and I think there is a significant opportunity to improve sales in doing that."
First generation of the product will require mobile workers to sync with their desktop at the end of the day, but future versions will be wirelessly enabled as new wireless networks mature, Keane said. It's this kind of technology that Keane believes will quadruple one-year-old ArcStream's revenue from less than $1 million in 2001 to $4 million in 2002.
Keane's enthusiasm for the mobile market is shared by a number of solution providers. They say better handhelds and faster wireless networks mean more business opportunities this year.
"My sense is the market could triple or quadruple," said Martin Dunsby, global leader of Deloitte Consulting's wireless initiative in New York. With maturing technology and next-generation networks stating to roll out in North America this year, "all the components are there," he said.
On the hardware side, beefed-up handhelds will be suitable for much more than downloading e-mail, scheduling appointments and taking notes. They'll be ready to access back-end data on the corporate network and support instant messaging, messaging format SMS and other wireless messaging capabilities.
 


>> Solution providers say better handhelds and faster wireless networks mean more business opportunities in the mobile market this year.
 

 
Market-share leader Palm has told analysts it expects to release new ARM-based devices with a more robust operating system and integrated wireless technology suitable for the enterprise by the second half of the year. Palm is expected to release detailed information on its plans at its development conference, which starts Feb. 5. Meanwhile, Nokia, Samsung and Kyocera, among others, have released advanced phones with PDA capabilities. Microsoft is pushing forward with its Pocket PC 2002, a platform the company has aimed specifically at the enterprise, and Windows CE .Net.
Sprint, for its part, is slated to roll out its next-generation network service nationwide by midyear, and the company launched a channel program late last year aimed at data solution providers. AT&T Wireless, Verizon and Cingular Wireless are already offering services in some states but won't have nationwide coverage until at least the end of the year. These new networks pose enormous opportunities because they boost transfer speeds to the equivalent of what most traveling executives experience on the road today via wireline access. Average data transfers for the services are expected to run at 40 Kbps to 80 Kbps, depending on the network.
Analysts, however, are more conservative about potential growth. In this sluggish economy, they say the enterprise will likely carry over its tight-fisted spending into 2002. "There are more companies investigating mobile than actually taking the plunge," said Alex Slawsby, an analyst in the smart handheld group at IDC. That kind of spending pattern will continue until late 2002, he said, with the bulk of the mobile spending expected to occur in 2003.
IDC projects U.S. mobile handheld shipments to increase 15.1 percent this year, a slight boost from the 14.7 percent increase last year. But 2003 will see an increase of 36.6 percent, according to the research firm. "Systems integrators need to work with companies to identify where mobile device integration will deliver demonstrable [return on investment in a short period of time," he said.
Integrators, nevertheless, remain hopeful. Most large integrators are offering pilot programs that allow a company to try out technology for a fixed period of time and price. Dimension Data, Reston, Va., for example, offers a four-week engagement for $65,000 that includes access to middleware from Air2Web, Atlanta. Increasingly though, Dimension Data is expecting customers to step out beyond the pilot and into full-scale rollout, said Justin Hart, director of Dimension Data's Multi-Channel Computing Division. Hart expects to see a number of such projects materialize this year.
Dimension Data generated about $1 million in mobile revenue in 2001 but expects to triple that by the end of this year, Hart said. "Initially, there was a lot of opportunity to get [customers educated on wireless," he said. "Now we're seeing clients come in with vendors in tow wanting to talk about a solution."
One such customer is DeWALT, a Baltimore-based manufacturer of high-performance industrial power tools. The company came to Dimension Data to discuss how to improve data collection among its mobile construction sales force. That sales force visits construction sites to drop off sample products, determine if competitive products are being used on the site, and encourage workers to purchase DeWALT-branded tools from local hardware stores.
Since the sales force was frequently out of the office, maintaining data records was a challenge. DeWALT executives were having difficulty tracking samples and staying on top of site contacts, Hart said. It was clear DeWALT needed an organized procedure for capturing data out in the field rather than waiting until the mobile worker returned to the office to transcribe notes. He said it's easy to demonstrate to DeWALT executives how capturing and maintaining contact information over time will help boost revenue over the long term among sales reps, who traditionally have a high turnover rate. "It's hard to keep accurate records when a contact name is being washed off someone's hand in the shower the next morning," he said.
Dimension Data recommended Compaq IPaqs and then used Visual Basic to write an application that mobile workers can use to collect contacts, make notes and log sample distribution. Riverbed Technologies' ScoutSync was used to connect to the corporate database.
Hart said the pilot was rolled out to 10 percent of the sales force and was deemed "fruitful" by the client. DeWALT is now considering a full rollout in a deal worth upward of $400,000, but it is likely DeWALT will choose to roll out the solution without the wireless access, Hart said. "DeWALT found that it's just as easy to sync up with a desktop once a salesperson reached the office," he said. "They could incur a cost savings without the wireless ISP."
Although many customers such as DeWALT are forgoing expensive wireless connections for the short term, solution providers expect interest to pick up as next-generation networks become ubiquitous.
Deloitte Consulting's Dunsby expects to see more emphasis on applications field service, field sales, supply chain visibility and decision support once better networks are in place.
Vendors such as Siebel Systems and Oracle are encouraging such pursuits. Oracle has been extremely active in the mobile space, providing a free lab for mobile Oracle development. To spur mobile applications for its CRM software, Siebel unveiled Siebel Sales Handheld 7 for the Palm OS as part of its new Siebel 7 CRM software.
Dave Hall, CompuCom's senior vice president and CTO, said the Dallas-based integrator definitely expects to see more interest in access to back-end data via mobile devices. But he's not yet sure if wireless is the answer for all clients. "I think it's still a ways away," he said.
Nevertheless, some of CompuCom's clients are investing in wireless technology solutions. In June 2001, the integrator deployed and provisioned 10,000 Palm VIIx devices that attendees of SAP's SAPPHIRE conference could use to access show data as well as e-mail and the Internet via Palm's wireless service. To make sure performance was adequate, CompuCom set up 13 wireless database stations.
With these types of technologies and a host of new products on the horizon, solution providers have no doubt they have the tools to implement money-saving solutions. All they need now is more customers.
Printer-friendly version
Email this CRN article