Printer-friendly version
Email this CRN article
Dell Computer promised the world last year that it would grow into a $10 billion-a-year services behemoth within half a decade.
The plan: Bring the company's low-cost, direct-sales business model into a market that has been the province of IBM Global Services, EDS and thousands of independent solution providers. A year into that pledge, Dell has thrown the same marketing flash and confidence into services that it has in rising to the top of the now-commodity PC space.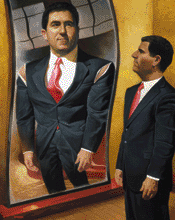 Dell sees itself as a risng force in services, but warranty support and repairs--not solution-building--drive its services revenue.
When asked about the strength of Dell's services business during a conference call with reporters late last year, Chairman and CEO Michael Dell gushed. "The services business has actually grown quite considerably. It's on roughly a $3 billion run rate," Dell said. He later added that services "is increasing as a percentage of our revenue and profit."
But just how does Dell define "services"?
For most of the channel, services means solution-building,a value-added business that relies more on fostering customer relationships than moving product.
Yet Kevin Soelberg, Dell's vice president of services marketing and development, said about 60 percent of the company's services revenue is derived from warranty support and break-fix solutions, with the rest coming from consulting and deployment.
What's more, Dell services staff usually aren't dispatched to customer sites and almost never touch non-Dell hardware, unlike the multivendor services supplied by independent solution providers.
Jeff Lynn, the new vice president of professional services at Dell, who oversees the Dell Technology Consulting group, declined to comment on the Round Rock, Texas-based company's services business. But Dell spokesman Matt Boucher said the company typically doesn't deploy many of its services staff at customer locations.
"I don't think we try to hide that fact. For us, we don't see the value in hiring an army of people to wear Dell badges and go out and do the kind of support work we do as a company," Boucher said. "The market bears this out. We think we can be more successful by integrating with partners than we can by doing it all ourselves."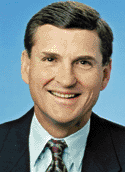 'It [Dell's Services Business has really been very linked to us selling hardware.' -- James Schneider, Dell CFO
Indeed, when clients need heavy lifting,including application management, systems integration or network maintenance,Dell typically outsources the work to VARs or large integrators such as IBM Global Services, EDS, Unisys, Getronics and NCR. Or customers opt to bring in third-party solution providers themselves.
"We do have a number of partnerships with firms that work for us on a subcontracting basis, [including Accenture and Unisys," Dell said in the conference call with reporters.
Dell CFO James Schneider has said that just about all of the company's services business is tied to its low-cost, low-margin PC and server sales. "It has really been very linked to us selling hardware," Schneider told investors late last year.
With computer sales declining worldwide and margins scuttled by an ongoing price war, Dell benefits by touting growth in services revenue, industry observers say. Higher-margin, value-added businesses such as professional services,an area not associated with PC kingpin Dell,are grabbing the spotlight as the new profit centers, they say.
"In IT, professional services revolves around major changes in the adoption or use of new technology, as opposed to operational [changes, which have to do with maintaining, supporting or fixing existing systems," said Robert Leavitt, director of member advocacy at the Information Technology Services Marketing Association (ITSMA), Lexington, Mass. "There's a little bit of a gray area, of course, but things like consulting, systems integration, network design and installation, technology strategy, systems overhauls, etc., would be professional services. And I know that Dell is interested in doing more of that, as are most of the product companies."
That gray area around what defines services may make Dell's reported services revenue misleading, according to some analysts.
 

>> 'The services business has actually grown quite considerably. It's on roughly a $3 billion run rate.' -- Michael Dell, Dell Chairman and CEO

 
"When [Dell does custom configurations and software loads, is it really services as we would look at it?" said Michael Haines, an analyst at research firm Gartner. "If I ordered a Dell box and asked them to include extra memory, that can start to inflate [services numbers very quickly."
Dell also doesn't break out services revenue that comes from leasing hardware, Haines said. "We just can't get a straight answer on it. A lot of companies count leasing fees in their services. They [Dell lease a lot of equipment," he said.
From fiscal fourth-quarter 2000 to third-quarter 2002, Dell's quarterly services revenue rose 56 percent from $490 million to $766 million, according to company reports. In Dell's last full fiscal year, 2001, services accounted for about $2.5 billion, or 7.8 percent, of the company's $31.9 billion in total revenue.
Such growth positions Dell to hit its $10 billion-a-year services target within four years, according to Soelberg. "Are we on track? The answer to that is yes," he said. "Our services business is continuing to grow extremely well."
Dell's services revenue has grown 30 percent year-over-year, fueled in part by increasing penetration into the high-end corporate market, Soelberg said. "We are moving into larger and larger enterprise accounts," he said. Some of Dell's accounts include aircraft giant Boeing and the Cornell University Theory Center, a research facility that houses a Dell-built supercomputing solution.
Yet hands-on service and follow-up by Dell staff may be more the exception than the rule, according to some Dell customers.
Dell's Web site, for example, lists the Danbury, Conn., public school district as a case study of the computer seller's services business. For the account, Dell configured and shipped the hardware plus agreed to replace broken parts overnight. But no Dell employee has stepped onto Danbury school property since the deal was signed.
"Dell really provided us the hardware and the operating systems," said Art Colley, IT manager for the Danbury school system. On-site integration and maintenance, he said, comes from Network Support, a Danbury-based solution provider. "Network Support comes in with consulting services and provides us with information on how to run our networks," he said.
Jim Kennedy, CEO and owner of Network Support, said it's "an accurate assessment" to say he and Dell have a different definition of services, given that his company is the on-site service provider for the school district. "Danbury school personnel and our people actually installed it," Kennedy said.
Definitions don't seem to matter much to Colley, though, who said he's happy with the custom factory configuration from Dell as well as the on-site integration and maintenance from Network Support. The school district likely will sign a new services deal with Dell later this year and maintain its separate relationship with Network Support, he said.
Another services case study on Dell's Web site describes the company as helping the South Carolina Department of Parks, Tourism and Recreation roll out information systems. But when David Elwart, IT manager for the South Carolina department, was told that his agency was listed as a Dell services case study, he expressed surprise.
"That's pretty funny," Elwart said. "The only services [are that we lease from Dell."
When on-site assistance is required to fix a problem with the South Carolina agency's network, which includes Dell and IBM servers, third-party providers,not Dell services staff,answer the call, according to Elwart. "They dispatch whomever, from whatever part of the state. Sometimes it's Wang," he said. The agency keeps a separate relationship with an integrator,IKON,in addition to the services Dell includes on its hardware contract, Elwart added.
Though Dell's and solution providers' conception of services may differ, Dell makes no bones about the fact that it taps third parties to extend its reach. Dell says on its Web site that it has more than 6,700 service personnel worldwide as well as access to 50,000 support technicians through partners. For example, Dell has a seven-year, $6 billion outsourcing pact with IBM Global Services under which IBM provides on-site integration and warranty support for high-end enterprise accounts.
"They have basically five or six major players that they hand off services to," said Gartner's Haines.
Account ownership, however, can become a bit hazy under services alliances, solution providers and industry observers say. In its PC and server direct-sales model, Dell unquestionably controls the customer account. But when Dell works with a partner, it's not always so clear who controls the services end of the account.
Soelberg said Dell assigns a senior technical account person to oversee and maintain ownership of accounts to ensure that any problems or questions are addressed. And so far, he said, clients like that arrangement because it gives them a single point of contact and billing for services-related issues.
Yet Pete Cheng, COO of Everest Field Technologies, a Boothwyn, Pa., solution provider and Dell authorized service provider, said the relationship usually works the other way. When Everest services Dell hardware installations, Cheng said his firm,not Dell,maintains ownership of the account and is the point of contact for the client. Everest has relationships with both Dell and IBM, he added.
"We work with our clients to come up with a standard. We can give recommendations based on their requirements and cost. Once we develop a standard, we support their needs," Cheng said. "Probably the biggest, key item we push to our clients is the post-sales support in terms of warranty service, [i.e. what certain companies will warranty and whether or not they're willing to back up their product."
Dell backs up its products through a combination of aggressive warranty support, including overnight shipping on system replacement parts, and strategic alliances for services beyond its reach or capabilities. While Dell insiders said the company has no ambition of becoming an IBM Global Services or EDS, Dell is moving to bulk up its own services muscle.
Last October, for instance, Dell inked a five-year, multibillion-dollar co-branding pact with EMC in which the storage vendor will train Dell services personnel on the technical support and installation of EMC systems. And Dell spokesman Boucher said Lynn,who started at Dell last month after serving as Compaq Computer's vice president and general manager of services strategy,aims to expand the Dell Technology Consulting professional services unit, which currently is a small group but completed 400-plus engagements last year. Boucher declined to specify Dell Technology Consulting's head count. One company insider, though, estimated the group's staff at less than 500 employees.
Despite such efforts, Dell executives acknowledge that the company's strategy is less about end-to-end solutions and more about its heritage: volume hardware sales.
"In terms of our mission, really what we're about is enabling the sale of our core computing platform products through the execution of those services that our customers require for those products," Soelberg said.
And some of Dell's marquee accounts are perfectly happy to outsource on-site help or do it themselves.
"We have kind of a special partnership with Dell in that our entire high-performance computing complex is Dell hardware," said Linda Callahan, executive director of the Cornell Theory Center in Ithaca, N.Y. "We very early on got them into the high-performance computing arena. The services they provide is all part of that."
Dell lists the Cornell Theory Center as a case study of its system uptime support services, after it helped the center configure as many as 64 Dell PowerEdge Wintel-based servers into parallel and serial-processing engines. Aside from custom configuration,which the center ordered over the Web, according to Dell,Dell services hasn't had a firsthand role in its uptime support, even though that's how the company depicted its work at the center.
"They're not on-site," Callahan said about Dell services staff. "We have our own systems group,seven or eight people who handle everything internally."
Callahan praised the center's relationship with Dell and the company's ability to meet its high-performance computing needs. So did executives at another customer, LoanGiant.com.
The Web-based personal finance company sent a team of its IT engineers to Dell's lab in Round Rock to design an online sales system using Dell hardware. But like the Danbury school district, South Carolina tourism agency and Cornell research center, LoanGiant.com executives said the company hasn't seen a Dell services professional on its premises since the system was purchased.
If Dell wants to build a services reputation that matches its hardware sales machine, it needs to cultivate a solution- and relationship-based approach that stretches beyond product sales, analysts say.
"The customer is eventually going to say, 'If you want us to buy your equipment to handle your big, mission-critical, heavy-duty applications, you better have the services behind that like we'd get from companies like IBM, Compaq, HP and Sun that are necessary components of a solution, not just a product,' " Gartner's Haines said. "It really will be interesting over the next couple of years to see what they do in that vein."
Printer-friendly version
Email this CRN article