Printer-friendly version
Email this CRN article


Company: Handspring
Price: $229
Upgrades: No
Distributors: Brightpoint
Test Center Comment: The Palm OS-based Visor Pro proves that functionality from a PDA need not be bathed in color. The Visor Pro is a mobile workhorse in a simple, clean design at an attractive price.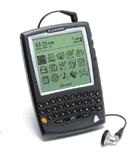 Company: Research In Motion
Price: VoiceStream offers $499 handheld, with wireless and voice plans starting at $39.95 per month. AT&T Wireless pricing has not been set.
Upgrades: No
Distributors: AT&T Wireless, VoiceStream
Test Center Comment: The BlackBerry 5810 handheld offers voice, data and e-mail functionality, creating ample business opportunities for solution providers moving into mobile applications.



Company: Terapin Technology
Price: $499
Upgrades: Yes
Distributors: Ingram Micro, Microcenter
Test Center Comment: Terapin is another company jumping on the bandwagon for removable storage. Running on a version of Linux and equipped with Internet connectivity, this multiuse device is more than just a 10-Gbyte mini hard drive.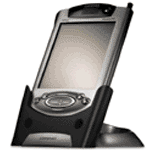 (Includes Bluetooth capability)
Company: Hewlett-Packard
Price: $650
Upgrades: No
Distributors: Ingram Micro, Tech Data, HP/Compaq Direct
Test Center Comment: The iPaq Pocket PC 3870 is clearly the slickest PDA out there. With usable pocket versions of Microsoft Excel, Word and Outlook, this handheld can serve admirably in situations where a laptop is just not convenient. Considering the plethora of expansion and software options available, the iPaq 3870 could become a traveler's best friend.


Company: Melard Technologies
Price: Wireless Sidearm without scanner, $2,799; Wireless Sidearm with scanner, $3,355
Upgrades: No
Distributors: Mobile Planet
Test Center Comment: A ruggedlized PDA, the Sidearm is built to withstand a 40 mph driving wind and rain, according to Melard Technologies. The Sidearm also offers wireless connectivity and an optional scanner pack.


Company: NEC Solutions America
Price: $899
Upgrades: No
Distributors: Mobile Planet
Test Center Comment: The MobilePro caters to both ends of the user spectrum: It can be used as an IT device or as a sleek personal-information manager. Solution providers would be advised to keep this product in mind when talking to prospective clients with employees who travel often.

Printer-friendly version
Email this CRN article