Printer-friendly version
Email this CRN article
A summer of disasters, from the Blaster worm to the massive Aug. 14 blackout to this month's Hurricane Isabel, has highlighted the need for effective business-continuity and disaster-planning strategies. For solution providers, the message was even more clear: Provide a better business-continuity solution, and the world will beat a path to your door.
Business disasters can strike at any time. Fires and other natural disasters, physical damage to, or theft of, computer equipment, and system or component failures can all affect a business. Such events can be a company's downfall, with more than 43 percent of firms that suffer a massive data loss never reopening, according to the publication Disaster Recovery Journal. Because of the great need, market-research firm IDC predicts that the total business-continuity market will expand to $54.9 billion in 2006 from $29.9 billion in 2001.

With this in mind, the CRN Test Center assembled the following recommendations on the most effective business-continuity technologies and strategies, with an emphasis on proactively planning for and avoiding disasters. Here is the Test Center's list of solutions for small, midsize and large businesses, although many of the solutions can be applied to each.
SMALL BUSINESSES
Tape drives have long been a stalwart of disaster recovery for small businesses, providing an effective way to back up data and store it off-site. An external DDS-4 Digital Audio Tape drive can hold up to 20 Gbytes, enough for most small-business environments. With a controller and bundled backup software, the drive costs around $1,500.
For tape drives to work most effectively, however, solution providers must properly size them to the current and expected future needs of the company. They should also train customers in how to properly use, maintain and clean the drives.
Tape drives are available from numerous vendors, including Dell, Hewlett-Packard, IBM, Seagate, Sony and Quantum. The drives provide excellent insurance in case of a disaster, but because they are stored off-site it often takes a long time to retrieve the tapes and recover the data. Therefore, for small-business environments, it is useful to attach a NAS device to the network and then connect it via a SCSI cable to a traditional tape drive. This combination enables the data to be stored both on-site and off-site, allows it to be recovered more quickly, and adds an extra layer of redundancy. The Test Center recommends NAS devices between 80 Gbytes and 480 Gbytes from vendors such as Dell, EmergeCore, HP, Iomega and Procom Technology, depending on the specific type of business and storage needs. These NAS devices cost between $450 and $2,500.
Removable or external USB hard-disk drives and DVD-RWs are useful in backing up small amounts of data and moving the data off-site, and they avoid many of the problems of tape storage. Available for about $300, 250-Gbyte USB hard drives offer excellent storage for small businesses.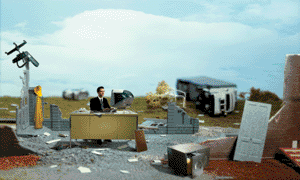 Small, midsize and large companies have different disaster-recovery needs and budgets. The CRN Test Center details a wide range of solutions to help your customers weather the storm.
Drive- or partition-imaging software is another important business-continuity technology for any size company. An image of the operating system, applications and settings on a PC or hard-drive partition is stored in compressed form to removable media or to a drive on the PC, which can later be quickly and easily restored to the system. These tools can also do incremental backups which, if done frequently, allow for quicker restoration and returns the system closer to where it was when the problem began.
Most small businesses would be well-served by installing drive- or partition-imaging software such as PowerQuest's Drive Image or Symantec's Ghost on every desktop, at around $70 per user. It's also useful to get a second hard-disk drive or CD/DVD drive for the image backup for each machine.
The ever-growing reliance on e-mail as an important business tool and many companies' use of on-site e-mail servers means that if a physical disaster strikes, getting business back to normal can be challenging and prolonged. Solutions including Electric Mail's Business Continuity Services, EnterGroup's E-mail Continuity Service, MessageOne's Emergency Messaging System and Saf-T-Net's Secure-mail provide off-site e-mail servers that let employees access their e-mail accounts, contacts and calendars, and receive and send e-mail messages via a Web browser if their company's e-mail server is unavailable. For small businesses, the solutions average $150 for setup, and there is a service fee ranging from 30 cents to $1 per user, per month, depending on number of users and type of system.
Telephone systems can also be affected by major disasters, so solution providers should take steps to guarantee a continuation of voice communication for their customers. The Test Center has reviewed several voice-over-IP solutions and has found the technology to be an excellent alternative if land lines or cell phones are not working. The systems cost between $250 and $400 per user for the phone and chassis, plus Internet usage charges.
UPSes are another essential part of business-continuity solutions. UPSes from vendors such as American Power Conversion (APC), Belkin, Liebert, Powerware, Tripp Lite and others can provide backup power to a system for several minutes after a blackout, allowing for a clean shutdown and saving of open documents, and offer power protection in case of spikes or other electrical problems. UPSes rated at 1,200VA with shutdown software should be installed on every desktop and server, and they cost about $300 each.
To provide maximum power protection, UPSes must be properly sized and maintained. These units are rated for various power capabilities, so solution providers must ensure that the UPSes they install can support the power needs of all devices plugged into them. They also need to educate users not to plug in too many extra devices.
UPSes also should be recharged or replaced if they are low on power,most can be set to alert the user when power is waning. Solution providers entering the home integration market should also include UPSes and backup systems in their solutions, especially when installing sophisticated electronics devices or networks.
Solution providers need to be vigilant about harmful bugs and viruses affecting their customers' systems. Many observers predict that this summer's worm and virus attacks, which bogged down e-mail systems and networks worldwide, were only the tip of the iceberg. Many worms and viruses take advantage of vulnerabilities in applications, so it is crucial for solution providers and their customers to install patches as they are released. Solution providers should also be on the lookout for the myriad of other security threats that can cause serious downtime of company resources, including hacker, denial-of-service and malicious code attacks.
At a minimum, solution providers should provide business-continuity training to their small-business customers and should visit periodically to do manual backups and to test disaster-recovery equipment. The basic integration and initial setup of the above technologies should take around five hours and cost around $625.
MIDSIZE BUSINESSES
Many of the small-business continuity solutions would also provide excellent security for midsize businesses if scaled up appropriately. Larger SDLT or AIT external tape drives cost around $2,500, and 1-Tbyte NAS devices provide good backup for midsize businesses, costing between $4,000 and $15,000. Dell, EMC, HP, IBM, Iomega, Network Appliance, Procom Technology and Snap Appliance offer solid NAS devices. RAID array disk-to-disk based storage systems offer excellent backup for the larger needs of midsize businesses, and a .25-Tbyte system costs around $7,000. Recommended vendors include EMC, Hitachi, HP, IBM, Network Appliance, Overland Storage, Quantum and Sun Microsystems.
In addition to storage technology, backup software is also important, and a plethora of packages provide effective backup of server data, at varying prices. However, very few of the packages back up data that is currently in use, which is often the most mission-critical information. St. Bernard Software solves this problem with its Open File Manager, an add-on that works in conjunction with more than 90 backup packages in Windows and Novell NetWare environments, and allows them to do backups of open file data. The software costs around $649 per server, and there is a $149 annual service contract for midsize businesses.
Drive- or partition-imaging software is also important to midsize companies. PowerQuest's V2i Protector and Symantec's Ghost Corporate Edition cost around $1,000 per server. E-mail continuity services for midsize companies cost between 27 cents and 94 cents per user, per month.
VoIP solutions are also useful for midsize companies. As for small businesses, pricing is per user plus Internet usage charges.
High-capacity UPSes should be used to support multiple servers, and they cost around $1,200. Many higher-end UPSes can send warnings via e-mail or can be monitored remotely, which eases maintenance.
Backup generators and fuel cells are becoming popular in midsize and larger companies. Like UPSes, they must be checked routinely to make sure they have enough fuel and are operational.
For midsize companies with one or more data centers, power protection and environmental monitoring are especially important because temperature extremes and humidity buildup can cause serious damage to servers and other sensitive equipment. Earlier this year, APC and Liebert unveiled cooling and environmental monitoring solutions for server racks and data centers to target this problem.
APC's cooling solutions are part of its InfraStruXure rack architecture, which lets integrators build custom-designed, comprehensive power-conditioning and cooling systems from the ground up using standardized components. InfraStruXure allows for local or remote environmental monitoring in server enclosures, and APC's Web-based solutions can send alerts immediately via e-mail, pager or handheld device when a problem arises. InfraStruXure installations start at $999. In addition, because it is a modular system, InfraStruXure allows components to be hot-swapped in case of failure or problem. This capability results in a tremendous decrease in recovery time if a problem occurs to an item in the rack.
APC and Liebert also make small spot cooling devices, ranging from $1,000 to $3,500, that can be used to deal with sudden heat spikes or to cool small data centers and wiring closets.
Many attacks such as the Blaster worm take control of systems by making a remote procedure call through a network port, but these attacks can be avoided through well-configured firewalls, port scans and network monitoring.
For midsize companies, solution providers should establish local emergency operation facilities for key personnel. Solution providers should also test contingency systems and plans frequently, and should offer contracts for hardware services and replacement ideally within four hours. Integration and initial setup of the above technologies should take 15 hours and cost around $1,500.
LARGE BUSINESSES
Enterprises, with their significantly larger needs for storage and backup, require off-site high-capacity tape libraries, costing around $25,000 or more per month, plus equipment costs, which vary based on size. Off-site, geographically dispersed SANs are also a great way to support enterprise network resources and applications, and they start at around $18,000 per month, plus equipment costs.
Packages for on-site and off-site storage vary in price, with Open File Manager costing $995 per enterprise server, plus $233 for the annual subscription.
 

 BUSINESS-CONTINUIY COSTS

>> The CRN Test Center recommends these business-continuity products for small, midsize and large businesses. All prices are estimates.
>> SMALL
• Second hard-disk drive for mirroring or image backup $200 (120-Gbyte EIDE)
• DAT tape drive (external with controller and bundled backup software,20 Gbytes) $1,500
• 1,200VA UPS with shutdown software $300 NAS unit $450 to $2,500
• Other removable storage (USB hard drive or DVD-R) $300
• Five hours integration and setup time $625
>> MIDSIZE
• SDLT/AIT external tape drive $2,500
• Enterprise backup software $1,500
• High-capacity UPS for multiservers $1,200
• Server imaging software $999
• NAS unit $4,000 to $15,000
• 15 hours integration $1,500
> LARGE
• Alternate power system (generators) and buildingwide UPS system $50,000 to $250,000
• High-speed tape library $25,000 or more per month
• Hot spare operations site $20,000 or more per month
• Geographically dispersed SAN system $18,000 or more per month
• Disaster-recovery team and plans $100,000 or more per year
 
Mirroring technology is another excellent backup tool for large companies. HP recently unveiled its improved StorageWorks hardware solution, which allows for synchronous, nearly up-to-the-minute replication of data between two local sites, and less frequent asynchronous mirroring between remote locations. This summer, IBM updated its TotalStorage Enterprise Storage Server 800, also known as the Shark system, enabling it to do incremental backups. The system also uses cascading peer-to-peer remote copy technology to provide nearly synchronous mirroring between two remote sites. In addition, EMC, Hitachi and NSI Software offer hardware- and software-based systems with similar capabilities. Mirroring systems vary widely in cost, based on specific data needs.
E-mail continuity is crucial for large companies as well. A recent survey by research firm Penn, Schoen & Berland found that 75 percent of enterprise executives predict it would take at least a day to restore their e-mail systems and would cost $500,000. Factor in the staggering monetary loss of missed business during the downtime, and installing an e-mail backup system is a necessity for large companies. E-mail continuity prices in this space range from less than 17 cents to 82 cents per user, per month.
For large businesses, VoIP solutions should be provided as a substitute for traditional telephone systems in case of a disaster. As for small and midsize companies, pricing is per user plus Internet charges.
Alternate power systems such as generators are essential for enterprises, as are buildingwide UPS systems, costing between $50,000 and $250,000.
Solution providers should set up fully equipped backup sites for enterprises in different power and water grids and have plans to evacuate personnel to the sites.
These sites should be fully outfitted with IT equipment similar to the technology in the company's other locations. Infrastructure should also be set up that mirrors the data and operations in the company's primary locations to allow for a quick transfer of business with little interruption.
Vendors including BlueStar, IBM and Sungard Availability Services help solution providers and enterprises set up and run backup sites. Companies wary of the expense of having to maintain a fully equipped backup site should populate it with the company's used IT equipment. Solution providers should also encourage enterprise customers to set up fully equipped backup sites throughout the country.
Also for large businesses, solution providers should have hot spares of key components available, at a cost of at least $20,000 for the operations site. In addition, they should arrange for extensive testing of business-continuity plans and recovery drills, and should encourage geographic distribution of services. Setup of business-continuity technologies, teams and plans can cost $100,000 or more per year for large businesses.
This summer proved, more than anything else, that disasters can strike any size company at any moment. The public is now also more aware of the need for business-continuity solutions, and so small, midsize and large businesses are increasingly being asked if they are ready for a disaster. The time for solution providers to get their customers prepared is now.
FRANK J. OHLHORST & VINCENT A. RANDAZZESE contributed to this story.
Printer-friendly version
Email this CRN article