Printer-friendly version
Email this CRN article
Seems like almost everyone's looking to untether their desktops and join the wireless revolution. Now printer vendors want a piece of the action too.
Epson recently released the Stylus C80WN inkjet printer, which is based on the 802.11b wireless standard. And Hewlett-Packard is taking an open-standards approach, deploying printers with Bluetooth-based wireless capabilities.
"Because of the limitations in building structure, it's not always feasible to run enough cables for a standard Ethernet printer," said Lowell Wolf, product manager at Epson, Long Beach, Calif. He believes wireless printing could pose a promising alternative to wired solutions in a variety of vertical markets.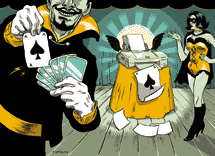 Epson, HP set the stage for promising alternatives to wired solutions in vertical markets.
"Schools are a prime candidate for wireless printing because of issues with asbestos being dislodged when running cables through walls," said Wolf, adding that some Epson solution providers have begun to capitalize on this opportunity. In many cases, the practical solution for a school consists of Wi-Fi enabled laptops, wireless access points and a single printer that's wheeled around on a cart and used on an as-needed basis, said Wolf.
"And with our printer, solution providers have the option of replacing the wireless access point and printer with a single integrated unit," he said.
In the meantime, HP's taking a slightly different approach to integrating wireless capabilities with its printers. In mid-November last year, the company introduced the Deskjet 995c, a wireless printer based on the Bluetooth standard.
According to Dana Greyson, future product manager for wireless printing at HP North America, the vendor opted for Bluetooth over 802.11b because it wanted to embrace open standards. "It's all about anytime, anywhere information on the go," said Greyson.
One benefit of using Bluetooth is that printers based on this standard can communicate with Web-enabled PDAs and cell phones, she said. But people won't be making printer purchases based on that criterion just yet. "We encourage our partners to target mobile professionals and companies that want to offer their employees the ability to print from their laptops no matter where they are within the office," said Greyson.
HP, in fact, uses wireless printers in-house, and Greyson anticipates that users will deploy similar solutions down the line. At HP, Bluetooth printers are placed throughout the office buildings. Employees moving from meeting to meeting with their laptops can send documents to whatever printer is within range.
 


HP opted for Bluetooth over 802.11b so its printers can communicate with PDAs and cell phones.
 

 
"In the future, we envision our Deskjet 995c being used in kiosk applications within hotels and conference centers where people will be able to print from their laptop, PDA or cell phone," said Greyson.
At the same time, HP executives acknowledge that not everyone will embrace wireless printing in the same way. For those who already have an HP printer and want to enjoy the benefits of wireless technology without buying a new unit, the vendor is offering Bluetooth and 802.11b wireless adapters for its full line of printers, said Greyson.
Meanwhile, solution providers await growing opportunities in the market for wireless printing.
Manchester Equipment, a solution provider based in Hauppauge, N.Y., sells printers from Epson and HP and is in talks with both vendors about taking on their wireless products.
"We believe the growth potential of [wireless is exponential over the next few years due to the advances in wireless technology and the cost flexibility offered by wireless printers when compared with hard-wired ones," said Eric Stegich, director of communications for Manchester.
So serious is Manchester about the wireless movement that it recently acquired Donovan Consulting, an Atlanta-based wireless LAN consulting group.
Stegich conceded that solution providers won't be able to dive into the wireless printer arena until the technology is used in larger laser printers. But the flexibility offered by wireless solutions extends beyond price and into the areas of installation and implementation, he said.
"If a company is reconfiguring their office space or relocating to a new office, wireless connectivity to printers will eliminate the need to rewire all the users connecting to the printer," said Stegich. "Also, any off-site employees visiting their main office will no longer need to search for a connection to the printer."
Printer-friendly version
Email this CRN article