Printer-friendly version
Email this CRN article
It only took one meeting with John Chambers for Linksys Group co-founder and CEO Victor Tsao to know he was ready to sign a deal that would reshape the wireless home and office networking market.
After that initial discussion, the Cisco Systems chairman and CEO handed Tsao a business card with his home phone number on it. "I really want to see this deal go through," Tsao remembers Chambers saying. "If you see any problem here, let me know. Call me at home." Chambers also told Tsao that Cisco wanted a strong consumer networking product set, and that the enterprise networking leader was determined to run Linksys as an independent unit.
That meeting several months ago culminated in a formal announcement last week that Cisco would acquire Irvine, Calif.-based Linksys, the leader in the SOHO wireless LAN market, in a $500 million stock deal. The acquisition, which must still be approved by government regulators and is expected to close in the summer, makes the tireless Tsao and his wife, Janie, co-founder and vice president of business development, rich beyond their wildest dreams. It is also Cisco's 81st acquisition and marks the first time Cisco has decided to operate an acquired company as a separate division.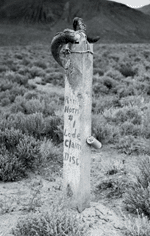 WITH ITS PLANNED PURCHASE OF SOHO WIRELESS LAN LEADER LINKSYS, CISCO ENTERS A MARKET REPLETE WITH STRONG COMPETITORS AND VARs ANXIOUS ABOUT PRICING ISSUES
Chambers is betting that the deal will give him a lock on the wireless LAN market. But industry executives said the plan,to beef up the Linksys product line with Cisco technology in a bid to provide a seamless wireless network experience from the home to the corporate network,will be no small feat. And Linksys solution providers said they will quickly turn to competitive products if Cisco messes with the powerful price/performance offered by the Linksys product set. Cisco has already said it will add its own technology components to the Linksys line but has promised to do it thoughtfully so as not to upset the Linksys operating model.
At the same time, competitors D-Link Systems, Proxim, 3Com and Netgear are staking their own claims. Although many of Cisco's competitors were caught off guard by the announcement Thursday,several of them held high-level meetings on how to respond to the deal,most have already launched strategies against Cisco from many fronts.
D-Link, a key Linksys rival in the SOHO market, has plans to bolster its own line of wireless networking products. As previously reported by CRN, the Irvine-based vendor has been developing a wireless product line specifically aimed at small businesses that will offer higher-end features at a price point below Cisco's products. "Right now we are in field trials," said D-Link President Steven Joe. "The products will include a Radius server [and] redundancy, things you would find in the midenterprise."
Joe said he is skeptical that Cisco could offer much to differentiate Linksys products at this point. "Most of the standards have been put into the market already," he said, speaking of the many 802.11-based working groups that are adding new features, such as security and quality of assurance, to the wireless standard. He noted that D-Link is part of a group working to standardize Cisco's proprietary LEAP security protocol.
Like Cisco, D-Link believes the wireless home market has just started its growth curve. "We've been in the digital home market for five years," Joe said. "We realize that in the future everything will be connected in the home, including audio and video."
Proxim, Santa Clara, Calif., is unfazed by Cisco's planned acquisition, said Lynn Lucas, the company's director of solutions marketing. "We are already competing with Cisco on the enterprise, and we are already competing with Linksys on small-business products," she said. Lucas believes Cisco is following a strategy already pioneered by Proxim: providing a product line that extends from the enterprise to small and midsize businesses to SOHO. Proxim has made a significant push for new partners this year and just launched a new channel program. "This is just the first phase of our rollout and training," she said. At a recent road show for VARs, partners were very interested in providing services for small-business and high-end home users, Lucas said, and Proxim is looking at developing special training and certification for this market.

'[The Linksys purchase] gives us a product offering in the consumer and SOHO space. That is going to be very, very important. It will help us drive future growth.' -- Tushar Kothari, Cisco Vice President of New Business Ventures
Lucas said Cisco could have a tough time managing a company in the SOHO space. "It will be interesting to see if they can take their enterprise expertise and apply it to the home market," she said. "How are they going to help ease of use [in Linksys products], for example? These are not things they are known for."
3-Com, in the meantime, is taking on Cisco at the high end. Last week, Santa Clara-based 3Com unveiled a joint venture with Huawei Technologies, the Chinese telecommunications and networking equipment vendor currently embroiled in a patent and copyright-infringement lawsuit brought by Cisco. 3Com plans to brand and sell products from the joint venture outside of China and Japan, including Huawei's full line of enterprise routers and high-end switches. Like Cisco, 3Com pulled out of the home segment in the 1990s, said Robert Winch, director of product management for 3Com's volume products. 3Com still has no interest in the home market, he added. "We have some products that compete with Linksys, but they are more business-oriented," he said. Winch maintains that 3Com can already command higher prices at the low end of the market, where Linksys is getting squeezed.
Netgear, which is a big Linksys competitor, was tight-lipped about the Cisco-Linksys deal. A Netgear spokesman said corporate issues prevented the company from commenting.
Some unexpected competition for Cisco could come from Microsoft, which has introduced a low-end home networking product. Doug Burgum, president of Microsoft Business Solutions, said the move by Cisco is another sign of the saturation in the enterprise market. "People are seeing global opportunities in small business. At first blush, any deal that brings high-quality, low-cost, better platforms [to market] is a good thing, and I'm glad to see Cisco doing it."
Some Linksys resellers don't seem to share that sentiment.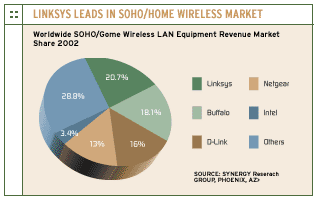 Shawn Dewan, vice president of Linksys partner Genesis Computer Systems, said he was disappointed when he learned of the deal. A 10-year-old, $5.5 million solution provider in Anaheim, Calif., Genesis sells Cisco gear to corporate customers but offers Linksys and Netgear to SOHO clients. Dewan said the SOHO market is showing strong growth and now represents about 60 percent of Genesis' business, while the corporate market business has remained stagnant.
Dewan said his biggest fear was that the aggressive Linksys pricing will disappear. "If Cisco starts to raise prices, we will obviously go to Netgear or D-Link," he said.
Yet, Cisco is committed to allowing Linksys to operate independently, said Tushar Kothari, vice president of new business ventures for Cisco, who will play a key role in the new Linksys division. "Linksys is not merging with Cisco in a traditional way," he said. "It's a different business model."
The Linksys and Cisco channels will also operate separately, he said, with the Cisco line continuing to focus on specialized certifications. The product sets are complementary,the Cisco Aironet wireless line is focused squarely on business, and Linksys' 70 products are focused on the SOHO and consumer market, he said.
Kothari said the biggest bang that comes from the deal is Cisco's entry into the fast-growing consumer and SOHO market, which is expected to grow to $7.5 billion in 2006 from $3.7 billion in 2002. "This gives us a product offering in that consumer and SOHO space," he said. "That is going to be very, very important. It will help us drive future growth."
Linksys' Tsao said the deal allows Cisco to complete the entire networking loop from home to enterprise. "That is very clearly one of Chambers' objectives," said Tsao. "He stated very clearly he wants to get into the consumer side."
Tsao said he is not worried that clashing corporate cultures could limit the deal's success. For one thing, both corporations are notoriously frugal, he said. Cisco and Linksys executives both fly coach, and at least some members of the two companies stay in Motel 6s when they're on the road. "What a coincidence," said Tsao.
Although Janie Tsao celebrated the deal with the Cisco team at a dinner last Wednesday night, her husband chose to eat at his desk. "Somebody had to work," he said.
BARBARA DARROW contributed to this story.
Printer-friendly version
Email this CRN article