Printer-friendly version
Email this CRN article
What started in the 1990s as some application work to help shipping giant Federal Express get ready for Y2K has evolved into a business relationship that represents about 13 percent of MphasiS' annual revenue.
MphasiS, a software and system outsourcing integrator based here, with U.S. offices in Santa Monica, Calif., and Bangalore, has now completed nearly 200 projects for FedEx. Most recently, MphasiS integrated FedEx's supply chain and logistics systems with third-party solutions and redesigned the shipping company's messaging backbone.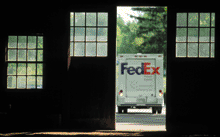 Keep on trucking: MphasiS updated FedEx's Ship Manager, so package delivery runs even smoother than before.
"It has become an extremely important anchor relationship," said Jerry Rao, CEO of MphasiS. "We invest a fair amount of our time and effort to make sure it stays that way."
Rao estimates that about MphasiS 100 employees at FedEx's headquarters in Memphis, Tenn., and 100 in Bangalore focus their energy on the FedEx account. MphasiS has a total of 1,450 software developers and architects in 18 offices and 11 development centers worldwide. Technology partners include BEA Systems, Epicentric, IBM, Micosoft, Oracle and WebLogic.
The work done over the past several years is the result of a master business agreement signed in 1994 by MphasiS and FedEx. Since that time, MphasiS has consulted, developed new products and updated legacy systems for the shipping company.
In 1996, MphasiS opened an offshore development center in India, dubbed the FedEx India extension, dedicated exclusively to its work for FedEx. Teams in Memphis and India collaborate through virtual project rooms, videoconferencing and teleconferencing.
"We have a dedicated telecommunications infrastructure and can access [FedEx's systems directly from India, so that really helps," Rao said. "I don't think we could have done these things 10 years ago."
 


 ANATOMY OF A SOLUTION


>> COMPANY MphasiS, Santa Monica, Calif., and Bangalore, India.
>> FOCUS: Developing software and solutions for vertical markets including financial services, retail and high-tech
>> ANNUAL REVENUE: $64.3 million for fiscal year ended March 31, 2001
>> LESSONS LEARNED:
• Invest time and effort in building long-term relationships with clients.
• Be flexible and honest when negotiating deployment costs and resources.
• Stay ahead of the technology curve; maintain rapport with key vendors.

 

 
The fact that FedEx and MphasiS have worked together for eight years already is testament to the rapport the two companies share, said Denise Wood, vice president of information technology at FedEx. She also cited the recent completion of MphasiS' work upgrading the FedEx Ship Manager at FedEx.com.
Wood said FedEx customers have demanded the convenience of being able to ship a package online and automatically track it and get positive proof of delivery. FedEx.com customers track about 15 million packages each month, and about 1.5 million customers track transactions every day.
MphasiS introduced new features to the FedEx system, improving processes and shortening cycle time, by adding new tracking functionality and enhancing the system's ease of use, Wood said. "We were basically able to double our loading capacity within a year without increasing the resources we used."
Before FedEx embarks on a particular technology project with MphasiS, Wood works with a team to come up with a business plan and a projected revenue opportunity.
As part of their agreement, the two companies agree on pricing for the project's required resources, Rao said. "We might say, 'OK, you'll need 15 developers and 22 testers,' " he said. "But FedEx might come back and say, 'Wait a minute. I don't really think we need [15 developers for this one.' So it goes back and forth."
Some projects have come in far below initial cost estimates, while others have run into trouble, Rao and Wood said. In the latter case, MphasiS and FedEx work together to determine how to move forward without going over budget, they added.
For FedEx, the heart of the relationship's value is being able to work with a company that has earned a deep understanding of the shipping company's back-end systems and business processes.
"MphasiS has helped us more than double our interactions online with customers," Wood said. "And they continue to play an important role as we work to implement deeper and richer applications and improve customer interface."
Printer-friendly version
Email this CRN article