Printer-friendly version
Email this CRN article
New Xerox Chairman Anne Mulcahy expects 2002 to be a more colorful year for the copier and printer giant.
To regain market share lost to rivals such as Hewlett-Packard, Canon and Lexmark International during a painful restructuring, Xerox is ramping up its color printer line for the office and high-end production markets and pushing an integrated channel strategy, said Mulcahy, who added the chairman's post to her president and CEO title on Jan. 1 with the retirement of Paul Allaire.
Late last month, the Stamford, Conn.-based company also launched a global advertising campaign, dubbed "Take A New Look At Xerox," designed to bolster its brand image and spark more corporate interest in its lineup of copying and printing solutions.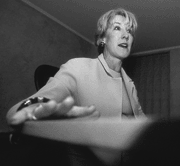 New Chairman Anne Mulcahy is banking on color printing and a hybrid channel strategy to starpen Xerox's improved financial picture.
"Our color technology, particularly in our office printing business, has an incredibly strong portfolio of products, one that we think faces off very nicely against HP from a speed, quality and price standpoint. We believe that is a priority for us," she said.
Xerox has targeted HP in recent product announcements. Last month, Xerox cut the list price of its Phaser 2135 model, a 21-page-per-minute (ppm), single-pass color laser printer, to $4,699, which the company compared with HP's color LaserJet 8550 model, which lists for $4,229 and prints color at 6 ppm. In October, Xerox introduced the Phaser 5400 monochrome printer, with a 40-ppm speed and a list price of $2,149, and compared it with HP's monochrome LaserJet 8150 unit, which has a 32-ppm speed and lists for $1,989.
To drive its color business, which accounted for roughly 18 percent of its 2001 revenue, Xerox has a two-pronged plan: Enlist more solution provider partners and refine direct-sales efforts.
"The combination of continuing to extend our [solution provider relationships and investing in demand creation,which has not been on the top of our list over the past 18 months as we've been restructuring the company,will really lend itself to a stronger approach in terms of supporting the channel," Mulcahy said. "We've been growing our tele-Web capabilities as well, both to support the channel as well as for fulfillment. I think we will do more and more from a hybrid marketing standpoint."
Xerox's recharged business plan comes as the company steps onto more solid financial footing. Last week, Xerox reported earnings,excluding restructuring charges,of $108 million, or 15 cents per share, for the fourth quarter ended Dec. 31, compared with a loss of $161 million, or 25 cents per share, in the year-earlier period. Fourth-quarter 2001 sales fell 13 percent year-over-year to $4.3 billion.
For fiscal year 2001, Xerox posted sales of $16.5 billion, down 12 percent from $18.7 billion in 2000, and a loss of $293 million, or 43 cents per share, compared with a loss of $257 million, or 44 cents per share, the prior year.
Mulcahy has helped slash costs at Xerox since being named president and COO in May 2000 and then CEO last August. By the end of 2001, Xerox had implemented cost-saving measures that yielded $1.1 billion in annualized savings and reduced its workforce to 78,900, down 13,600 from year-end 2000.
Xerox's restructuring began full swing in December 2000, when the company sold its China operations to its Japan-based Fuji Xerox joint venture for $550 million in cash. Last March, Xerox sold half its stake in Fuji Xerox to partner Fuji Photo Film for $1.3 billion in cash. And now Xerox is working to wring value from its famed Palo Alto Research Center by seeking partners that could take the lab's technology to market.
"The nature of a research laboratory is that there's going to be innovation in areas that won't necessarily be germane to the core business," Mulcahy said. "We'd love to have the opportunity to commercialize,and therefore monetize,some of that innovation."
Xerox also has shored up its financing. In the past three months, the company snared almost $1.2 billion in funding from GE Capital, raised $746 million in an offering of senior notes and repaid about $1.2 billion in debt. Xerox now has access to about $4.6 billion in cash.
"As you look at our balance sheet today and the progress that we've made, we feel that we're in very good shape," said Mulcahy, who stated in Xerox's fourth-quarter report that the company expects to return to full-year operational profitability in 2002. "We've really repaired a lot of the [financial issues that were in place a year ago with regard to the disruptions to the business. But it's a little bit difficult to see the flow-through from that based upon the fact that there's a dampened impact from the economic slowdown."
Though welcoming Xerox's recovery and sharpened product strategy, solution providers say it's been a tough time to be a Xerox partner.
"The stable of products Xerox offers has never been better, so it's frustrating when customers read about all the problems the company has internally," said Tom Goss, owner of Indiana Business Equipment, an agent in Terre Haute, Ind.
Xerox's problems at the corporate level have trickled down to the channel, said Annette Raynor, printer specialist and co-owner at solution provider XSI, Coltsneck, N.J. She cited layoffs that Xerox announced late last year. "These people are leaving now, so we will soon see the effect. Maybe there is none. But they are losing technicians with 30 years of tenure," Raynor said.
Xerox's financial straits stemmed from two factors: complacency in the copier arena and paying cash for,instead of financing,its acquisition of color laser printer vendor Tektronics, which is now Xerox's Office Business Printing unit, said Ken Weilerstein, an analyst at research firm Gartner. Yet Xerox's prowess in copiers and its strong color laser printer line positions the company as the only one-stop vendor for high-end color copying and printing, he said.
"Customers can't manage copiers separate from printers," Weilerstein said. "This could work in favor of Xerox. Customers can get Canon copiers and HP printers from a single source. But HP doesn't resell Canon copiers."
Mulcahy agrees that the copying and printing markets have converged. "I don't think we sell a stand-alone copier any more. It's a multifunction market; it's a connected market," she said. "So [channel partners have to be able to support both networked products as well as offer printing, faxing and scanning as well as copying."
The blending of document technologies has led Xerox to re-examine the way it sells its products and engages its channels, industry observers say.
Traditionally, Xerox has used three different channels to handle indirect sales. Independent agents represented the company on the copier and high-end office-machine side and earned commissions on sales, without becoming involved in handling or delivering product. Dealers handled low-end office products such as fax machines and personal copiers, and resellers focused on the printer market.
As part of its restructuring, Xerox late last year put all three channels under the direction of Jim Miller, president of the Office Printing Business unit. Several hundred Xerox channel partners serve the market in two or three ways simultaneously, with some even using different company names to eliminate channel conflict, Miller said.
Some of Xerox's other moves, however, have sent mixed signals to the channel.
On the plus side, a new program for SMB solution providers offers increased rebates, which remain the same whether the solution provider buys directly from Xerox or from distributors, said Lori Maliszewski, channel marketing manager at Xerox. In the past, rebates were higher when buying direct, which discouraged partners from working with distributors, she said.
Next quarter, Xerox plans to implement a lead feedback program that would give solution providers improved mechanisms for requesting assistance for followups, Maliszewski said.
U.S. COLOR-LASER
PRINTER MARKET
Total U.S. shipments from 4Q '00 to 3Q '01


Hewlett-Packard
134,391
Xerox
55,406
Lexmark
19,657
Minolta
15,680
Ricoh
5,101
Others
9,527
TOTAL
239,762
Source: Gartner Dataquest
Xerox also aims to tap third-party solution providers more often, said Tom Dolan, president of Xerox Global Services. "We're looking for people in the channel who can complement us outside the areas we specialize in," he said. "We don't have all the expertise we need, so we will partner. In smaller markets, we will look to the channel."
But last month, Xerox began selling printers direct via its Web site, joining competitors HP and Lexmark in offering customers online and channel sales options. Xerox also is now allowing its direct-sales force and agents to sell printers and is attempting to force dual reseller/agent partners to sell printers as a reseller or an agent only.
Agents will have expanded access to customer leads from Xerox this year, said Richard Cerrone, senior vice president and general manager of Xerox's North American agent operations. "Our new program will help customers better understand the new products and improve the agents' productivity."
Indiana Business Equipment's Goss said the decision to sell Xerox printers as an agent is an easy one for his company. "The printer line is such a low-margin line as a dealer that we instruct our salespeople not to sell them. Margins are better as an agent."
Still, that decision isn't so clear-cut for partners that act as both agents and resellers, solution providers say.
Agents don't handle the products, commissions are good, and Xerox plans to devote a lot of resources for moving printers through that channel, said Jack Sargent, president and CEO of Advanced Technology Systems, a St. Paul, Minn.-based agent and reseller. But as a reseller, the company isn't limited by geography and can compete against Xerox in the vendor's named accounts, he said.
Advanced Technology Systems' objective is to find a way to avoid having to go one way or the other, Sargent said. "I think I can make a good case, but we'll see," he added.
Though selling printers on a commission basis brings some advantages for channel partners, Xerox stands to reap bigger benefits because it,not the reseller,could record the revenue from the agents' sales, XSI's Raynor said.
"It looks like Xerox wants to get the revenue on their books," she said. "If I sell an $8,000 printer as a reseller, I get $8,000 in revenue. But if I'm an agent, Xerox gets the revenue."
Not all solution providers, however, find Xerox's channel changes a problem.
The potential for conflicts exists any time a vendor opens a new channel, said Stephen Monteros, general manager at GST Micro City, a Cerritos, Calif.-based reseller. "But we work with their field teams. We get a lot of field resources," he said. "There are some conflicts, but minimal."
If Xerox continues to give solution providers the right resources, Monteros said he won't begrudge the vendor for its direct-sales foray. "As long as they don't give incentives for customers to buy direct, it's no problem," he said.
As far as Xerox's direct printer sales are concerned, Sargent is taking a wait-and-see attitude.
"The direct sales [by Xerox's sales force bother me more than Web-based sales. All the competitors do it, but my understanding is that Xerox will not go below its published price on direct sales. Other online resellers sell below that price," Sargent said. "Would I prefer Xerox didn't go direct? Probably. But if clients want to see prices, I'd prefer to send them to Xerox than other resellers."
Printer-friendly version
Email this CRN article