Printer-friendly version
Email this CRN article
Thanks to 9X Media, a vendor based in Sunnyvale, Calif., companies using multiple-monitor display solutions may have found a way to make the most of limited desktop space.
Enter the X-Top, a modular hub system created by 9X Media, and executives at the company say the possibilities are limitless. The X-Top allows for configurations of two to 10 flat-panel monitors. Setup and expansion are quick and easy, they said.
Founded in August 2001, 9X Media sought to tackle a problem that one of the company's founders had often encountered.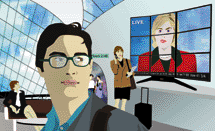 Solution providers see promise for 9X Media's X-Top in verticals where desktop space is at a premium.
"After being in the monitor business for a long time and using multiple monitors simultaneously, desk space became an issue," said Dan Dunn, co-founder of 9X Media. "So we started to think of simple solutions for the problem."
Along with his partner, Nike Mikes, Dunn devised a modular hub system based on a series of bracket arms that can handle any monitor from 15 inches to 24 inches in size. While the standard X-Top hub can handle up to 10 monitors, the X-Wall version can support up to 64.
"We didn't target any specific verticals at first but focused on anyone that was using multiple monitors and had a desktop space issue," said Mikes. "Of course, certain verticals were natural targets for our solution," including financial services and graphic arts. Multiple-monitor solutions are commonplace in those markets, he said, although there have been some early adopters in other verticals as well.
For some users, X-Top pricing could pose a problem. But for others, the cost of the system is far outweighed by the space-saving possibilities, said solution providers interested in teaming up with 9X Media to deploy the X-Top.
"In the financial services space, this would be an especially effective solution as traders are trying to squeeze multiple monitors on a small desktop," said Erich Stegich, director of communications at Manchester Technologies, a solution provider based in Hauppauge, N.Y. In that market, "cost is not as important as having the right equipment for the applications," he said.
The price of the solution starts at $2,300,that's for a hub that supports two 15-inch displays and can be expanded to six monitors, said Dunn.
And Stegich identified other verticals where 9X Media's multiple-monitor solution might pose a cost-effective alternative,health care, for one, where the need to view more than one image at once could put a solution such as the X-Top in high demand.
Analysts, too, anticipate a bright future for this technology, especially as prices start to drop.
"9X Media should experience growth of 5 percent to 7 percent over the next few years," said Jon Peddie, president of Jon Peddie Research. "There is pent-up demand for this type of solution, and that will be satisfied with greater price elasticity."
What's more, the X-Top is a clever, well-designed solution to a common problem, and that alone should turn some heads, said Peddie.
As for target markets for the X-Top, Peddie agrees that the financial services space holds a lot of promise, and he's especially optimistic about the graphic arts vertical.
"Anyone who's engaged in digital content creation or computer-aided design will be eager to access this solution," said Peddie. "The only stumbling block [right now is the pricing."
Printer-friendly version
Email this CRN article