Printer-friendly version
Email this CRN article
While large solution providers tend to pay better than their smaller counterparts, when it comes to handing out raises smaller companies proved to be a little more generous last year.

Small companies, defined as those with less than $10 million in sales, upped compensation by an average 6.7 percent to $78,900 last year, according to the 2004 CRN Salary Survey. In contrast, large companies, defined as those with $10 million or more in annual sales, handed out raises in the 5.3 percent range, boosting average compensation to $86,900.

One explanation may be that smaller companies reacted more quickly to improvements in business. "I think small companies are more in tune with their people," said Pat Grillo, president and CEO of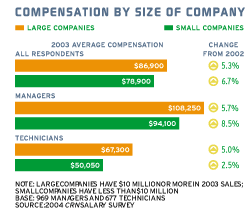 Atrion Communications, Somerville, N.J., a security integrator that upped salaries about 8 percent. "Bill Gates doesn't know who his engineers are. I do. It's a lot easier for a manager to come to me and say, 'Hey, this guy did a great job.' "
The trend was not consistent across all job classifications, however. Technicians working for large companies reported compensation grew 5 percent to $67,300, while those working for small companies reported an average increase of only 2.5 percent to $50,050.
Small-company managers, however, did better than their large-company counterparts. Their salaries rose 8.5 percent to $94,100, while salaries of large-company managers rose 5.7 percent to $108,250.
Over the past three years, executive managers with equity stakes in their companies often took smaller raises to keep their companies alive and hang on to top engineers and salespeople, said John Riddle, president of Information Networking, Irvine, Calif. "Now that things have picked up, it's time to pay the piper," he said.


 Published for the Week Of June 28, 2004
Printer-friendly version
Email this CRN article