Printer-friendly version
Email this CRN article
While average compensation began to rise again in 2003 after two years of sluggish growth, not all boats rose equally with tide. For one thing, solution providers handed out bigger raises to male managers than their female counterparts last year, according to the 2004 CRN Salary Survey.

Male managers, a group that had above-average wage growth, reported that their average compensation grew 7.7 percent to $101,500, while compensation for female managers in the survey grew an average 2 percent to $87,900.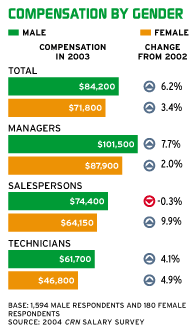 Still, the gender gap among solution providers was smaller than most U.S. industries. The Government Accounting Office reported last fall that women in 2000 were being paid 80 cents for every dollar men were paid for similar positions, a gap that has remained relatively steady over the past two decades. In contrast, solution providers were paying their female managers 87 cents for every dollar paid male managers. When technicians and sales personnel are included, the pay gap widens slightly to 85 cents on the dollar.
"The technology industry is exposed to many different environments … and there is really no room to be small-minded about gender equality," said Laurie Benson, CEO of Inacom Information Systems, Madison, Wis. "I think that's the culture of every technology organization today."
Several solution providers said the smaller number of women, particularly in sales and technical positions, may partially account for the gender gap found in the survey, which did not account for factors such as experience and education levels.
Indeed, female technicians were earning only 76 cents for every dollar earned by male technicians, which was the largest gap for any classification. Interestingly, though, the salaries for female technicians rose 4.9 percent, which was slightly better than the 4.1 percent raise for men.
Sales is another area where women are underrepresented, solution providers said. Wright Business Technologies, Houston, has eight sales representatives, all male. "There's no rhyme or reason other than the male applicants all have more veteran experience," said Jennifer Wright, company vice president. "And that's what we're hiring now."
In the sales classification, though, women substantially narrowed the pay gap with men. Women reported average compensation rose 9.9 percent to $64,150 last year, compared with a three-tenths percent decline to $74,400 for salesmen in the survey. That may partly be a result of the small number of saleswomen, only 23, in the sample. Overall, the persistent gender gap widened slightly in the high-tech industry last year, but there were also signs that as the recovery broadens, women stand to close that gap.


 Published for the Week Of June 28, 2004
Printer-friendly version
Email this CRN article