Printer-friendly version
Email this CRN article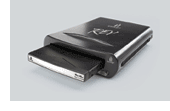 Iomega
www.iomega.com
Price:
$399.99 (MSRP) with one cartridge; additional cartridges are $59.99 each; four-pack, $199.99
Distributors: Ingram Micro, Tech Data, D&H Distributing
Many small-business operators are finding that tape backup is becoming an expensive burden. After all, backing up to tape can be a time-consuming process, and the cost of media seems to be escalating beyond budgetary limits.
Iomega offers an alternative to tape in the form of the Iomega REV 35GB/90GB Removable Hard Disk Drive. The unit has a USB 2.0 interface and is built around removable high-speed hard disk drive-based cartridges.
The REV drive has several advantages over comparable tape-based technology, especially those based on DAT. First, REV offers an initial uncompressed capacity of 35 Gbytes (with larger capacities in the works) and the speed of random access technology.
What's more, Iomega's REV hard disk drive is based on plug-and-play technology, USB 2.0, which allows drives to be added to a system on the fly. Those elements, combined with lower cost, make the REV format an ideal replacement for tape-based backups.
The drive can back up and restore up to eight times faster than tape, and includes Iomega Automatic Backup Pro software for "set-it-and-forget-it" file backups, according to Iomega.

 Published for the Week Of July 26, 2004
Printer-friendly version
Email this CRN article