Printer-friendly version
Email this CRN article

ith a lot of vendors competing for the attention of VARs focused on small businesses, it's not easy for a small hardware vendor to stand out.

That's why SOHOWare, Santa Clara, Calif., has decided to focus all its attention on VARs serving small businesses. The wireless networking vendor, once a fixture in the retail landscape, pulled its products off the shelves of retailers and now sells only to VARs. But rather than take the typical path to market—through distribution—SOHOWare is selling its products directly to VARs.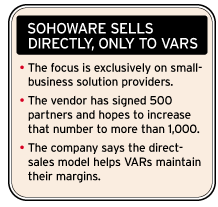 "Our approach is similar to Dell's, except we sell direct to the small-business VAR, not the small business," said Ashok Kumar, vice president of marketing and sales at SOHOWare. "VARs in the small-business space don't see any loyalty from vendors. We decided to fill that gap in the market."
Since the company's new strategy was launched in October 2003, SOHOWare has signed up some 500 VAR partners, Kumar said. He hopes to increase that number to more than 1,000.
"Because we sell only to VARs and directly to them, there is not as much price pressure on the street, so VARs can maintain their margins," Kumar added.
That strategy is working, said Steve Clark, general manager of Clark Information Systems, a network integrator in Sierra Vista, Ariz. "Their pricing structure allows me to still have a profit structure and pass some savings along to my customer," he said.
But it's the personal service of dealing directly with the company that Clark likes most, he said. "If we have engineering issues, we can talk to them directly," he said. "That helps us a lot."

 Published for the Week Of July 26, 2004
Printer-friendly version
Email this CRN article